Thoughts For Thursday: Omicron Panic Or Market Alert?
The recent whipsaw action in the market indices brought on by the Omicron variant and Fed pronouncements, is disconcerting. Is it a sign of investor panic or a market alert?
Turbulent action continued in the market yesterday. The S&P 500 was down 54 points or 1.2%, to close at 4,513; the Dow was down 462 points or 1.3%, closing at 34,022; while the Nasdaq Composite lost 284 points or 1.8% and closed at 15,254. Currently market futures are green. S&P futures are up 28 points, Dow futures are up 307 points and Nasdaq 100 futures are up 42 points. The whipsaw action is captured in the monthly chart below.
Chart: The New York Times
TM contributors Antoine Bouvet, Benjamin Schroeder and Padhraic Garvey writing in Rates Spark: If Not For Omicron…, note that Omicron fears are ruffling rates of both US Treasuries and Eurozone bonds.
"30Y US rates are caught between Omicron and a hard place."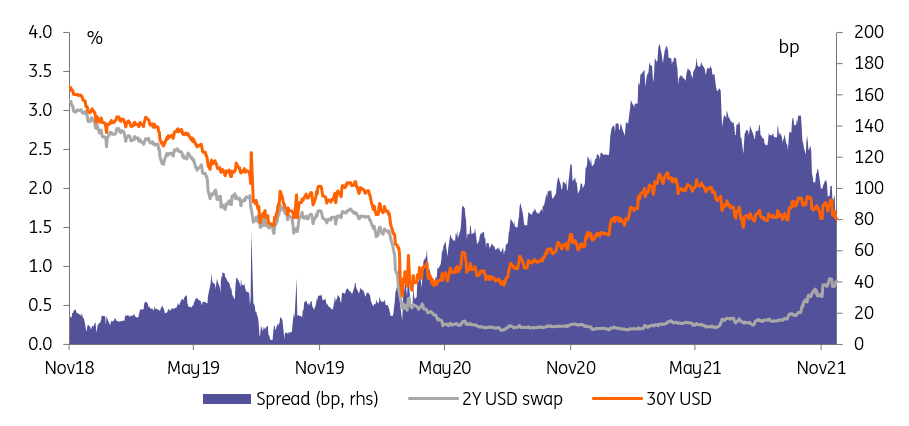 Image Source: Refinitiv, ING
"10Y US Treasury yields (SPTL) are testing last month's lows just above 1.41% for now, but in light of a Fed turning more hawkish has yet refrained from breaking lower."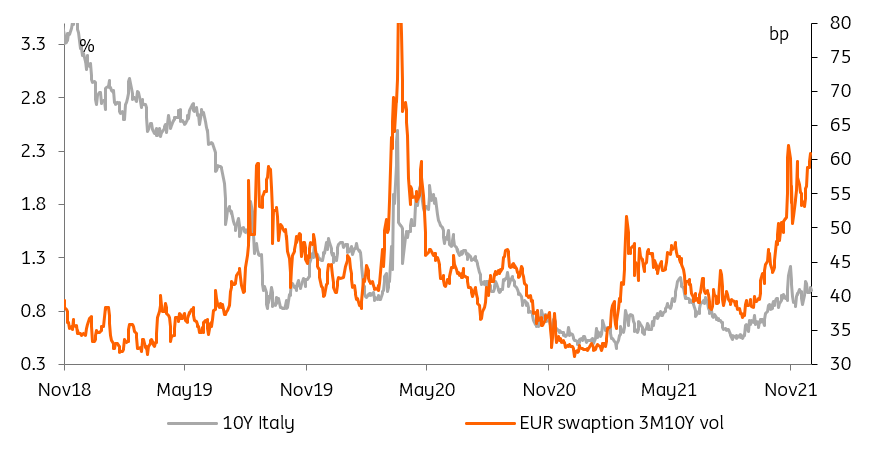 Image Source: Refinitiv, ING
"Even more so than for the Fed the outlook is muddied for the ECB at a critical vantage point. A sources story on Reuters pointed to an increasing desire to postpone any long-term decision on the future of its asset purchase programs to a later stage."
"Markets remain very much at the whim of Omicron-related headlines. In data, the US will be looking at initial jobless claims, though it is likely again today's (Thursday) Fed speakers that will grab the headlines. They include Bostic, Daly and Barkin. The Eurozone (EZU) will see the release of producer prices and an appearance by the ECB's Panetta, a dove."
The Staff at Bespoke Investment group took a closer look at some of the gore in yesterday's trading, Stocks With Aggressive Valuations Getting Crushed, and found that many stocks with higher valuations have been underperforming. They looked at two classic metrics; price to sales and price to earnings.
" In the chart below, we break down the Russell 3,000 into equal-sized deciles (10 groups) based on their price to sales ratios (sorted from those with the lowest ratio to the highest)...the stocks with the highest P/S ratios significantly underperformed today (Wednesday) with the decile of the most elevated ratios falling over 4% on average."
" (Looking at) the P/E ratio, the dynamic is just as evident. In the chart below we again broke the Russell 3,000 into equal-sized deciles except we separated out all stocks with negative earnings as well...the stocks with negative earnings (no P/E ratio) got absolutely crushed today with an average drop of 3.36%."
With a nod perhaps, to this morning's futures market contributor Mircea Vasiu asks Is It Safe To Buy US Equities After The Recent Declines?
Here is some of what Vasiu is thinking:
"Yesterday, Jerome Powell delivered what turned out to be the most exciting turnaround during his mandate. He hinted at a much faster monetary tightening and suggested that the Fed will drop the word "transitory" when interpreting inflation. As a result, the markets tumbled some more. Traditionally, monetary tightening does not bode well for equities, so the major indices, such as the Dow Jones seen below, corrected. However, in doing so, the Dow Jones has merely re-entered into a long-term consolidation area."
"Before jumping to conclusions regarding the virus's variant and the Fed's message, is there any reason to be bullish on US stocks? Here are three: inflows into equities in the past 12 months exceed the combined inflow of the past 19 years, the rise of the retail trader, and historical market performance in December."
Vasiu defines the consolidation area for the Dow (DIA) in the chart below.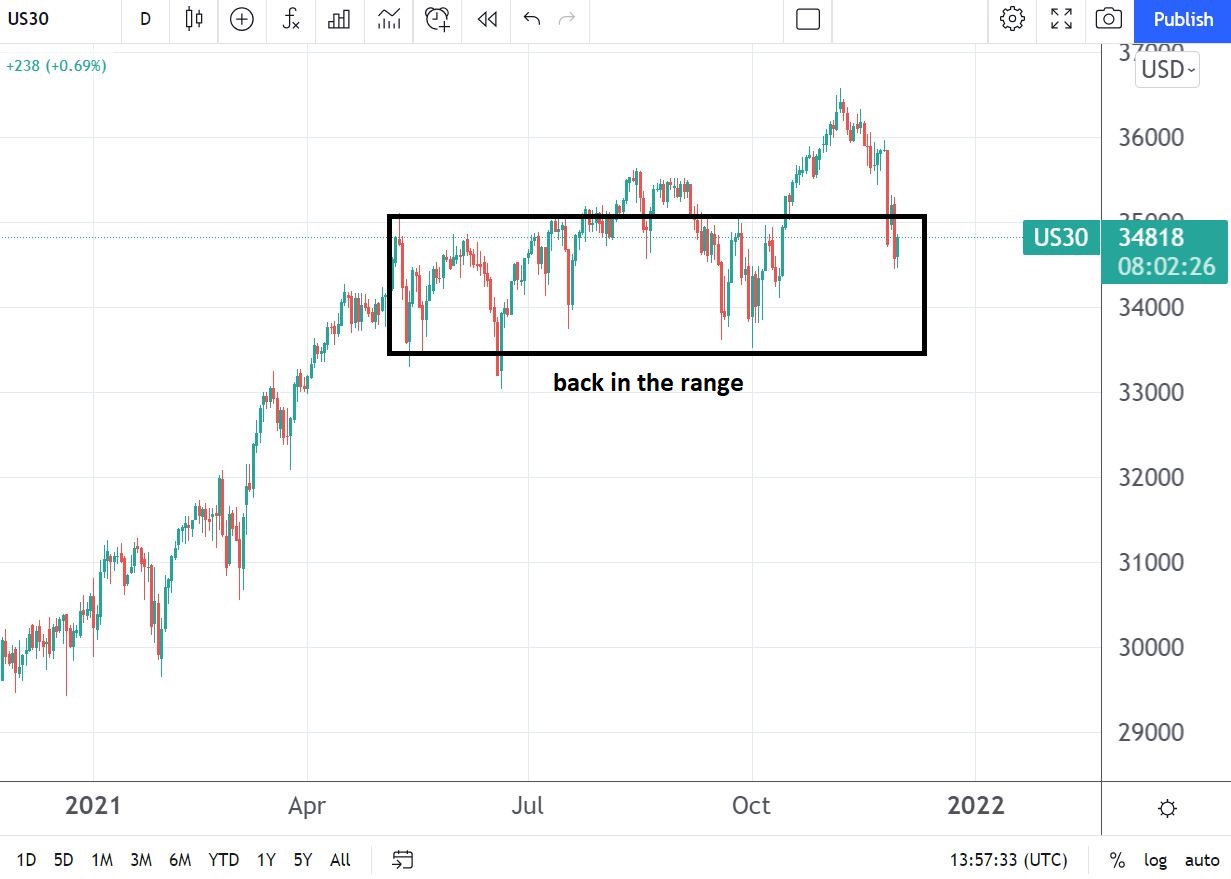 (At least for today), Vasiu ends on an up note:
"December is usually bullish for stocks. Not always, but probabilities suggest a probability of 70% or more for December to deliver positive returns."
Shares of Build-A-Bear (BBW) stock aside, David Pinsen writing in Bull Market In A Bear Stock gives readers another look at how certain popular stocks are holding up in the current market weather.
"...regular readers know, our system analyzes every security with options traded on it in the U.S. every day the market is open, and it estimates potential returns for them over the next six months. It uses that data to populate its daily top ten ranking and also hedged portfolios constructed for users. These were our top ten names on August 12th."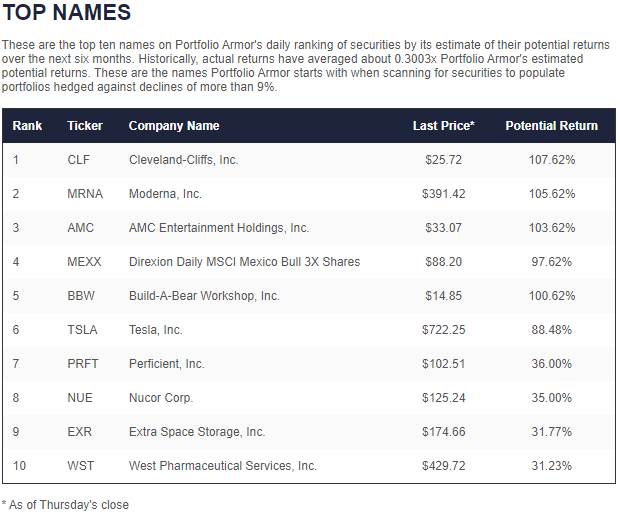 Screen capture via Portfolio Armor on 8/12/2021
"Here's how that top ten had performed as of Wednesday's close."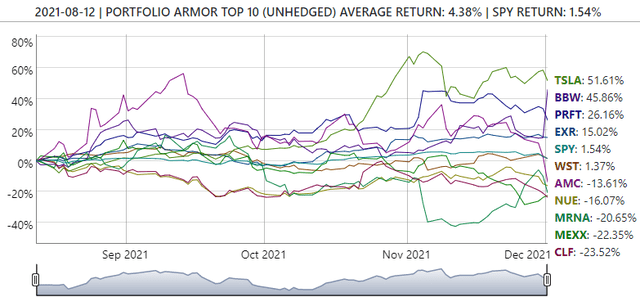 TalkMarkets contributor Ironman finds other sources of strength in the market in looking at Dividends By The Numbers In November 2021.
"The U.S. stock market powered through November 2021 with one of the strongest months for dividend paying stocks in the modern era. The number of companies increasing their dividends was up near record levels. At the same time, the number of firms cutting their dividends was down from October 2021, when they had caused concern after spiking up."
You can go to the article for a graphic representation of the data, but I think the below bulleted table provides the relevant details.
5,141 U.S. firms declared dividends in November 2021, a decline of six from the 5,147 recorded in October 2021. That figure is 2,016 more than the 3,125 recorded in November 2020.

There were 109 firms that announced they would pay a special (or extra) dividend to their shareholders in November 2021, an increase of 50 over the number recorded in October 2021 and an increase of 31 over the 78 recorded in November 2020.

190 U.S. firms announcing dividend rises in November 2021, an increase of 28 over the number recorded in October 2021, and an increase of 65 over the 125 recorded in November 2020. November 2021's total ties with 2013 for the second-best November in the modern data series that extends back to 2004. The best November on record was in 2012 when 197 firms hiked their dividend payouts.

S&P counted 12 dividend cuts in November 2021, a decline of seven from the 19 recorded in October 2021 and also a decrease of three from the 15 recorded in November 2020.

No U.S. firms omitted to pay their dividends in November 2021, the same as in October 2021. That figure represents a year-over-year decrease of one from November 2020.
Elsewhere in the "Where to Invest Department", investor and contributor Ingrid Hedgershot working out of earshot of the fray, takes a look at two healthcare sector companies in her TalkMarkets exclusive, Portfolio Review - Exiting Walgreens And Removing J&J's Band-Aid.
Please see Hendershot's article for her full reviews of both WBA and JNJ, I have included only highlights relating to both stocks.
"For the full fiscal 2021 year, (Walgreens) revenues rose 9% to $132.5 billion with earnings from continuing operations and EPS up significantly to $2.0 billion and $2.30, respectively. Return on shareholders' equity for the year was 8.4%. Free cash flow increased 2% during the year to $4.2 billion with the company paying $1.6 billion in dividends."
"Walgreens Boots Alliance announced its new consumer-centric healthcare strategy. The plan features the launch of Walgreens Health, a new business segment enabled by investments of $5.2 billion in VillageMD and $330 million in CareCentrix, accelerating the company's capabilities in primary care, post-acute care and home care."
"For fiscal 2022, the company anticipates flat adjusted EPS as core growth of 4% is expected to be offset by investments in Walgreens Health. Walgreens expects that over the next three years, adjusted core EPS growth will approximate 4%. As Walgreens restructures its operations once again, we have decided to exit our position and watch from the sidelines."
"Johnson & Johnson (JNJ) reported third quarter sales increased 11% to $23.3 billion with net earnings up 3% to $3.7 billion and EPS up 3% to $1.37. Adjusted EPS increased 18% to $2.60. This solid performance was driven by robust results across the company's business units."
"Johnson & Johnson announced plans to spin off the company's Consumer Health business with its iconic brands, such as Neutrogena, Tylenol, Listerine and Band-Aid, creating a new publicly traded company in 18-24 months in a tax-free transaction to shareholders."
"Over the past 21 years, JNJ's stock has risen a healthy 359% and appears attractively valued whether the firm's Band-Aid is on or off. Buy.Over the past 21 years, JNJ's stock has risen a healthy 359% and appears attractively valued whether the firm's Band-Aid is on or off. Buy."
Caveat Emptor, as always.
That's a wrap for this week.
A reminder about getting those COVID-19 and Flu jabs.."Just do it".