Elon Musk Causes Another Crypto Correction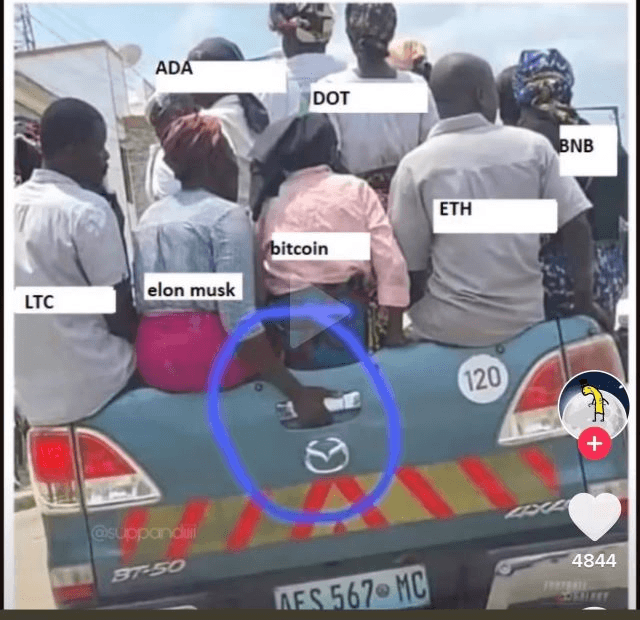 Twitter meme illustrating Elon Musk's power over crypto.
Oliver Renick Calls A Top
In a post last week (Shades Of 2000 And 2008), we mentioned TD Ameritrade lead anchor Oliver Renick's prediction that if Bitcoin didn't stop crabbing and start rallying on inflation news, it could sell off, tanking the whole crypto sector. Since then, Bitcoin is down about 20%, and the next biggest cryptocurrencies have dropped as well. Granted, that may have had more to do with Elon Musk's actions than any sudden realization about Bitcoin's lack of reaction to recent inflation news. As we mentioned in a subsequent post (Tesla Stops Taking Bitcoin), a crypto correction was in Musk's interest:
If we had to guess why Elon Musk suddenly became concerned about the fossil fuels powering Bitcoin mining, it's because a correction in crypto is in Tesla's interest. First, it might take a cooling off of the crypto market to get speculators to start looking at Tesla calls again. And second, it will give Musk an opportunity to buy crypto at a lower price.
We speculated there that the crypto Musk might buy would be Ethereum, since the proof-of-stake model it's migrating too is much less energy intensive than Bitcoin's proof-of-work mining. Our friend Andy Swan quipped that Musk might launch his own Tesla coin.
Elon is setting up an epic launch of TeslaCoin, which will be so energy efficient that the regenerative braking of the Tesla fleet powers the entire transaction network.

— Andy Swan (@AndySwan) May 13, 2021
We wouldn't rule that out. In the meantime though, Musk has continued to put downward pressure on crypto.
The Impact Of Elon Musk's Tweets
Musk's tweet last week that Tesla would no longer accept Bitcoin for purchases knocked the flagship crypto currency below $50,000, and then with this one-word reply, he knocked it down below $45,000.
Bitcoiners are going to slap themselves next quarter when they find out Tesla dumped the rest of their #Bitcoin holdings.

With the amount of hate @elonmusk is getting, I wouldn't blame him…

— Mr. Whale (@CryptoWhale) May 16, 2021
Disclaimer: The Portfolio Armor system is a potentially useful tool but like all tools, it is not designed to replace the services of a licensed financial advisor or your own independent ...
more