Shades Of 2000 And 2008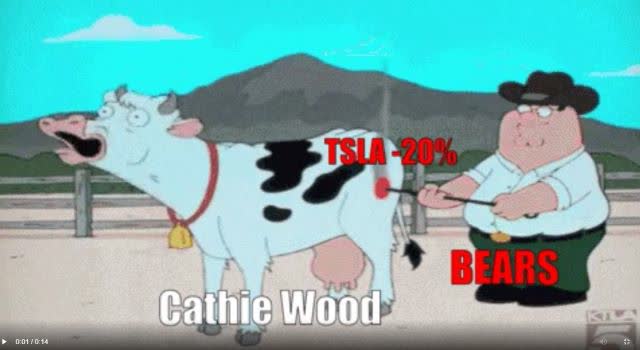 Still from a r/WallStreetBets Family Guy meme video illustrating the declines suffered by growth names in Cathie Wood's ARK ETFs. As growth names have stumbled this year, Wood's flagship Ark Innovation Fund (ARKK) has been a bellwether.
Tim Knight Was Right
Growth names are stumbling, bitcoin is crabbing, former market leaders are getting downgraded, and inflation is heating up. Some observers see shades of the spring of 2000 or the summer of 2008 in this. More on that below, but first a quick follow up on Slope of Hope founder Tim Knight's prediction about the weekend drop in Doge extending to stocks.
In our previous post (In Case Elon Musk's SNL Effect Extends To Stocks), we included this prediction tweet from Tim Knight:
If the following happens:

1. Elon hosts SNL;
2. He doesn't spend the show promoting $DOGE;
3. $DOGE falls hard;
4. Equities fall on Monday in sympathy

Then, congratulations, we have the dumbest culture in human history. Let's see what transpires.

— 𝕊𝕝𝕠𝕡𝕖 𝕠𝕗 ℍ𝕠𝕡𝕖 (@SlopeOfHope) May 8, 2021
We included this video using our app to find optimal hedges on Tesla (TSLA) in light of Tim's prediction.
Video Length: 00:03:27
As it happened, Tesla was down another 6.44% on Monday on a red day overall for the markets. At the same time, as Sentiment Trader pointed out, 44 S&P 500 stocks made new 52-week highs.
The Nasdaq suffered a 2-sigma loss today.

The same day that 44% of S&P 500 stocks hit a 52-week high...the most since 1943.

If you think you understand this market, think again.

— SentimenTrader (@sentimentrader) May 10, 2021
Good warning there about the need for humility. With that in mind, let's consider a couple of inauspicious possible analogs.
Shades Of The Summer Of 2008
A pseudonymous observer highlighted the recent spike in gas prices, reminding us how they helped trigger the global financial crisis in 2008.
Disclaimer: The Portfolio Armor system is a potentially useful tool but like all tools, it is not designed to replace the services of a licensed financial advisor or your own independent ...
more