Why Tesla Stopped Taking Bitcoin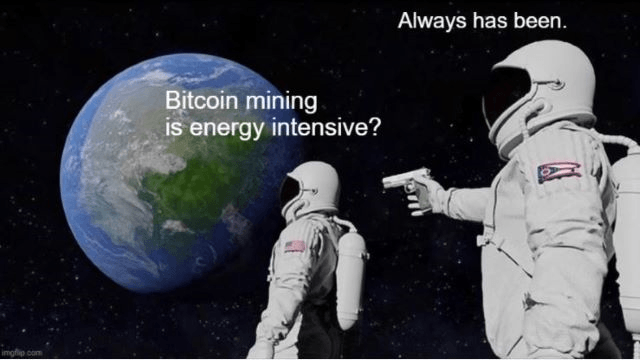 Meme via the Portfolio Armor art department and Imgflip.
Elon Musk Discovers Bitcoin Mining Burns Coal
You know the news by now: Tesla (TSLA) is no longer accepting Bitcoin as payment. Per Elon Musk's tweet last night, it's because of the fossil fuels used to generate the electricity for Bitcoin mining, particularly coal.
As we type this early Thursday, Bitcoin is down 11% over the last 24 hours, with Ethereum down about 8%. Elon Musk's Bitcoin announcement Wednesday night raises a few questions.
Was Musk unaware that fossil fuels powered Bitcoin mining when he added Bitcoin to Tesla's balance sheet earlier this year?
2. Is Musk aware that fossil fuels also generate most of the electricity that powers Tesla's cars? In the U.S., for example, 80% of electricity is generated from fossil fuels, including coal.
Our guess is that the answer to both questions is "yes". So what's going on? Let's review.
Bitcoin Didn't Boost Tesla's Share Price
From the announcement in early February that Tesla had added Bitcoin to its balance sheet, to Wednesday, shares of Tesla were down nearly 32%.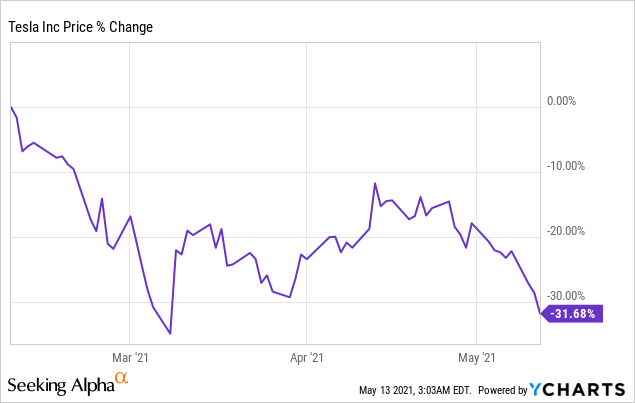 Instead, as we speculated in post earlier this week (Shades Of 2000 And 2008), the crypto rally may have siphoned off some of the speculative fervor that had previously fueled cult stocks like Tesla.
Bitcoin Did Boost Tesla's Profits
As Car And Driver pointed out last month, Tesla's profits in its most recent quarter were due to Bitcoin sales and emissions credits, not car sales:
The company had an income of $438 million, including a $101 million "positive impact" from the sale of Bitcoin, and $518 million from selling zero-emission regulatory credits to other automakers. That means Tesla continues to lose money making and selling vehicles.
A Correction In Crypto Is In Tesla's Interest
Disclaimer: The Portfolio Armor system is a potentially useful tool but like all tools, it is not designed to replace the services of a licensed financial advisor or your own independent ...
more