Summary
Apple's valuation has hit its historical peak.
There has been some bearish put betting recently.
The technical chart shows that the stock is hitting resistance.
Looking for a helping hand in the market? Members of Reading The Markets get exclusive ideas and guidance to navigate any climate. Get started today »
Apple's (AAPL) stock, at least for the short term, has hit its historical peak valuation levels, based on its PE Ratio, since 2015. That's not to say the long-term story for Apple is over, but it does suggest the stock has increasing downside risk at this point.
Additionally, there was a rather sizeable bearish bet that was made last week that suggests the stock falls in the weeks ahead. Meanwhile, the stock is hitting a level of technical resistance at the moment. Together it paints a negative outlook for Apple over the short term.
While the short-term worries may weigh on the stock, longer term the business is improving. The broader diversification of the revenue stream should benefit Apple and help to give the equity a higher PE ratio, which in time will help to boost the stock price. But patience will be required.
You can track all of my stories on Apple and my free Seeking Alpha articles on this Google spreadsheet.
Historically Rich
The stock isn't cheap based on its historical one-year forward PE Ratio. Currently shares trade at 16.8, at the top of the range since the end of 2015. However, part of the reason for that higher valuation is because the company has been shifting its business model through the growth of its service business. That shift is what's driving the valuation higher.
It's not to say the valuation will rise in a straight line. With the focus on Apple's new iPhone launch, investors are likely to once again fret over the company's valuation.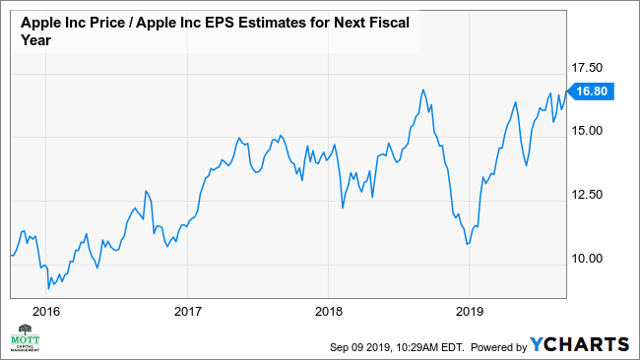 Continue reading on Seeking Alpha.