Yesterday, Federal Reserve Chairwoman Janet Yellen said something during a speech that resonated throughout financial media.
Replying to a question about the financial systems stability, she said:
"Will I say there will never, ever be another financial crisis? No, probably that would be going too far. But I do think we're much safer and I hope that it will not be in our lifetimes and I don't believe it will."
Yellen is turning 71 this August, so I would like her to define what is "our lifetimes." Also, what does she consider a financial crisis?
When another question had asked about share price valuations, Yellen admitted "by standard metrics, some asset valuations look high." But before striking worry into the heart of Bulls she added, "[though] there is no certainty about that."
As always, it wasn't hard to predict this was how a Yellen interview would have gone. The usual, "everything is fine. Don't panic. Things are safer than ever," rhetoric was loud and clear.
I believe it is all for show. As I have said before, imagine what the financial markets would do if she said anything to the contrary.
Finally, the markets are starting to lose confidence in the Fed's words. . .
First it was the bond market. While the Fed jawbones about a recovery and fully expecting GDP and inflation to rise, the bond market is expecting the opposite. They are actually predicting deflation and a recession. The yield curve flattening is proof of this.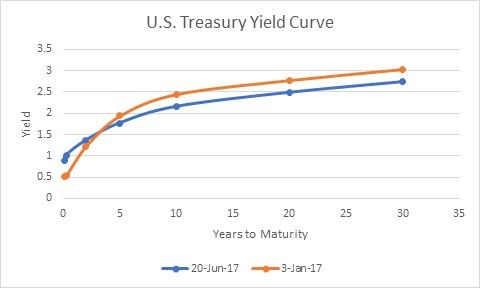 Short term yields have risen from the beginning of the year, while longer term yields are lower.
"A flatter yield curve hurts bank profits, stability, and willingness to lend. Also, a flatter yield curve is viewed as a sign of upcoming weakness," said Bob Johnson, Morningstar's director of economic analysis. "If long-term and short-term rates are close, markets must be expecting little growth or lenders would demand a bigger time premium."