Why Lithium Stocks Are Falling
It has been a difficult year for lithium producers. Heck, it has been a difficult six months, with the past month tumbling most noticeably.
Why?
As I wrote on a very different forum not long ago, in a geopolitical rather than investing, publication:
"Politicians can make or repeal any kind of law but one: the law of supply and demand." – JLS
New entrants and old have been plunging headlong into developing more sources of lithium around the world. At the same time, this new supply is coming online: (1) Chinese auto sales have declined since the government removed the juiciest of subsidies; and (2) EV sales in Europe and the U.S. have been held back because of semiconductor shortages. (On a larger level, China ended almost all subsidies and tax breaks for green energy, which triggered an across-the-board selloff in many other related industries, as well.)
More supply + less demand = falling prices for lithium.
As of today, here is the decline in lithium, with this month being either the beginning of the end for lithium or somewhere close to the panic point from which it is more likely to recover: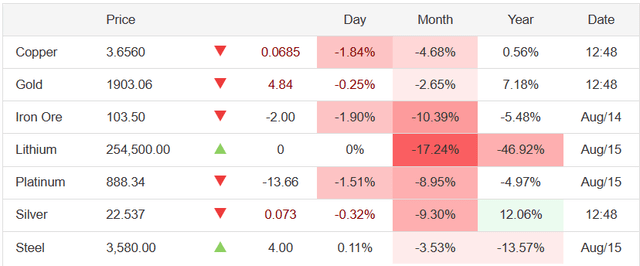 Trading Economics
It isn't just lithium prices, though lithium is the poster child for the Battery Revolution. Any minor glitch in electric vehicle ("EV") sales tends to create panic in the streets. For instance, EV charging equipment provider Beam Global (BEEM) reported better-than-expected Q2 results recently. Sales came in at $17.8 million, up about 380% year-over-year. BEEM is still a micro-cap company, but it seems to be on the right track. Yet the stock opened the next day at $10.20 and closed at $9.05.
General Motors (GM) sales of EVs fell in the second quarter compared to the first quarter. The first quarter marked the end of certain U.S. subsidies. Ford (F) recently reduced some of its growth expectations for EVs. This is the type of news that makes skittish people think, "The sky is falling! The sky is falling!" No, it isn't.
One 12-week period is not indicative of future sales. And this interruption in demand does not mean there is likely to be any pause in seeking new sources of lithium. There will be new technologies that make it more efficient, however.

The First Step in Making Li-Ion Batteries
The first step in making Li-Ion batteries is getting the lithium. Lithium is extracted from three different venues: brines, pegmatites, and sedimentary rocks. How the lithium is extracted means very different project requirements, extraction methods, governmental regulation, environmental considerations, and processing times.
Historically, lithium extraction from brine sources has been more economical than production from pegmatite or sedimentary sources. Living in Nevada, I am geographically close to the action in that Tesla's (TSLA) gigafactory is just down the road from me, and Albemarle's (ALB) Silver Peak mine (the only producing lithium brine operation in the U.S.) is only a few hours away. Often, our local news will pick up a story well before the rest of the nation sees it. Such was the case for my earliest purchases of Lithium Americas (LAC).
We do not know how much more lithium may be found in the USA – once upon a time, America produced the most of any nation. Those days are long gone, however. Now, most of the brine-evaporation sources of lithium are in different desert areas with dependable solar evaporation.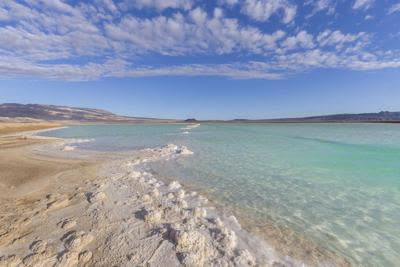 Lithium brine extraction in Nevada (Albemarle Corp./Ken Childress Photography)

Brine evaporation deposits
These basins are called salt lakes, salt flats, or salars. Lithium "brine" deposits represent about two-thirds of worldwide lithium resources. The best known are found in the salt flats of Chile, Argentina, and Bolivia.
Even though most of these reserve deposits are found in The Lithium Triangle of these three nations, Australia is the world's largest lithium producer in total output, with much of it coming from the Greenbushes hard-rock lithium operation. More on that later.
Among many other lithium producers, I own shares of Livent (LTHM), which produces lithium carbonate from a world-class lithium brine deposit in Argentina: the Salar del Hombre Muerto. Allkem (OTCPK: OROCF), an Australian lithium producer, is ramping up production at a contiguous site. These two companies are currently jumping through various regulatory hoops to be able to merge their assets, making it an even bigger factor in brine-evaporation lithium.
(Bolivia is likely to have the globe's biggest deposit of lithium, the Salar de Uyuni, which might contain as much as between 50 to 70 percent of "known" world reserves. But the statist government of Bolivia, for now anyway, insists on government control of all activity – and the Bolivian deposits are more costly to refine and have a much lower evaporation rate, anyway.)
Geothermal lithium brine deposits have been much in the news lately. Lithium has been found in Chile, New Zealand, and Iceland as super-hot saline is spewed from geothermal sites. In this stew are also found good quantities of potassium, boron, lithium, and other elements.
I have a personal connection here, as well, albeit from a more distant time. Back in the mists of antiquity, I was working my way through UCLA with a dozen or so different jobs. One of these was selling lots on the shores of California's Salton Sea. It never became the next Palm Springs (just up the road a piece), but I thought it had potential, so I scraped up the then-massive chunk of money -- $1,000 -- to buy a 2.5-acre lot there.
I would have done better placing my money in a 2% savings account and compounding it over the intervening period, but at least it has kept me interested in the goings-on down there. There is already significant work being done. The Hell's Kitchen lithium and power project looks to have an estimated 30-year life with a total lithium resource capacity of 300,000 metric tons -- MT -- per year of lithium carbonate equivalent. We'll see.
Lithium brine deposits can also be found in some deep oil reservoirs in North Dakota, Wyoming, Oklahoma, Arkansas, and East Texas. In fact, Standard Lithium (SLI) claims to hold a property (and a unique process) on the U.S. gulf coast containing more than 4 million MT of lithium carbonate equivalent resources.
I find this interesting because the oil & gas drillers have significant seismic and 4D technologies already in place, -- as well as deep pockets. Is it possible we will one day get our lithium from these energy companies, as well?

Pegmatite lithium deposits
Pegmatite is a coarse-grained igneous rock that is formed from crystallized magma. Pegmatite lithium deposits (also known as "hard-rock" lithium deposits,) often contain extractable amounts of not just lithium, but also tin, tantalum, and niobium. We most often find the most lithium where mineral spodumene dominates.
Australia produces the most lithium from pegmatite deposits of any country. Australian lithium production is on fire, with numerous global mining companies elbowing for position. Canada, the US, the Democratic Republic of the Congo, and even nations we do not think of as producing lithium, like Finland and Ireland, hold financially viable pegmatite lithium deposits.
Hard-rock ore that contains lithium is extracted at open-pit or underground mines using conventional mining techniques. The ore is then processed and concentrated in a number of different ways to produce lithium and its compounds. This kind of mining is more expensive than using evaporative techniques like brine deposits. The good news is that hard-rock lithium deposits have higher lithium concentrations than brines, making them still economically viable. Also, producing tin, tantalum, niobium, and more can help offset costs.

Sedimentary lithium deposits
Sedimentary deposits account for a growing piece of the lithium pie. These are found in clay deposits and lacustrine evaporites. ("Lacustrine" just means that these are sedimentary rock formations that formed at the bottom of ancient lakes.)
In clay deposits, lithium is typically found in hectorite, which is rich in lithium, but also in magnesium. (The name hectorite comes from a deposit first discovered in Hector, California.)
Many companies are in the research and development phase for their clay deposits, but no companies currently produce meaningful lithium from them.
The most commonly known form of lithium-containing lacustrine deposit is found in the Jadar Valley in Serbia. This deposit is owned by another company in my portfolio, one which is not often thought of as a lithium producer: Rio Tinto (RIO). RIO says it believes this deposit likely contains more than 200 million MT of lithium, which would make it one of the largest lithium deposits anywhere.
In January 2022, after Anglo-Australian RIO had committed to pay more than $2 billion to execute the project, Serbia revoked its license. The ostensible reason was public protest over environmental concerns. It probably did not help matters that Australia deported Serbia's favorite son and tennis star Novak Djokovic for failing to comply with Australia's Covid-19 protocols. We shall see if one day royalties to Serbia become more important than other issues.
Another example of sedimentary deposits is, yes, yet another of my "future energy" holdings, Lithium Americas. I have written early and often about the trials and tribulations of trying to extract lithium in this litigious United States of America. I first followed LAC as I read reports of the numerous lawsuits to protect "the environment" in my local newspapers. (The Lithium Americas site, Thacker Pass, is a couple of hours northeast of Reno, my nearest airport gateway.)
I find it curious that the voices most demeaning of nature's batteries (fossil fuels) who demand that we replace these forms of energy immediately with "green" sources are also the loudest in protesting our best opportunity to do so. LAC was sued in court by various First Nation tribes, by farmers and ranchers, and by all manner of organizers and followers from outside the area. These lawsuits went on for years.
If we want green energy, we must understand that lithium does not grow on trees, that the sun does not shine 24/7, and that wind turbines are composed of all sorts of metals and materials that must be dug from the ground then, at the end of their useful life, disposed of by returning much of the dangerous materials with which they are built into the earth and atmosphere. TINSTAAFL.
"Possibly" bringing closure to this farce is the decision just this week between LAC, General Motors, which has agreed to off-take some $600 million of LAC production, Bechtel Construction, and North America's Building Trades Unions for the Thacker Pass project, which will now hopefully tap into the largest deposit of lithium in North America.

Where Do Lithium Prices Go From Here?
If you ask me what lithium prices, and thus lithium companies, will do this week or this month, I haven't a clue. Since China removed incentives to buy electric, EV sales there are down. That says there is less demand, so prices may stay depressed. On the other hand, if governments or regulators or protesters dead set against disturbing Mother Earth -- from Serbia to Bolivia to the USA – prevent adequate supply, while demand increases, then the shares of lithium producers will rise again.
I cannot say that a rebound will be immediate. I do believe the tale of Lithium Americas, having exhausted all opposition all the way to the 9th Circuit Court – yes, the 9th Circuit! – may create enough precedent that other firms might not face the same uphill battle.
I don't know exactly when the supply/demand balance will create the momentum to resurrect these companies' share prices. But I am 100% certain that the balance will shift. When it does, earnings will increase or explode. When that happens the same people now selling "because they are going down" will be anxious to buy "because they are going up."
I prefer to eliminate those middle steps. I own and am continuing to add to my holdings in the very best lithium producers. If you want some history, there are scores of articles written on SA about these firms. You will also find a half dozen or so that I have written, detailing in greater depth my belief in every one of these. [If you are unable to view one you want to see because they are older and no longer available without a subscription, I extend a free trial for 2 weeks to The Investor's Edge®. Either read whatever you like, and be sure to cancel during those two weeks, or stay as a subscriber. I stay well-read on this industry for my subscribers.]
Among the lithium producers I own and am currently adding to today are:
Albemarle
Sociedad Química y Minera de Chile S.A. (SQM)
Livent Corp. (LTHM)
Lithium Americas (LAC)
(And the more speculative) Sigma Lithium Corporation (SGML)
Do your due diligence -- and good investing!
---
More By This Author:
The Most Precious Resource On Earth Is In Danger
The Glencore Trifecta: Cobalt, Copper And Nickel (And More)
COPX: Copper Is The 'Conductor' Of The CCLANG Orchestra
I/we have a beneficial long position in the shares of SEE ALL ABOVE either through stock ownership.
Disclaimer: Unless you are a client of my portfolio management firm, Stanford Wealth ...
more