Bitcoin: Get Ready For Another Wave Higher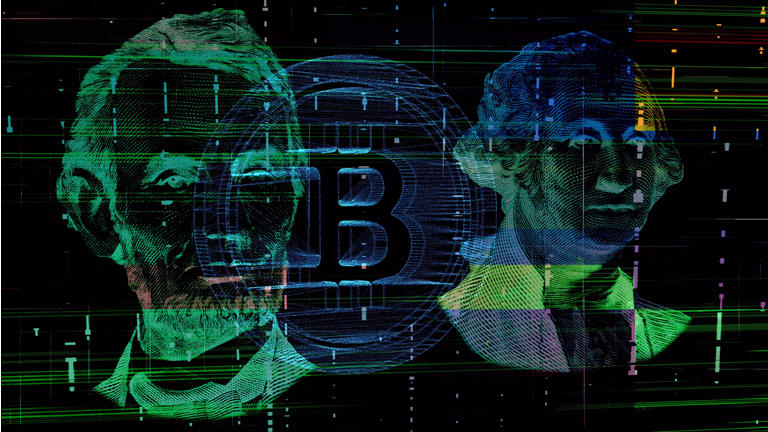 Photo by aislan13/iStock via Getty Images
What seems like eons ago now, was essentially only around 2 years ago. Yes, I am talking about a time when Jamie Dimon didn't "care so much" for Bitcoin (BTC-USD), when Warren Buffet was "explaining" that Bitcoin was not an investment, and when many market participants were simply calling the digital asset un-investible. Back in early 2019, the blockchain enterprise market was bottoming, and Bitcoin was trading around $3,500. Fast forward to May 2021, and we're looking at Bitcoin at $58,000, roughly a 1,500% return in slightly more than a 2-year period.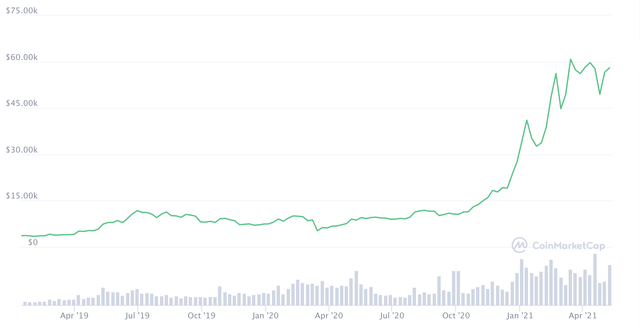 Source: CoinMarketCap.com
Incidentally, this was the time I wrote about Bitcoin's bear market transitioning into a new bull cycle. Now, while returns have been excellent, I believe there is a substantial deal of upside remaining in Bitcoin as well as in the broader digital asset market. A combination of crucial technical, fundamental, and psychological factors should continue to amplify popularity and drive demand going forward.
The Technical Viewpoint

Source: BitcoinCharts.com
In prior Bitcoin wave technical analyses, I called for a likely peak around the $50-100K level. This was in late 2018 when Bitcoin was still hovering below $6,000. However, back then we had no idea about the numerous trillions of dollars in monetary stimulus. Thus, expectations have been adjusted to a higher price point for the next peak in price action.
Just to revisit how we arrived at such figures, let's look at this long-term chart of Bitcoin's bull and bear market cycles. We see that Bitcoin has gone through 3 major up waves, and is now in its fourth. The first one took Bitcoin's price from about $2-200 or about 10,000%, the second wave took the price up from about $50 to roughly $1,200, or approximately 2,300%, and the third wave brought Bitcoin's price from $200 all the way to over $19,500, or nearly a 10,000% again.
Now, each one of these waves has been followed by a substantial washout or a bear market. After wave one, Bitcoin declined from about $200 to $50, or 75%, after wave two Bitcoin came down from about $1,200 to $200, or approximately 83%, and the most recent wave higher had been followed by a washout of approximately 84%.
Now, since history appears to repeat itself, we can probably expect to see an up move of roughly 2,300% - 10,000% in this bull market cycle as well. In fact, if we gauge the move from the bear market low of about $3,200 to Bitcoin's recent high of approximately $65,000, we see a gain of nearly 2,000%. However, given all the variables, this is not likely going to be the top in my view.
My previous price targets of around $75,000 were based on lower-end, relatively conservative estimates, and were modeled well before the easiest monetary environment in history was in place. Thus, to arrive at an approximate top for the current bull cycle, I want to use slightly more aggressive figures, a 5,000% gain from the bear market bottom (roughly the midpoint of prior returns). This brings us to a possible high of around $163,000 in the current bull market cycle. Please keep in mind that if we get another 10,000% return from the bear market low (a best-case scenario in my view), BTC could hit a high of over $300,000 in this current wave.
The Fundamental Perspective
From a fundamental standpoint, I see no reason why the current bull run should end now or any time soon for that matter. The fact is that it is essentially impossible to pinpoint when a bull market will end. Once we are very close to a top, there should be some signs, like parabolic price action, panic buying, and other elements. However, we are not seeing this yet in my view. Instead, we're seeing methodical gains in Bitcoin, followed by the altcoin market, followed by corrections and healthy consolidation phases, and then the cycle repeats itself, again and again.
Disclosure: I am/we are long BTC-USD, ETH-USD, VET-USD, ZIL-USD, ZEC-USD, LINK-USD, XMR-USD, DASH-USD.
Disclaimer: This article expresses solely my opinions, is produced for informational ...
more