Are We Headed For An Earnings Cliff?
Image: Bigstock
The Q3 earnings reports showed that contrary to fears of an impending earnings cliff, companies have largely been able to protect their bottom lines.
We are not suggesting that the earnings picture is great, but rather that it has proved to be a lot more stable and resilient than many have been willing to give it credit.
Actual Q3 results came in better than expected, but that didn't mean much in terms of earnings growth. Not much of a surprise on that count either, given where we are in the economic cycle and the multitude of headwinds facing corporate profitability.
We all know that the lagged effect of the extraordinary tightening already implemented and the incremental rate hikes ahead, including in this month's Fed meeting, will at least slow down the economy, if not push into a recession as many have started to fear.
All of this has direct earnings implications, as estimates for the coming periods get trimmed.
To get a sense of what is currently expected, take a look at the chart below that shows current earnings and revenue growth expectations for the S&P 500 index for 2022 Q3 and the following three quarters.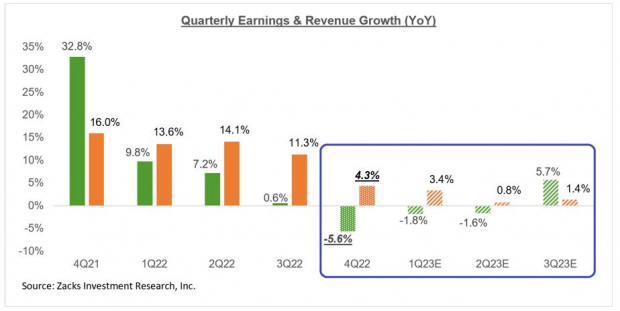 Image Source: Zacks Investment Research
As you can see here, 2022 Q4 earnings are expected to be down -5.6% on +4.3% higher revenues. Keep in mind that the growth pace is in negative territory despite the strong contribution from the Energy sector. Excluding the Energy sector, Q4 earnings for the rest of the S&P 500 index would be down -10.2% from the same period last year.
Analysts have been steadily lowering their estimates for Q4, a trend that we saw ahead of the start of the Q4 earnings season as well. The charts below show how Q4 earnings growth expectations have evolved in recent weeks. We show both the index as a whole as well as the index on an ex-Energy basis.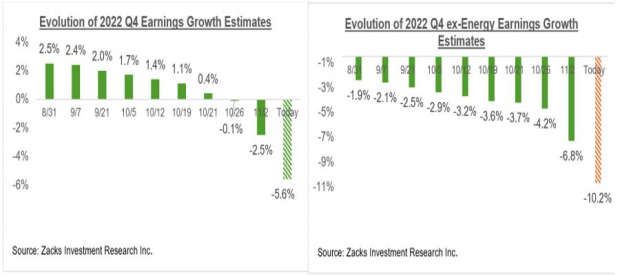 Image Source: Zacks Investment Research
Estimates for the full-year 2023 have also been coming down. The chart below shows how the aggregate bottom-up earnings total for 2023 on an ex-Energy basis has evolved lately.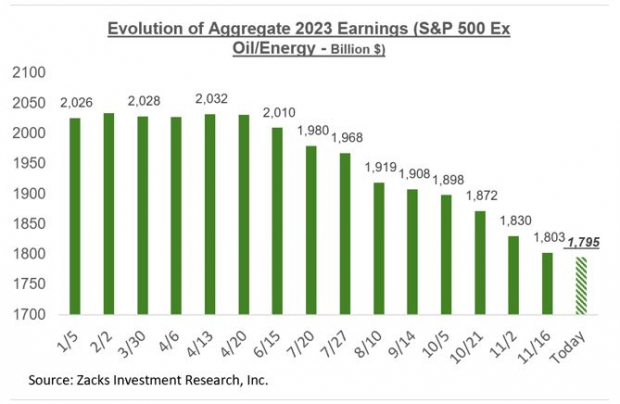 Image Source: Zacks Investment Research
As we have been pointing out all along, 2023 earnings estimates outside of the Energy sector peaked in April and have been coming down ever since. Since the mid-April peak, aggregate earnings have declined by -8.8% for the index as a whole and -11.7% for the index on an ex-Energy basis.
Of the 16 Zacks sectors, 2023 estimates have come down for 13 sectors, with the biggest cuts to estimates for the Construction (down -27%), Consumer Discretionary (-20.3%), Retail (-19.8%), Technology (-19.1%), Basic Materials (-14.4%), Aerospace (-13.9%), Industrial Products (-13.8%), and Transportation (-10.2%).
You have likely read about the roughly -20% cuts to S&P 500 earnings estimates, on average, in response to recessions.
Many in the market interpret this to mean that estimates still have plenty to fall in the days ahead. But as the aforementioned magnitude of negative revisions at -11.7% on an ex-Energy basis shows, we have already traveled a fair distance in that direction. Importantly, some of the key sectors that are in the path of the Fed's tightening cycle like Construction, Retail, Discretionary and even Technology have already gotten their 2023 estimates shaved off a fifth since mid-April.
We are not saying that estimates don't need to fall any further. But rather that the bulk of the cuts are likely behind us, particularly if the coming economic downturn is a lot less problematic than many seem to assume or fear.
The chart below shows the comparable picture on an annual basis.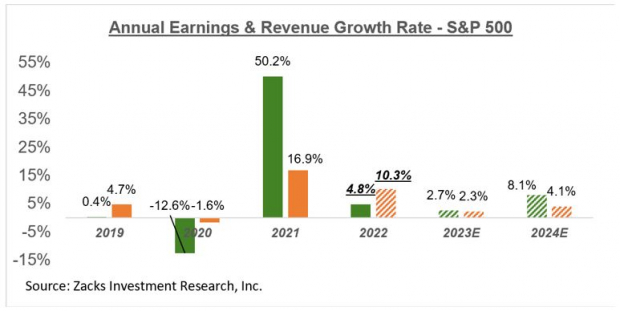 Image Source: Zacks Investment Research
In terms of index 'EPS', this works out to $223.40 for 2023, up from $217.40 for 2022 and $207.52 in 2021.

This Week's Reporting Docket
The reality of an earning season is that it never ends completely. In fact, every quarter has this one period when the older reporting cycle hasn't completely ended yet, but the new one has gotten underway.
We will enter such an overlapping stage next week when AutoZone (AZO - Free Report) on Tuesday (12/6) and Costco (COST - Free Report) on Thursday (12/8) report results for their fiscal quarter ending in November.
We have a number of other companies, including Broadcom (AVGO - Free Report) and Campbell Soup (CPB - Free Report) that will be reporting results for their fiscal quarters ending in October.
It doesn't matter to you how we categorize these quarterly reports for companies with fiscal periods ending in October and November. But if you are curious, we will tell you that the Broadcom and Campbell Soup reports will get clubbed as part of the 2022 Q3 bucket while the AutoZone and Costco reports will officially kick-start to the 2022 Q4 reporting cycle for us.
---
More By This Author:
Breaking Down Retail Earnings That Highlight Slowing Consumer Spending
Previewing Retail Sector Earnings As Inventory Issues Linger
Q3 Earnings Season - Better Than Expected Or Lackluster?
Disclosure: Zacks.com contains statements and statistics that have been obtained from sources believed to be reliable but are not guaranteed as to accuracy or completeness. References to any specific ...
more