Wendy's: Where's The Beef?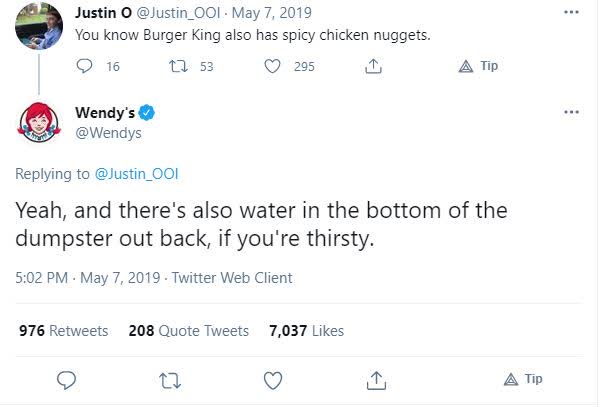 A classic Wendy's Twitter exchange.
Wendy's Follows AMC Onto Our Top Ten List
After shares of The Wendy's Company (WEN) jumped 25% on Tuesday on no news other than that it had caught the eyes of the apes at Wall Street Bets, we were reminded of the '80s Wendy's commercial where the old lady asks "Where's the beef?".
Then Wendy's ended up on our system's top ten list Tuesday night. It was the second meme stock to do so since AMC Entertainment Holdings (AMC) hit our top ten on Friday. Let's talk about why it hit our top ten on Tuesday.
Why Wendy's Made Our Top Ten On Tuesday
Readers might wonder what Wendy's has in common with AMC, other than them both being meme stocks pumped by Wall Street Bets. Fundamentally, nothing: unlike AMC, Wendy's doesn't have particularly heavy short interest. They were both selected based on our system's analysis of their past returns and forward-looking options market sentiment on them. In particular, they scored highly on the gauge of options market sentiment we call the cash substitute adjustment factor. This comes from a cash minimization strategy we use in hedged portfolios, that turned out to select for securities that generated significant alpha.
Testing For This Factor
We test each security in our universe for the cash substitute adjustment factor by attempting to collar it against a greater-than-9% decline over the next several months while capping its upside at 1% or the current money market yield, whichever is higher (obviously, we've been using 1% in this interest rate environment). For Wendy's, here's what that looked like on Tuesday.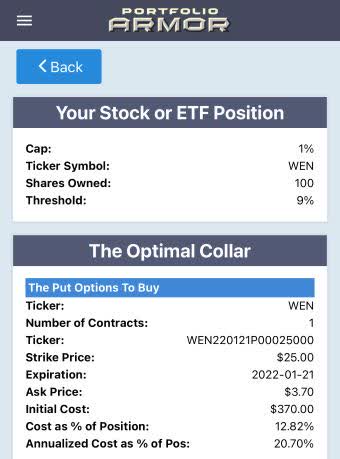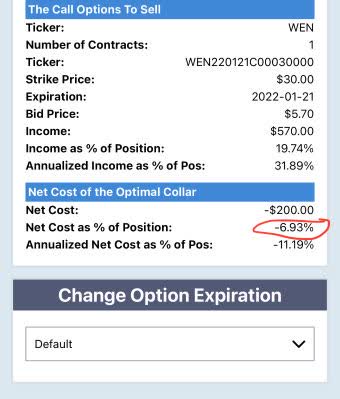 Screen captures via the Portfolio Armor iPhone app.
That hedging cost of -6.93% of position value was one of the ten most negative hedging costs of any of the thousands of securities in our universe on Tuesday.
Performance Of This Factor So Far
As of Tuesday's close, securities that tested positive for this factor outperformed our other top names by an average of about 28.8% over six months. That average takes into account the 6-month performance of every top name we've selected daily since we started tracking this factor in August of 2019. Since then, its average out/underperformance has ranged from about 32% to -6% (We update all the factors we use daily with their most recent performance data, and adjust our security selection process accordingly).
The Bitcoin Effect
When we mentioned this factor in our last post on AMC (AMC: Another Chance To Be Wrong), we wrote that the performance of this factor peaked in February. For that reason, we were skeptical when AMC hit our top ten on Friday (particularly since AMC had already run up 412% since it first hit our top ten in April), but AMC spiked nearly 15% on Monday and held its gains on Tuesday.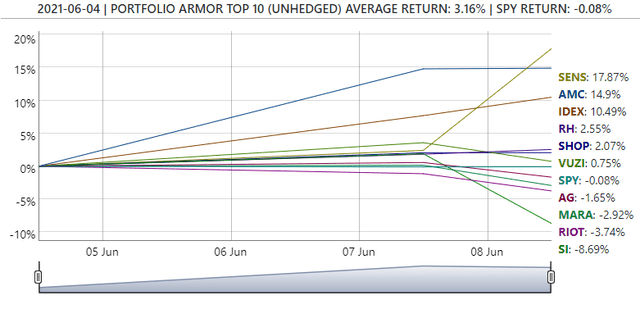 Screen capture via Portfolio Armor on 6/8/2021.
The connection didn't occur to us at the time, but the performance of our cash substitute adjustment factor peaked just when Bitcoin took off on its big rally in early February.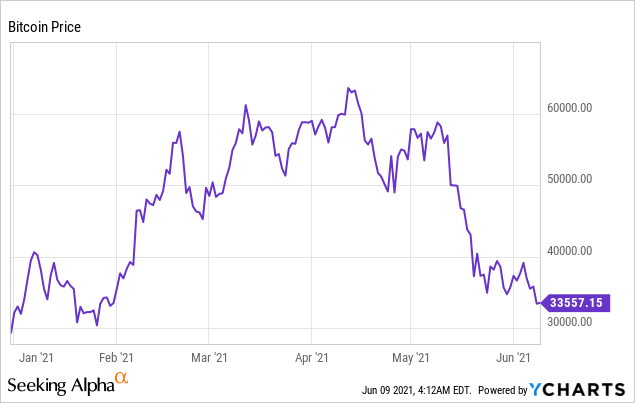 We noted in our post yesterday (From Short Squeezes To Silver), that it probably wasn't a coincidence that the resurgence in meme stocks has happened as Bitcoin has languished, as crypto siphoned speculative fervor out of stocks. If Bitcoin continues to crab at these levels, it's possible the performance of our cash substitute adjustment factor will increase again as well.
Given that, and given its modest returns year-to-date relative to other meme stocks, maybe Wendy's has some room to run. As always, we suggest readers consider hedging in the event we're wrong.