Wendy's: Where's The Beef?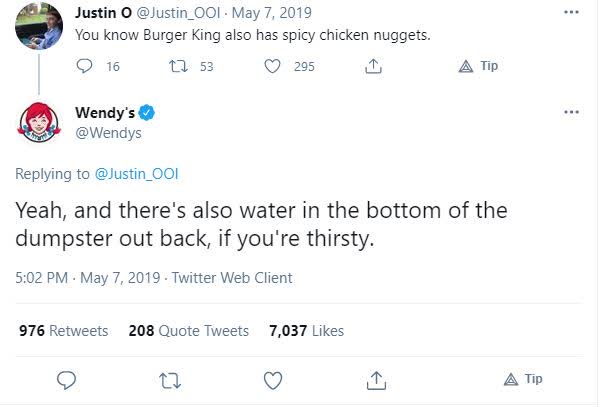 A classic Wendy's Twitter exchange.
Wendy's Follows AMC Onto Our Top Ten List
After shares of The Wendy's Company (WEN) jumped 25% on Tuesday on no news other than that it had caught the eyes of the apes at Wall Street Bets, we were reminded of the '80s Wendy's commercial where the old lady asks "Where's the beef?".
Then Wendy's ended up on our system's top ten list Tuesday night. It was the second meme stock to do so since AMC Entertainment Holdings (AMC) hit our top ten on Friday. Let's talk about why it hit our top ten on Tuesday.
Why Wendy's Made Our Top Ten On Tuesday
Readers might wonder what Wendy's has in common with AMC, other than them both being meme stocks pumped by Wall Street Bets. Fundamentally, nothing: unlike AMC, Wendy's doesn't have particularly heavy short interest. They were both selected based on our system's analysis of their past returns and forward-looking options market sentiment on them. In particular, they scored highly on the gauge of options market sentiment we call the cash substitute adjustment factor. This comes from a cash minimization strategy we use in hedged portfolios, that turned out to select for securities that generated significant alpha.
Testing For This Factor
We test each security in our universe for the cash substitute adjustment factor by attempting to collar it against a greater-than-9% decline over the next several months while capping its upside at 1% or the current money market yield, whichever is higher (obviously, we've been using 1% in this interest rate environment). For Wendy's, here's what that looked like on Tuesday.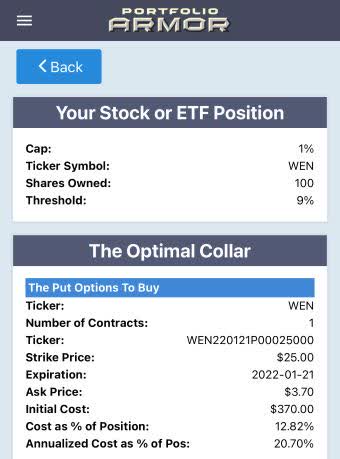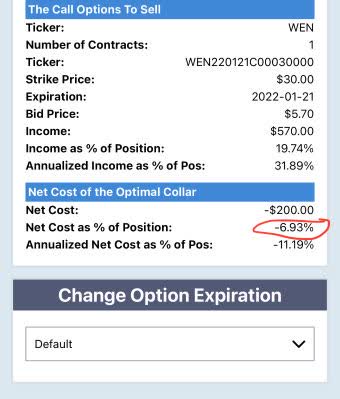 Screen captures via the Portfolio Armor iPhone app.
That hedging cost of -6.93% of position value was one of the ten most negative hedging costs of any of the thousands of securities in our universe on Tuesday.
Performance Of This Factor So Far