The Disappearing MLP Buyer
Approximately 80% of our investments in midstream energy infrastructure are corporations – we invest in MLPs selectively. There's a big difference between investing in pipeline corporations with their wide investor base, and MLPs whose pool of natural buyers is withering.
That's why eight of the ten biggest names in the American Energy Independence Index (AEITR) are corporations. Last week, Bloomberg published Pipeline Funds Imperiled With Even MLPGuy Seeing Their End. MLP-dedicated funds, and more importantly their investors, face some tough decisions in the months ahead.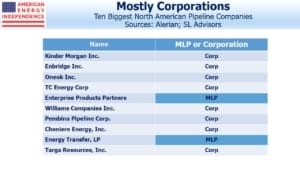 MLPs long ago lost the support of their traditional investor: the older, wealthy American willing to accept the tax complexity of a K-1 in exchange for attractive, tax-deferred yields. The Alerian MLP ETF (AMLP) has cut distributions by a third since 2014, reflecting what MLPs have done (see When Will MLPs Recover?). These investors feel betrayed, and they're not coming back.
The Alerian MLP Infrastructure Index (AMZI), which is what AMLP tries to track, has a float-adjusted market cap of just $61 billion. This is too small to justify a sector-based approach, a point made in the past by CBRE's Hinds Howard (known as @MLPGuy on Twitter). Regulatory limits cap holdings of big MLPs, causing smaller MLPs to be overweighted. The AEITR is 73% companies rated BBB or better, compared with just 42% in the AMZI.
Publicly traded funds represent an important part of the MLP investor base. At the end of February, Wells Fargo estimated there was $30 billion in such funds, of which Closed End Funds (CEFs) represented over 40%. Showing arrogant recklessness, these CEFs entered March with leverage of up to 40%, and in the subsequent forced deleveraging they blew up.
We've often warned about this, most recently in November (see Should Closed End Funds Use Leverage?). Their rapid demise contributed significantly to the overall selling of MLPs in mid-March. These portfolio managers owe everyone else an apology (see The Virus Infecting MLPs). It's been the worst month in memory for pipelines — the AEITR is -40%. But the Kayne Anderson MLP/Midstream Fund (KYN) is down 65% for the month. The Clearbridge Energy MLP Fund (CEM) is -80%. The Tortoise Energy Infrastructure Fund (TYG) is -82%. This group has destroyed most of their client capital. They have no risk management. MLP CEFs no longer exist as a practical matter. They can't do much more damage.
Disclosure:
SL Advisors manages investment products designed to incorporate the advantages described above.
The information provided is for informational purposes only and investors ...
more