When Will MLPs Recover?
October was a wrenching month, with the Alerian MLP index slumping to -6% versus +2% for the S&P 500. MLPs have lagged equities by an astonishing 22% YTD. Over the last couple of weeks we have been busier than usual fielding calls from investors. By far the most common question in various forms is, when will MLPs recover?
So, for the benefit of those with whom we haven't recently chatted but are wondering the same thing, below we summarize our thoughts:
Energy sector sentiment. This remains terrible. Investors would still prefer more disciplined capital allocation. Management teams too often seek dilutive growth, often because their compensation isn't aligned with per-share metrics.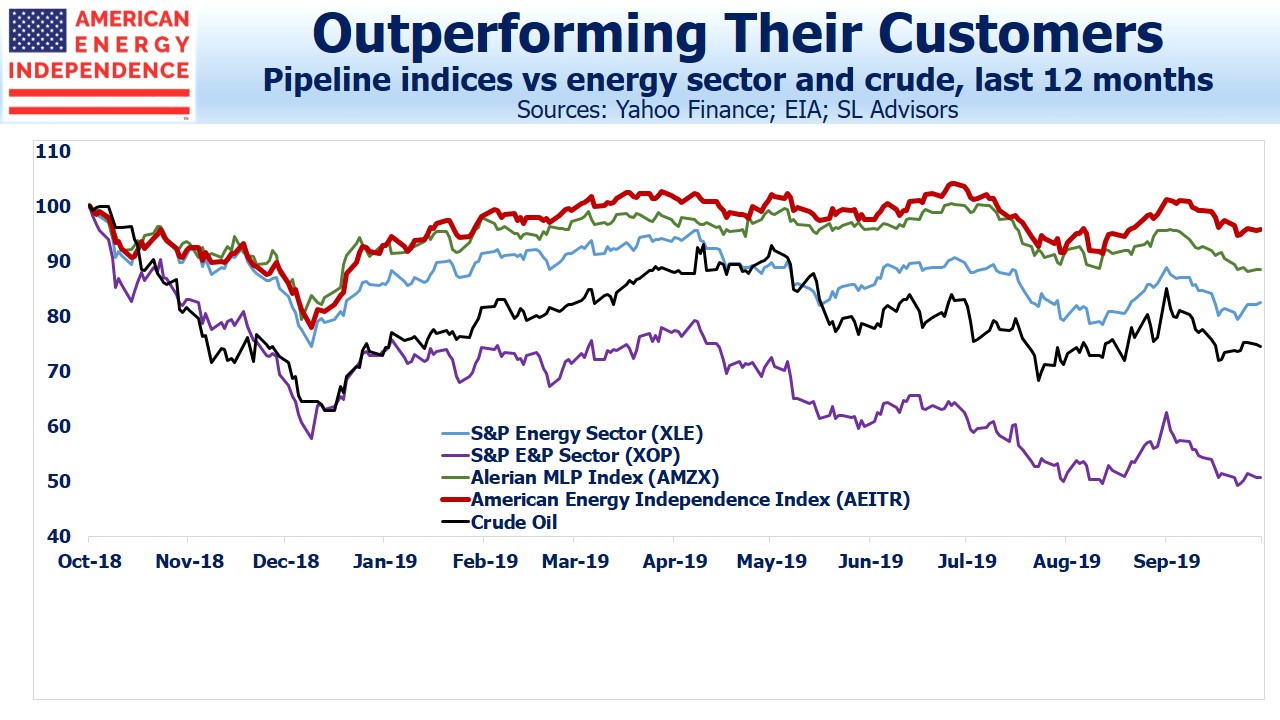 Midstream energy infrastructure has handily outperformed the E&P sector this year, and capital discipline is improving. But many of the people we talk to are weary, looking for reasons to remain invested and searching for confirmation in their original investment thesis that increasing production should benefit pipelines with their toll-like model. However, there are positive signs here, in that Free Cash Flow for midstream energy infrastructure is set to soar over the next couple of years (see The Coming Pipeline Cash Gusher). Growth capex peaked last year, and existing assets are generating more cash. These are both driving FCF to almost $10BN this year, $27BN next year and $43BN or so in 2021. Recent quarterly earnings generally provided confirmation of this positive trend. For example, Targa Resources (TRGP), one of the worst offenders, has 2020 investment spending plans of $1.2BN, half of this year's. Former CEO Joe Bob Perkins flippantly talked about new projects as "capital blessings". Investors won't miss his self-serving arrogance.
Retail investors are selling. Approximately $3.6BN, roughly 7% of the total, has left MLP mutual funds, ETFs and related products in the past twelve months, which creates constant downward pressure on prices. Although our own products have seen net inflows this year, this is not the norm.
Disclosure: We are invested in KMI and TGE.
The information provided is for informational purposes only and investors should determine for themselves whether a particular service or ...
more