Should Closed End Funds Use Leverage?
Closed end funds (CEFs) are an obscure sector of the market with a small but fiercely passionate following. Because they have a fixed share count, they can trade at a premium or discount to the value of their holdings, which are usually public equities or debt. This creates appealing opportunities to buy at a discount to intrinsic value. Closed End Fund Advisors provides a lot of useful information on the sector.
Liquidity is always a problem, so the investors tend to be retail with a small handful of institutions. It can sometimes take several days to get into or out of positions. We occasionally run across financial advisors who invest in CEFs for their clients.
In theory, CEFs should generally trade at a discount to Net Asset Value (NAV), because of their relative illiquidity compared to the basket of underlying shares. MLP CEFS have an especially interesting history. We often note the terrible tax structure of the Alerian MLP ETF, AMLP (see MLP Funds Made for Uncle Sam). But MLP CEFS pre-date AMLP and provided some justification for its launch.
(Click on image to enlarge)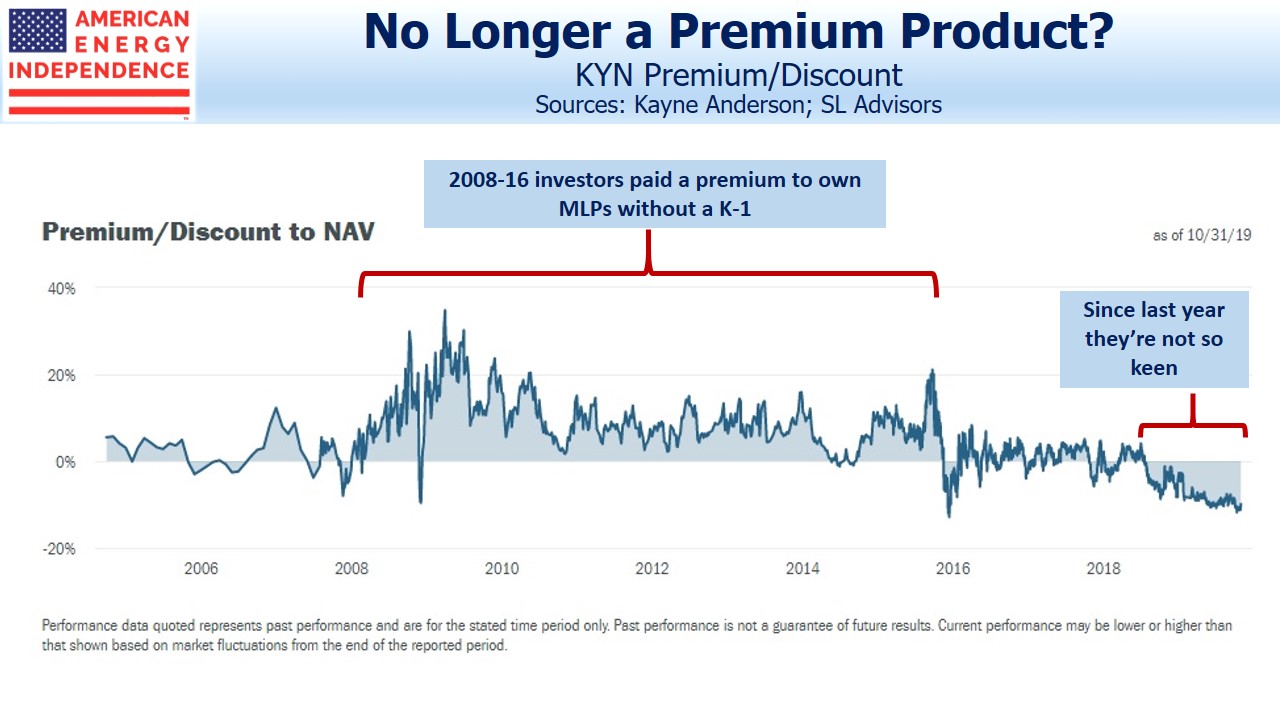 This is because for many years MLP CEFs consistently traded at a premium to NAV. The Kayne Anderson MLP/Midstream Investment Company (KYN) illustrates this point. For most of its history, KYN shares have traded at least 5% higher than NAV and at times over 30%. MLP CEFs possess the same tax inefficiencies as AMLP, in that they are liable for corporate taxes because they are more than 25% invested in MLPs.
The benefit of the tax drag is that KYN investors get exposure to MLPs without the tax hassle of K-1s for tax reporting. A decade ago, investors clearly placed a high value on this simplified tax reporting, as evidenced by the substantial premium to NAV at which KYN traded. AMLP's 2010 launch took place against this backdrop of strong demand for the tax-burdened, 1099 structure.
Where KYN and other MLP CEFs differ from AMLP is in their use of leverage. This is common in CEFs and supports higher yields in exchange for increased NAV volatility. In addition, the interest expense lowers taxable income, which can lower the inherent inefficiency of an MLP CEF with its corporate tax obligation.
The information provided is for informational purposes only and investors should determine for themselves whether a particular service or product is suitable for their investment needs. Graphs and ...
more