Today's Pipelines Leave MLPs Behind
Last week Kelcy Warren, CEO of Energy Transfer (ET), defended the MLP structure. He's definitely correct that MLPs possess a powerful tax advantage over corporations, in that their profits are only taxed at the investor level. Tax-deferred income free of the double-taxation to which corporate profits are subject is very appealing, and for years it drew countless buyers. Unfortunately, Warren is part of the reason that the MLP structure is losing favor. Midstream energy infrastructure and MLPs used to be synonymous, but widespread distribution cuts and investor abuse have left the old, rich Americans who used to be the investor base betrayed.The names Kelcy Warren and Rich Kinder still elicit strong reactions from longtime MLP investors.
The Alerian MLP ETF, a good proxy for how MLPs have performed, has cut its distribution by 34% since the market peak in 2014. Companies chose to finance growth projects in excess of free cash flow, and ultimately resorted to either outright distribution cuts or "backdoor" distribution cuts by merging with a their lower yielding corporate general partner. Many MLPs abandoned the structure, and income-seeking investors in turn have abandoned the remaining ones.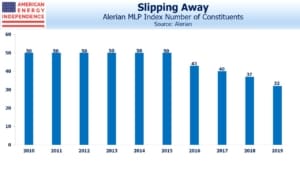 The result today is that MLPs represent 36.5% of the sector by market capitalization, as defined by the Alerian Midstream Energy Index — AMNA (see MLPs No Longer Represent Pipelines). Kinder Morgan, ONEOK, Enbridge, Targa Resoures and Williams Companies are among those that have fully adopted the corporate structure.
MLP-dedicated mutual funds and ETFs were originally designed to offer sector exposure to retail investors who didn't want to deal with K-1s. They saddled their investors with a ruinous tax burden, because funds with over 25% of their portfolios in partnerships (which is what MLPs are) have to pay corporate tax. It seems odd to take a tax-efficient vehicle and add taxes to it, but showing how few investors read the fine print, these products took hold. And they're now focused on just 36.5% of the sector (see Are MLPs Going Away?).
Disclosure: Our affiliated investment products are structured to reflect the insights listed above.
The information provided is for informational purposes only and investors should ...
more