EC

MLP Funds Made For Uncle Sam
2013 and 2014 were great investing years. The S&P 500 was +32% in 2013 and followed up with +14% the following year. MLPs also delivered strong performance. As long-time investors know, the Alerian MLP Index peaked in 2014 and even now remains 35% lower, while the S&P 500 has continued to scale new heights.
Investors in MLP-dedicated mutual funds and ETFs yearn for a repeat, and probably feel entitled to one. Investors in such products are generally not looking for 5-10% either. Given what the sector has endured, the returns of 4-5 years ago would not be amiss. Last week the sector finally turned positive YTD — such optimistic thoughts do not seem out of place.
Those hoping for such may want to consider their choice of vehicle. MLP-dedicated funds are taxed as corporations, and so they pay taxes as well as other operating expenses before delivering their taxable returns to investors. These funds labored under some of the highest expense ratios in the industry during those banner years. Their tax expense is fully disclosed, but still in our experience poorly understood. Sitting with a financial adviser and educating him on a previously unfathomable expense burden still routinely elicits embarrassment and shock.
The chart below shows the 2013-14 expense ratios of some of the biggest MLP-dedicated funds. Although corporate tax rates are now lower, the structural inefficiency persists. If MLPs do manage a couple of years of outsized performance, investors are likely to be surprised at the expenses that are deducted from their returns. Getting the sector right but picking the wrong investment is an avoidable tragedy (see AMLP's Tax Bondage).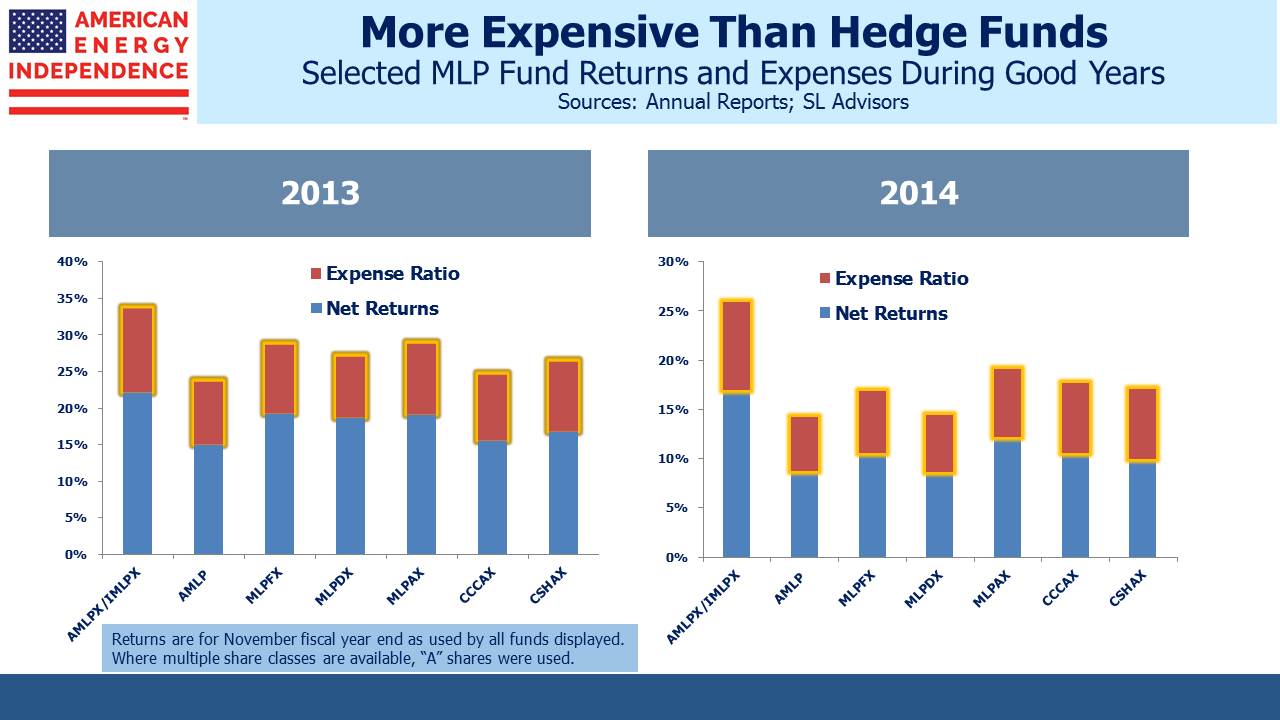 In 2013, the funds in the chart had an average expense ratio of 9.4%. With average returns of 18.2%, around a third of the gross return was eaten up in expenses, most of which was corporate taxes. Six years ago in The Hedge Fund Mirage, I showed how the profits had split very unevenly between fees to managers versus returns to clients. It surprised many, although not the fund managers who well understood and enjoyed the imbalance. The 2013-14 result in MLP funds was similar, although the offending expenses in this case are corporate taxes rather than manager fees. Nonetheless, considering that investors still have to meet their own tax liability on the net investment results, these look like products that the Federal government might have designed.
Disclosure:
We are long ENB and WMB. We are short AMLP.
Disclaimer: For more detailed information please click more