The Bitcoin-Meme Stock Relationship Breaks Down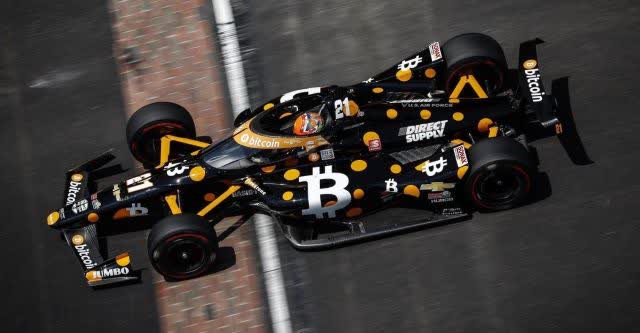 Ed Carpenter Racing's Bitcoin-sponsored number 21 Chevrolet in last month's Indy 500.
Tuesday Morning Quarterbacking
Below are a few observations about Monday's markets, followed by attractive way readers who purchased our recent top name, AMC Entertainment Holdings (AMC), can lock in most of their gains while staying long for more.
Bitcoin's Original Tag Team Returns
Bitcoin bounced early this week with boosts from its original plunge protection tag team. On Sunday, Tesla (TSLA) CEO Elon Musk intimated that his car company would start accepting the cryptocurrency again after miners met a seemingly achievable bar for "clean" energy use.
This is inaccurate. Tesla only sold ~10% of holdings to confirm BTC could be liquidated easily without moving market.

When there's confirmation of reasonable (~50%) clean energy usage by miners with positive future trend, Tesla will resume allowing Bitcoin transactions.

— Elon Musk (@elonmusk) June 13, 2021
As we noted in a post last week (Republic Of The Savior), what's considered pollution has been a moving target in recent decades: as our environment got cleaner (in the West, at least), activists turned their concern toward greenhouse gasses. So far, they've given one of those gasses (water vapor) a pass; if that remains the case, then the promised Salvadoran volcano-powered Bitcoin mining may give Musk the political cover he needs to start accepting Bitcoin for sales of his electric cars again.
The second member of the tag team, MicroStrategy (MSTR) CEO Michael Saylor, stepped in on Monday, announcing that his company had filed to raise as much as $1 billion in a new equity offering and use the proceeds to buy more Bitcoin. This came on the heels of his company's $500 million bond sale last week.
MicroStrategy Launches "At the Market" Securities Offering for Flexibility to Sell Up to $1 billion of its Class A Common Stock Over Time $MSTRhttps://t.co/qouK8pFmBF

— Michael Saylor (@michael_saylor) June 14, 2021