Can The 10 Year Yield Fall Further?
According to the June Bank of America survey, 72% of fund managers said they believe inflation is transitory and 23% said it is permanent. It's extreme to claim the current situation is permanent when so much of it is unique. The end of the pandemic and the supply chain issues are temporary economic scenarios that won't last. The fiscal stimulus won't be repeated on this level until the next recession. It's weird to claim this is permanent. At best, it will last longer than a few months.
According to BofA's Global EPS Model, global EPS peaked around +40% YoY in April. pic.twitter.com/Iy3UKhOE10

— Michael Goodwell (@MichaelGoodwell) June 14, 2021
The market knows it's transitory. This is why the 10 year yield has fallen from 1.78% to 1.5%. It's the most transparent temporary bout of inflation ever. As you can see from the chart above, the 10 year yield falls 67 basis points on average in the 3 months following the peak in CPI which was in May 2021 for this cycle. We think the decline will be lower than that because the market was more ahead of the game than usual. It has already been almost 3 months since the peak in yields. Much of the decline has already occurred.
No One Wants Bonds
In our previous article we showed the equity percentage of household assets hit a record high because no one wants to invest in bonds. Dividend stocks are the new bonds. According to the fund manager survey, the net percentage of asset allocators that said they were overweight bonds hit a record low (near -75%). While this is a new low, it was almost as low at many points in the prior economic cycle.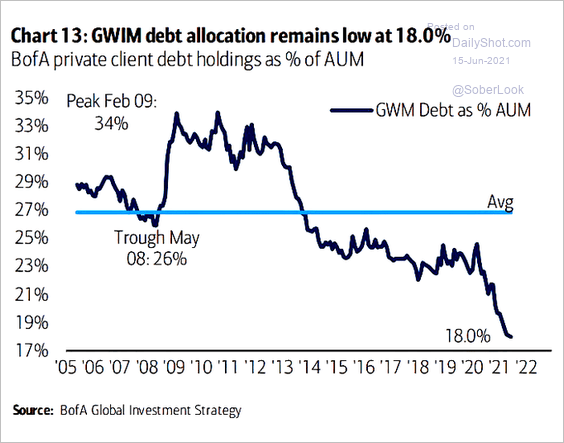 The chart above is a bit more dramatic. The debt allocation of Bank of America's private clients is 18% of their assets under management which is a record low and much lower than where it was in the last expansion. The average is irrelevant because this works in cycles. The trough in 2008 was 26% which is obviously much higher than it is now even though we aren't in a recession.
Disclaimer: The content in this article is for general informational and entertainment purposes only and should not be construed as financial advice. You agree that any decision you make will be ...
more