Manufacturing in the US is growing at crawl-speed or is actually declining, depending on who the beholder is. China appears to be on a similar track, with manufacturing export orders in particular trouble. But the other manufacturing giants – Germany, Japan, and South Korea – are not so lucky.
On Friday, two major beholders released their views on the US manufacturing sector: The IHS Markit US Manufacturing PMI, which saw growth in October picking up a tad for the second month in a row, from stall-speed over the summer; and the ISM Manufacturing PMI, which saw manufacturing declining in October but declining at a slightly slower rate than in the month before. The IHS Markit US Manufacturing PMI first: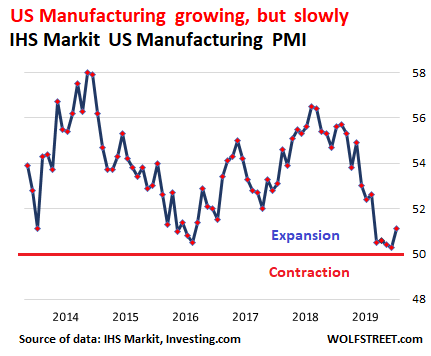 These "Purchasing Managers Indices" (PMIs) are based on how a panel of executives of manufacturing companies – names are not disclosed – see various aspects of their own businesses, such as new orders, production, and employment. Values over 50 mean growth (the more the value is above 50, the faster the growth); values below 50 mean contraction.

Continue reading at WolfStreet.com.