Vertex Is Positioned For Upside
Vertex (VRTX) is the market leader in the treatment of cystic fibrosis - CF. The company's main products are Trikafta, Symdeko/Symkevi, Orkambi, and Kalydeco, these products are collectively approved for 60% of the 75,000 cystic fibrosis patients in main markets, and Trikafta looks like a remarkably promising growth engine for the company in the years ahead.
Trikafta is a triple combination regimen that was approved by the FDA in October 2019 for the treatment of CF in people aged 12 years and older. The drug is under review in Europe, while also being evaluated in younger patients in the US.
Management is remarkably optimistic about Trikafta, and the company believes that it has the potential to treat up to 90% of all people with CF. The fact that Trikafta already produced 420 million in sales during the fourth quarter of 2019 clearly indicates that demand has been more than strong.
(Click on image to enlarge)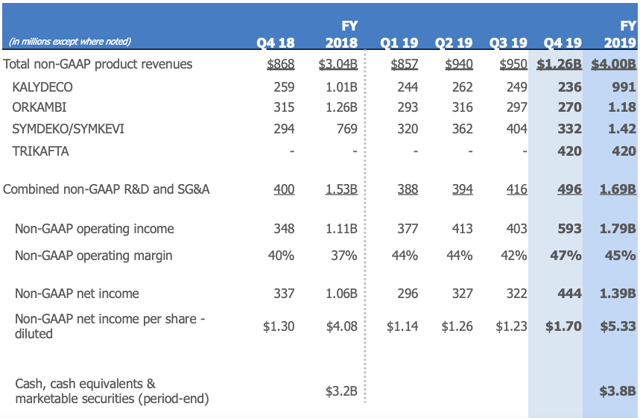 Source: Vertex
Beyond CF, Vertex is advancing its treatments for cell disease, thalassemia and pain management, among others.
(Click on image to enlarge)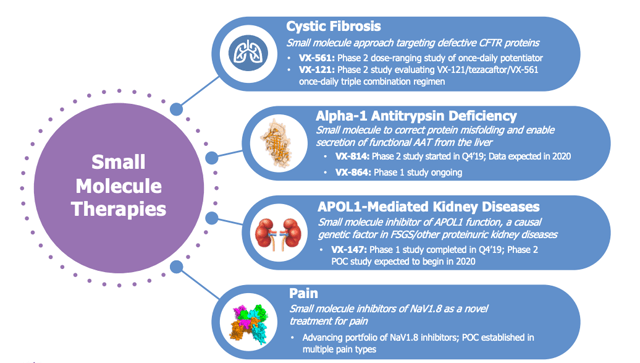 Source: Vertex
For further diversification and innovation, the company's pipeline programs include multiple modalities in addition to small molecules. Vertex is also working with new approaches such as cell and genetic therapies. For these new modalities, Vertex has acquired or partnered with leading companies with deep expertise and valuable technologies in these areas.
(Click on image to enlarge)
Source: Vertex
Financial performance has been impressive over the past several years, with both revenue and cash flows moving in the right direction over time.
(Click on image to enlarge)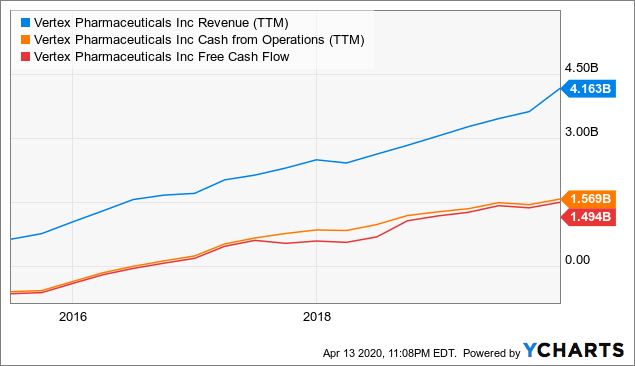 Data by YCharts
The company delivered better than expected earnings for the fourth quarter of 2019. Full-year adjusted product revenues reached $4 billion, a 32% increase year over year. Adjusted operating income grew by 61% versus the prior year.
Expanding profitability and cash flows provides the resources to reinvest in both internal and external innovation in order to create future medicines and long-term growth opportunities. In 2019 Vertex invested approximately $1.6 billion in external innovation through new acquisitions and collaborations.
Disclosure: I/we have no positions in any stocks mentioned but may initiate a long position in VRTX over the next 72 hours.
Disclaimer: I wrote this article myself, and it expresses my ...
more