E

Tuesday Talk: Up But Under 4500
Both the S&P 500 and the Dow closed higher on Monday to end their five day losing streak, while the Nasdaq closed slightly lower than it's Friday close.
Closing at 4,469 the S&P 500 was up 10 points but still well below 4,500; the Dow Jones Industrial average was up 262 points, closing below 35,000 at 34,870. The Nasdaq closed at 15,106, down 10 points. Currently market futures for all three indices are red: S&P futures are trading down 5 points, Dow futures down 49 points and Nasdaq futures down 25 points. Traders and investors will be closely watching the August CPI numbers which the U.S. Department of Labor will release later today. A moderate decrease in the rate of inflation from July is expected. Most actives on the Big Board yesterday were across sectors with some tech and COVID pharma stocks taking hits.
Chart: The New York Times
Monday's biggest loser was COVID-19 superstar Moderna (MRNA) which dropped 6.6%, closing at $419.72.
Meanwhile, tech giant Oracle (ORCL) beat analyst expectations for their fiscal Q1earnings for their quarter which ended August 31. TalkMarks contributor Zacks Equity Research provides the analysis in their article, Oracle Surpasses Q1 Earnings Estimates. This is some of what they have to note:
"(Oracle reported)...quarterly earnings of $1.03 per share, beating the Zacks Consensus Estimate of $0.97 per share. This compares to earnings of $0.93 per share a year ago...This quarterly report represents an earnings surprise of 6.19%. "
"Oracle posted revenues of $9.73 billion for the quarter ended August 2021, missing the Zacks Consensus Estimate by 0.46%. This compares to year-ago revenues of $9.37 billion. The company has topped consensus revenue estimates three times over the last four quarters...Oracle shares have added about 38.6% since the beginning of the year versus the S&P 500's gain of 18.7%."
"The current consensus EPS estimate is $1.10 on $10.25 billion in revenues for the coming quarter and $4.63 on $42.25 billion in revenues for the current fiscal year."
Oracle stock closed at $88.89 per share yesterday, down $0.79. Currently shares of Oracle are down $3.04 pre-market open.
TalkMarkets contributor, economist Menzie Chinn in Two Pictures – Money To Income And The Price Level brings us two charts of the US money supply vs GDP to help readers understand (or at least contemplate) where the economy really with regards to inflation.
"Consider the following graphs. Figure 1 is M1 and M2 to real GDP (0.80 means 80%) for the United States. Figure 2 is M1 to real GDP on left scale, and CPI-all urban on the right scale (taking on a value of 100 in the period 1982-84).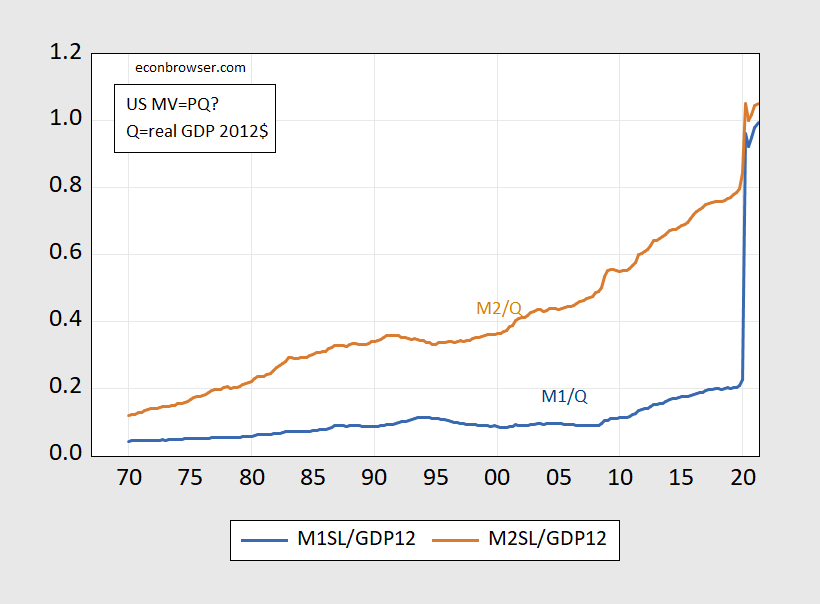 Figure 1: M1 in billions of $ divided by real GDP in billions of Chained 2012$, Seasonally Adjusted at Annual Rates (SAAR) (blue), and M2 divided by real GDP (brown). Money is seasonally adjusted, end-of-quarter figures. Source: Federal Reserve via FRED, BEA, and author's calculations.