Tesla Reports Dismal Quarter, Missing Across The Board While Burning $10MM In Cash Every Day
Following much confusion about its business model (especially after Tesla announced via Twitter on Tuesday night that it is changing its auto line up yet again, with its flagship Model S and Model X SUV now returning with standard range versions which were canceled in January, while once again lowering prices), and growing fears about flagging end-user demand for its products after the company reported dismal Q1 deliveries with just 12,100 combined model S and X deliveries the lowest total since 2015, investors - especially the shorts who have been piling into Tesla recently, with short interest as a percentage of free float at almost 24% of shares outstanding as of yesterday's close - were keenly waiting for what Tesla would report for its Q1 earnings and how it would guide for the immediate future.
And they waited... and waited... because while traditionally Tesla had reported earnings shortly after 4 pm Eastern, and specifically, these were the last 9 times the earnings release was published:
4:19ET
4:29ET
4:14ET
4:11ET
4:13ET
4:18ET
4:12ET
4:09ET
4:18ET
... this time Tesla waited until well past an hour after the usual release time, or 5:13 pm to be specific, to publish the report, so that investors would have just 17 minutes to read and digest what would be an ugly quarter, and formulate questions ahead of the 5:30 pm earnings call.
And sure enough, the earnings were indeed a disaster with the company reporting a loss of $2.90 in the quarter, more than double the estimated $1.30 share, on dismal revenue of just $4.54 billion, also far worse than the $4.84 billion expected. The EPS, charted, was clearly a disaster.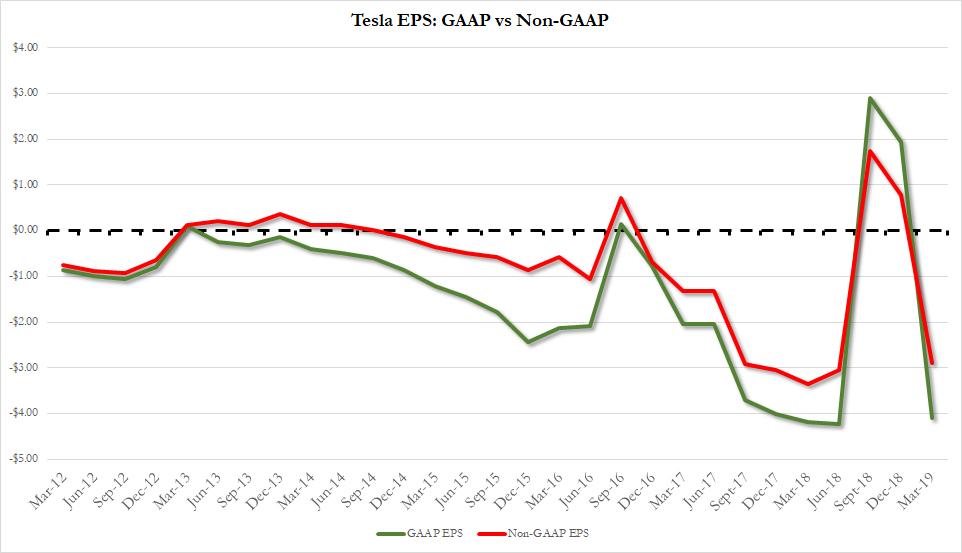 Here are some of the other key highlights via Bloomberg:
Reaffirms Guidance of 360k to 400k Deliveries in 2019
Says May Produce 500k Vehicles Globally in 2019
Targets 25% Adj Gross Margin on Model S, Model X, Model 3
1Q Cash & Cash Equivalents $2.20B
Says Expects Order Rate to Improve Throughout Year