Black Swan Index: What Is It, And Is It Important?
The term "Black Swan Index" that you might see on social media or in financial articles is referring to CBOE's SKEW index.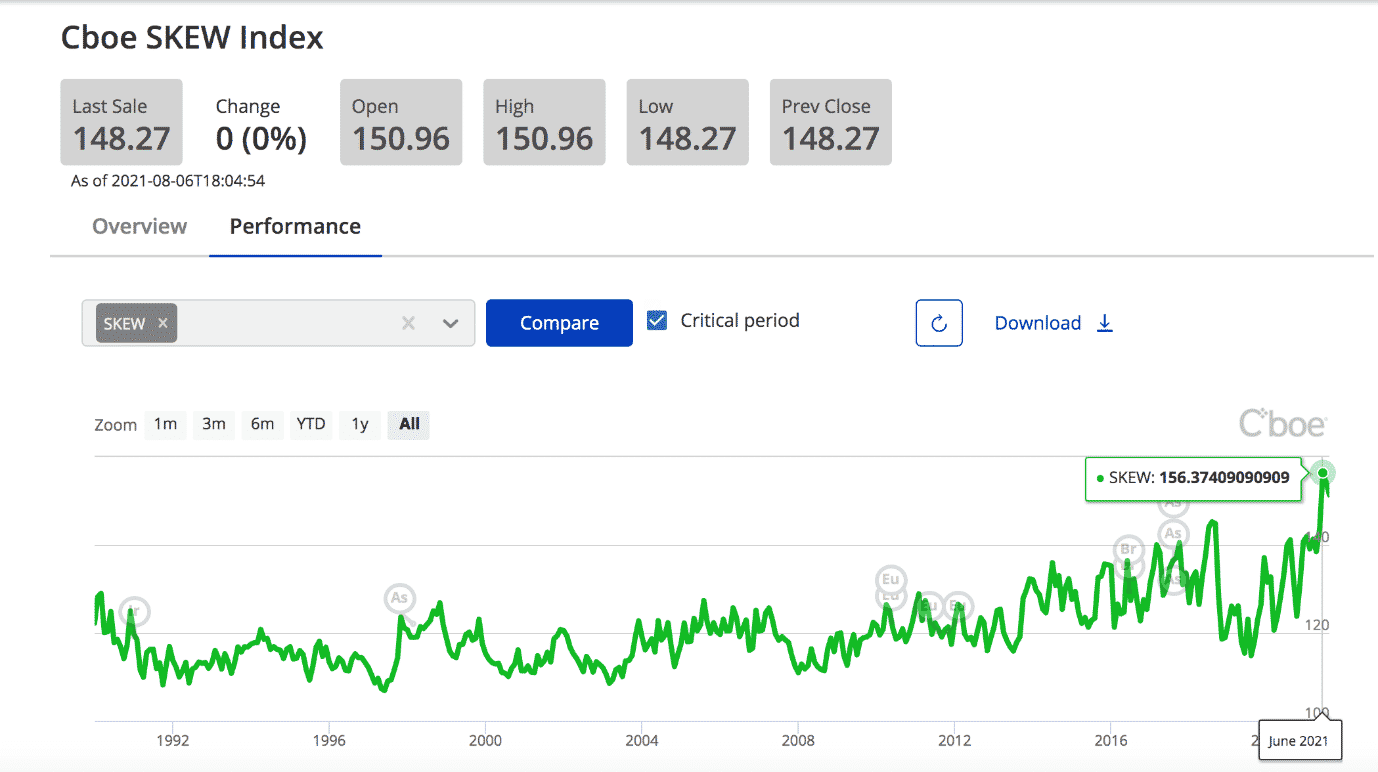 Source: CBOE Index Dashboard.
You can also bring it up on many trading platforms using the symbol SKEW or $SKEW. As you can see from the chart, it is set to a timeframe of "all-time." The index started in January 1990, and we can see that SKEW reached the all-time high of 156 in June 2021.
What Does this Mean?
Based on option prices of the S&P 500, the SKEW index measures investors' perceived tail risk. A SKEW value of 100 entails normal skew and low tail risk, while a value of 150 means high tail-risk.
Tail risk is the risk of the S&P 500 making a move greater than two standard deviations. A greater-than-two standard deviation move would be on the tail ends of the distribution curve — hence the name "tail risk." Although there are tails on both sides of the curve, investors are often more concerned about downside tail risk.
A high SKEW index value indicates that put options are much more expensive than call options because investors use puts for downside protection. Let's look at the actual numbers to confirm if this is the case.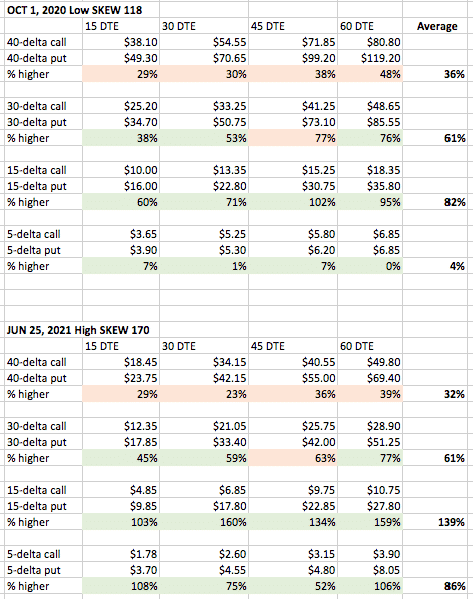 Data from: OptionNet Explorer
For example, in the first table (low SKEW environment), we are looking at the 30-delta and 15-days-to-expiration for calls and puts:
Low SKEW.
Oct. 1, 2020.
SKEW: 118.
Oct. 16 SPX $3460 call @ $25.20.
Oct .16 SPX $3295 put @ $34.70.
The put is 38% higher priced than the call. In the second table (high SKEW environment), we have:
High SKEW.
June 25, 2021.
SKEW: 170.
July 9 SPX $4315 call @ $12.35.
July 9 SPX $4240 put @ $17.85.
The put is 45% higher priced than the call. The fact that puts are higher priced than calls of the same delta is known as skew. Puts are typically higher priced relative to the calls. But it is even more so in a high SKEW environment, and more so for strikes further away from the current price.
To learn more about the SKEW index, including its formula and sample calculations, read more