Bitcoin's Plunge Protection Team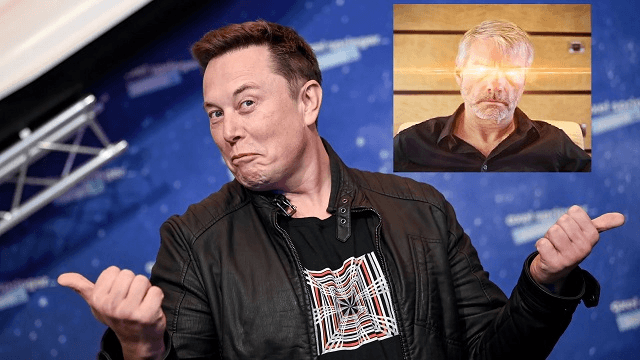 Elon Musk and MicroStrategy CEO Michael Saylor.
Meet The Bitcoin Plunge Protection Team
As we reminded readers last week (Ideas For Bitcoin Bulls), MicroStrategy (MSTR) CEO Michael Saylor is the man who prompted Elon Musk to add Bitcoin to Tesla's balance sheet earlier this year. On Monday he tweeted that he had hosted a meeting between Elon Musk and executives from the leading Bitcoin miners in North America.
Two Recent Top Names In The Meeting
MicroStrategy was one of our top ten names when we mentioned it last week. In our post yesterday (Wall Street Considers "The Flippening"), we wrote about another listed in Saylor's tweet, Riot Blockchain:
Despite the crypto crash, we still had a couple of crypto-related stocks in the top ten of our daily ranking on Friday, Riot Blockchain (RIOT), and Silvergate Capital (SI).

Screen capture via Portfolio Armor as of 5/21/2021.
Shares of RIOT were up 13.6% as Bitcoin bounced on Monday.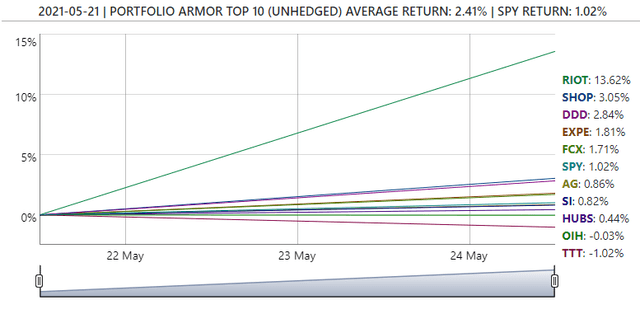 In the event RIOT goes south again, we've included a brief video about how to hedge it below. First, a comment on how RIOT exemplifies an irony about the China/environmental angles with respect to Bitcoin mining.
How China Facilitated American Bitcoin Mining
As ZeroHedge noted on Monday ("Crypto's Soar After Musk, Saylor Speak To Bitcoin Miners, Will Standardize Energy Reporting"), China's sowing of fear, uncertainty, and doubt about Bitcoin may have been an attempt to knock down the flagship cryptocurrency to bolster the digital yuan. Failing that, ZeroHedge wondered if Chinese Bitcoin miners would ultimately participate in the "standardized energy reporting" Michael Saylor tweeted about:
Disclaimer: The Portfolio Armor system is a potentially useful tool but like all tools, it is not designed to replace the services of a licensed financial advisor or your own independent ...
more