What's Coming Next In The Ukraine War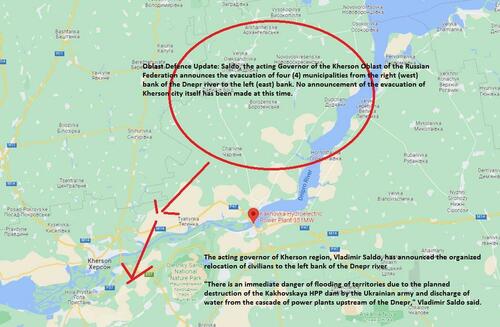 Annotated Map via Map via AZGeopolitics
Another Peace Proposer Attacked
There've been some developments in the Ukraine War this week. I'll cover them in this post, and I'll close with an investment note following up on my previous post ("Underwater in a Bear Market"). Before we get to what's coming next in the Ukraine War, we should note that another American billionaire has gotten attacked for suggesting a peace proposal for the Ukraine War.
Readers may recall that Elon Musk was briefly put on the Ukraine's Myrotvorets kill list following his peace proposal and suggestions that he would stop providing Ukraine with Starlink internet (he later reversed himself and said he'd continue to cover the cost of Starlink after seeing Eva K. Bartlett's tweet about him having been put on the kill list. This week, another American billionaire, hedge fund manager Bill Ackman, was criticized for his peace proposal:
One commenter quipped Ackman should have done similar due diligence on his Netflix, Inc. (NFLX) stake (this was before Netflix's positive earnings surprise Tuesday).
The Battle for Kherson
It looks like what's coming next in the Ukraine War will be an all-out battle for the city of Kherson, which is currently held by the Russians. The acting governor of the Kherson oblast, Vladimir Soldo, ordered the temporary relocation of civilians located on the right bank of the Dnipro River (when Russians refer to right and left banks of a river, their orientation is the direction the river flows; since this river flows north-to-south, the right bank is the western bank).
General Armageddon Speaks
In his first public comments since being named the overall commander of Russia's "special military operation" in the Ukraine, General of the Army Sergei Surovikin, nicknamed "General Armageddon" for his previous work in Syria, was asked about about the situation in Kherson (translation via Russia's Ministry of Defense):
There is a difficult situation at the abovementioned direction. The enemy launches deliberate attacks at infrastructure facilities and residential buildings located in Kherson. Impacts of HIMARS rockets have damaged Antonovka bridge and the dyke of Kakhovka hydroelectric power plant where the traffic is currently stopped.

It has resulted in impeding alimentation deliveries; certain problems have been recorded in supplying water and electricity. All of these not only complicate the residents' everyday life, but also pose a direct threat to their lives.

NATO leadership that leads the Armed Forces of Ukraine has long demanded the Kiev regime to conduct offensive operations towards Kherson, regardless of any casualties: neither in the AFU, nor among the civilian population.

We have got data on the possible use of prohibited methods of war by the Kiev regime near Kherson, on the preparation of a massive missile attack at the barrage of Kakhovka hydroelectric power plant, as well as launching a massive indiscriminate missile and artillery attack at the city.

This action can lead to the destruction of the infrastructure of a large industrial centre and high casualties among civilians.

In these conditions, our primary task is to save lives and health of civilians. That is why, first of all, the Russian army will provide safe departure of the population according to the resettlement programme that is currently being prepared by the Russian government.

Our further plans and action regarding the city of Kherson itself will depend on the military and tactical situation.

I repeat: has already become very difficult.

Anyway, as I have already said, we will proceed from the necessity to maximally save the lives of civilians and our personnel.

We will operate consciously, promptly, not excluding taking difficult decisions.

Notes of interview with Commander of Joint Group of Troops (Forces) in special military operation area General of the Army S.Surovikin (18 October 2022)
Colonel Macgregor Weighs In
Some in Western media have interpreted Surovikin's mention of "difficult decisions" to mean he's considering retreating from Kherson, but Colonel Douglas Macgregor, U.S. Army (Retired) predicted in a recent interview that Surovikin would launch a major offensive later this year.
To be fair, as Macgregor notes there, he also predicted they would launch this offensive at the end of August.
One thing Macgregor and Surovikin agree on is that the Ukrainians have been taking massive casualties. In his recent interview, Surovikin estimated the Ukrainians were losing 600-1000 men per day; in the YouTube video above, Macgregor estimates the Ukrainians have had about 100,000 men killed in action in the war so far and are losing 5-7 men for every man the Russians lose. Macgregor thinks the Russians will ultimately take Kharkov and Odessa but not attempt to annex any of Western Ukraine.
What's Probably Not Going To Happen
With recent news of Russian and Belarusian joint exercises in Belarus and threatening statements by Belarusian President Lukashenko, some have speculated that there might be another Russian march toward Kiev launched from Belarus as in the beginning of the war. Belarusian journalist Tadeusz Giczan posted an informative thread this week explaining why that is unlikely.
As he notes later in the thread, the Belarusian Ministry of Defense made no similar statements before the invasion back in February.
Another difference between then and now Giczan points out is that the roads the Russians used to invade in February have since been mined and fortified by the Ukrainians, and the surrounding land is an impassible marsh (though perhaps that marsh freezes at some point?).
Unfortunately, there doesn't seem to be much if any diplomacy happening now, so a bloody battle for Kherson remains the most likely event in the war in the near term.
Let's close on a less depressing note with a follow up on Monday's post.
Fading The Rally
In Monday's post, I mentioned that Portfolio Armor's top name on Friday was a bet against U.S. real estate, the Direxion Daily Real Estate Bear 3X Shares ETF (DRV). I also said that DRV would likely drop on Monday as the market rallied.
It did, and I bought calls on it. I also took advantage of the rally to buy puts on Rocket Companies, Inc. (RKT), the parent of Rocket Mortgage, as another bet against real estate, which of course will be facing interest rate headwinds until the Fed pivots (I wrote about when that might happen in Monday's post).
---
More By This Author:
Underwater In A Bear Market?
Avoiding Head Fakes - In War, And In Markets
Selling Emerging Markets Humiliation
Disclaimer: The Portfolio Armor system is a potentially useful tool but like all tools, it is not designed to replace the services of a licensed financial advisor or your own independent ...
more