Avoiding Head Fakes - In War, And In Markets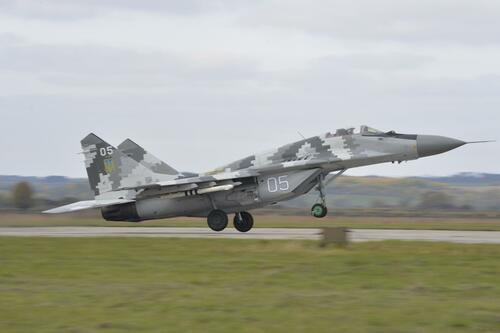 A Ukrainian MiG-29 (Tech. Sgt. Charles Vaughn/U.S. Air National Guard)
The Economics of Air Defense
A lot happened in the last week in the Ukraine War. In this post, we'll look at one incident that may shed some light on the economics of the conflict. Following that, a note about avoiding head fakes in in war and markets by keeping your eye on the big picture.
After the Ukrainian attack on the Kerch Strait Bridge last weekend, Russia responded with massive missile and drone strikes on Ukrainian targets starting on Monday. The drones were primarily Iranian Shahed-136 Kamikazes (re-christened as Geran-2 by Russia).
Video Length: 00:04:00
Cost estimates I've seen for these drones vary from about $20,000 to $25,000 each. They're literally powered by lawnmower engines (presumably, because Iran has limited access to engines due to U.S. sanctions), though in the video above, it looks like they get an initial rocket boost off their launchers.
Despite being loud and slow, they apparently have been quite effective, so the Ukrainian Air Force sent up a MiG-29 fighter to shoot one down. You can see the MiG firing at it in the short video below.
Video Length: 00:00:10
A MiG-29 apparently costs something between $5 million and $12 million, incidentally.
In this case, the MiG successfully shot down the drone, but shrapnel from the explosion of the drone hit the MiG's cockpit, forcing the pilot to eject. You can see wreckage of the MiG below.
Video Length: 00:00:20
So the Ukrainians sacrificed a $5 million+ plane to shoot down a $25,000 drone. If this sounds like it may be an unrepresentative example, consider that we've already given the Ukrainians aid equal to Russia's entire military budget for 2021.
Keeping Your Eye On The Big Picture
Last month, during the Ukrainian armed forces surprisingly successful counter offensive, one of my smart correspondents on Twitter, Roko Mijic (whose famous thought experiment brought together Elon Musk and his ex-girlfriend Grimes) wondered if Russia was about to surrender. I offered to take the opposite side of that bet.
Is #Russia about to surrender?

Situation moving very quickly. Putin probably having a bit of a Downfall moment.

This is moving very quickly, be cautious https://t.co/ieosC7vcSt

— Roko.eth (@RokoMijic) September 12, 2022
Roko moved the goal posts a bit, and I ended up betting him that 5,000 Russian troops wouldn't surrender by October 12th, a bet which I won. The reason is that I kept my eye on the big picture with respect to the war: Russia is larger than the Ukraine, and has greater resources to draw on in terms of basic armaments such as artillery shells. The successful Ukrainian counter offensive was analogous to a bear market rally.
The same has been true about markets over the last few months: the big picture is high inflation and rising interest rates to counter it. So you want to fade the rips higher, and focus on that, as I noted a few months back:
In that post, I included our system's top names that week:
Long Energy, Short Treasuries and Tech

Our system doesn't consider the macro picture when selecting its top names. Instead, it gauges stock and options market sentiment to estimate which securities are likely to perform the best over the next six months. Nevertheless, that bottoms-up approach painted a fairly clear picture in our top ten names as of Tuesday's close:

Long Energy: ProShares Ultra Bloomberg Natural Gas (BOIL), Direxion Daily S&P Oil & Gas Exp. & Prod. Bull 2X Shares (GUSH), Valero Energy Corp. (VLO), Comstock Resources, Inc. (CRK).
Short Treasuries: Direxion Daily 20+ Year Treasury Bear 3X Shares (TMV), ProShares UltraPro Short 20+ Year Treasury (TTT).
Short Tech: Direxion Daily Dow Jones Internet Bear 3X Shares (WEBS)

(Click on image to enlarge)

Screen capture via Portfolio Armor on 7/19/2022.
Here's how those top names have done, as of Friday's close:
(Click on image to enlarge)
On average, those top names were up 9.93% so far, while the SPDR S&P 500 Trust (SPY) was down 8.83%. The outperformance was more pronounced in our hedged portfolios, which clipped off the left tail risk on names like BOIL. As you can see, the best performers were short Treasuries (TTT, TMV), long energy (CRK), and short tech (WEBS).
---
More By This Author:
Selling Emerging Markets Humiliation
Kerch Strait Bridge Attacked
Avoiding Nuclear Armageddon
Disclaimer: The Portfolio Armor system is a potentially useful tool but like all tools, it is not designed to replace the services of a licensed financial advisor or your own independent ...
more