China GDP And Forecasts
Chinese GDP for q4 was released a couple of weeks ago, showing a resumption of growth. The IMF has upped its growth forecast (WEO), relative to October's, by nearly a percentage point (y/y). Nonetheless, the level of GDP will match roughly what was expected back in April's report.
(Click on image to enlarge)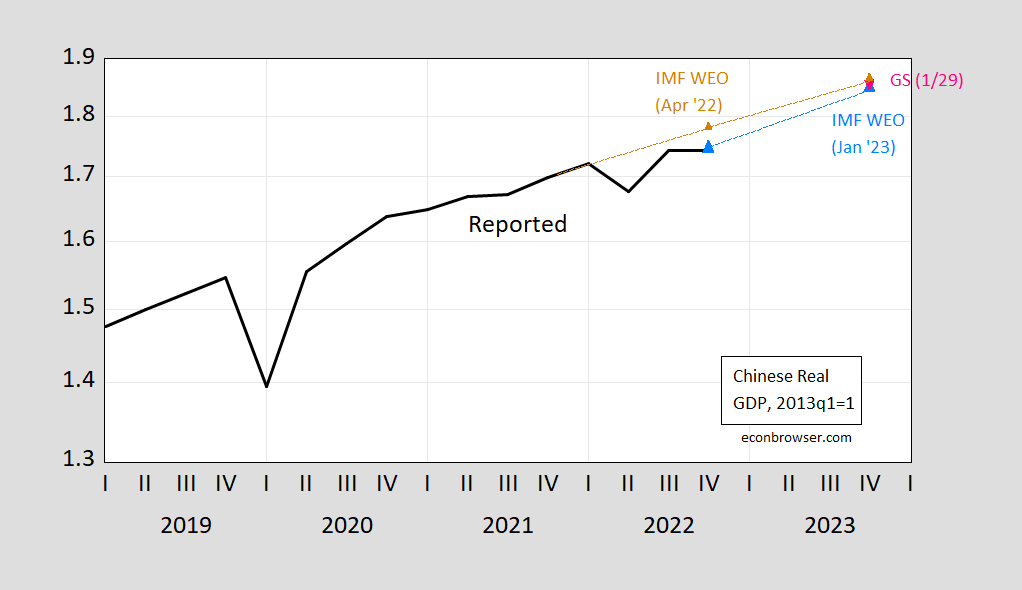 Figure 1: China real GDP index, 2013q1=1 (bold black), IMF WEO January 2023 update projection (sky blue triangle), IMF WEO April 2022 projection (tan triangle), and Goldman Sachs 1/29 forecast (pink triangle). Real GDP index calculated by cumulating growth rates on 2013Q1 level = 1. Source: Investing.com, IMF WEO (January 2023, April 2022), Goldman Sachs (1/29/2023), and author's calculations.
The upgrade to growth rates in 2023 were due largely to the lifting of Covid restrictions. This seems to be in agreement with most forecasts I see for the Chinese economy, some stressing the fact that most people will have been infected and will have some immunity then encouraging the resumption of consumption. Mobility indicators through mid-January support this view. Other observers (e.g., Paulson Institute) say the recovery will be very fast in Q1, and then much slower thereafter (a "square root"), given patterns following previous reopenings.
---
More By This Author:
Term Spread Recession Forecasts For January 2024
Cyclically Adjusted Federal Budget Balance
Personal Consumption Expenditures And Inflation – Services Vs. Goods