Financials And Small Caps Pushing Market The Last Mile To Overbought
AT40 = 61.9% of stocks are trading above their respective 40-day moving averages (DMAs) (near 5-month high)
AT200 = 23.2% of stocks are trading above their respective 200DMAs (1-month high)
VIX = 19.0
Short-term Trading Call: cautiously bullish
Commentary
The signs of exhaustion in the major indices have given way to more and more breakouts. Most importantly, AT40 (T2108), the percentage of stocks trading above their 40-day moving averages (DMAs), sprang back to life after a small pause on Monday. AT40 closed at 61.9% and, incredibly, is within sight of hitting overbought trading conditions (above 70%). With so many stocks still below their 200DMAs – AT200 (T2107) – is only at 23.2%, I doubt the market will have enough energy to push through and maintain overbought levels.
After a fresh breakout on Tuesday, the S&P 500 (SPY) challenged and faded away from its 50DMA. At 2616.10, the index closed right around the same level that served as support in October and November. This is "close enough" for me to lock in profits in my shares of ProShares Ultra S&P500 (SSO).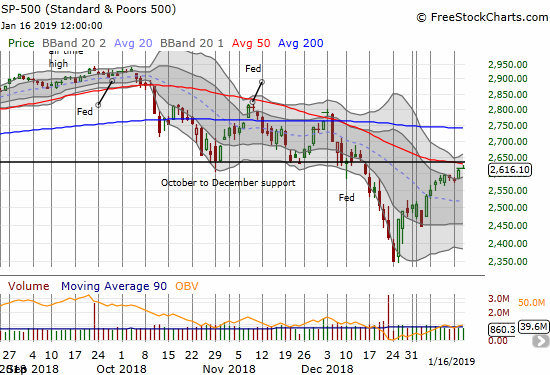 The S&P 500 (SPY) is knocking on the door of doubly-important resistance from its 50DMA and former support from the last three months of 2018.
The NASDAQ and the Invesco QQQ Trust (QQQ) seemed to confirm exhaustion on Monday with a small gap down. I rushed in to buy puts on QQQ as planned. Both tech-laden indices turned right around on Tuesday for 50DMA breakouts. Wednesday's positive open quickly flipped me into QQQ call options. I had profits by the high of the day, but I decided to keep holding. Those profits went poof after sellers faded QQQ back to a flat close on the day. The 50DMA breakout for QQQ looks more precarious than the NASDAQ's.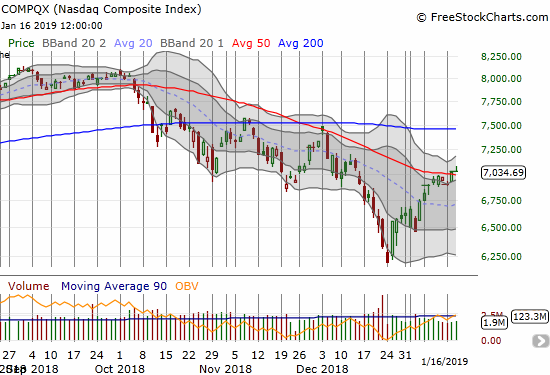 The NASDAQ cleared 50DMA resistance but the fade from the intraday high put the move in question.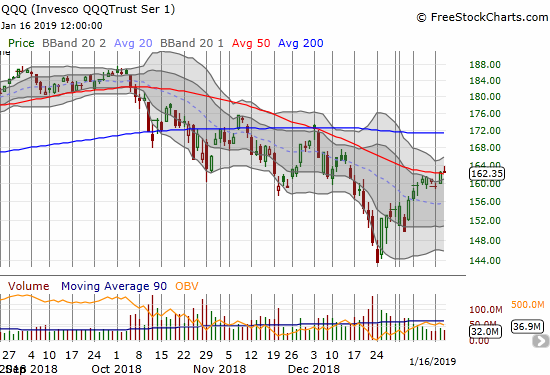 The Invesco QQQ Trust (QQQ) closed flat after racing higher to confirm its previous 50DMA breakout.
Disclosure: Long SSO, long MDB calendar call spread, long PHM, long QQQ calls and puts.
Follow Dr. Duru's commentary on financial markets via more