Why Gold Is Moving Higher From Here
The money keeps flowing, the debt keeps growing, inflation is spiking, and gold is likely going substantially higher from here.
Image Source: Pixabay
Crucial factors like bond rates, inflation, the Fed's balance sheet, monetary expansion, debt, and other elements strongly imply that gold should make another significant move higher soon. Also, it's not just gold that should appreciate notably from here, but the broader gold, silver, and gold/silver mining ("GSM") space should do well.
Let's Look at What the Charts Are Telling Us
Fed's Balance Sheet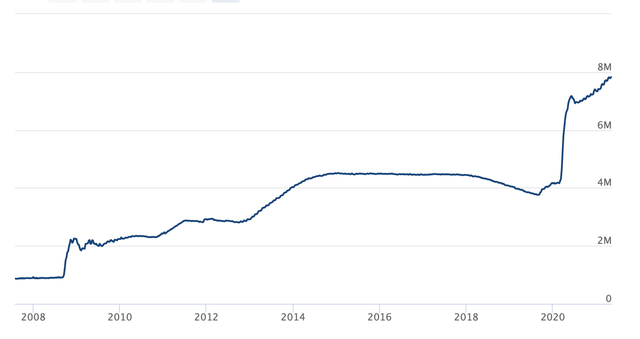 Source: federalreserve.gov
Let's start with the Fed's balance sheet. The Fed has expanded its balance sheet notably ever since quantitative easing ("QE") became the norm. Before the financial crisis of 2008, the Fed's balance sheet was right around $880 billion. However, after multiple rounds of QE, the Fed's balance sheet has ballooned to roughly $8 trillion now. The Fed has purchased trillions of dollars in Treasuries and other debt obligations over the last 13 years to prop up the U.S. economy.
U.S. Monetary Base

Source: fred.stlouisfed.gov
Here's what the Fed's balance sheet expansion is doing to the U.S.'s monetary base. Like the Fed's balance sheet, we see that the monetary base was between $800-900 billion in 2007 and early 2008. Then, as the Fed began buying up Treasuries and other debt obligations, the monetary base took off. Recently, we saw another spike as the COVID-19 crisis threatened to crash the U.S. economy. Now the monetary base is approaching $6 trillion, but given that it appears to lag the Fed's balance sheet expansion, it is likely to play "catch up" and should continue to climb higher from here.
U.S. Federal (Public) Debt

The debt image is grim, and we can see that the U.S. debt is moving up simultaneously with the Fed's balance sheet and the monetary base. The public debt is now at approximately $23 trillion. Perhaps more alarmingly, the Federal debt to GDP ratio is now at roughly 128% (this is relative to just 58% in 2000 and 35% in 1980). Moreover, if we take total U.S. debt, it towers at a whopping 143% of GDP now.
Also, the actual Federal budget deficit is around $3.6 trillion, relative to just $3.5 trillion in tax revenues. Let's think about that for a second. The U.S. spends about $7.1 trillion but brings in revenues of just $3.5 trillion. Yes, I know, there is increased spending due to the coronavirus now, but trillion-plus dollar deficits have become the norm in recent years, not an exception.
U.S. 10-Year Treasury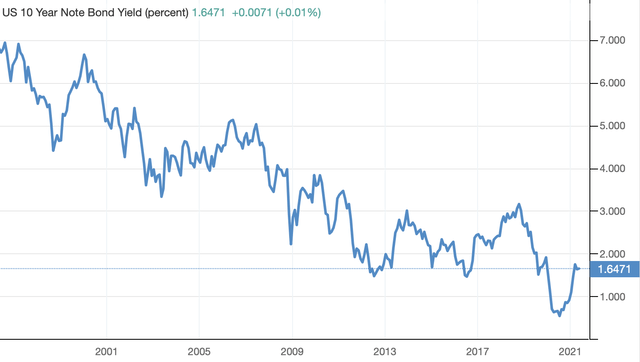 Source: tradingeconomics.com
Here's what has happened to the 10-year Treasury and other rates throughout all this. Like most forms of debt, the U.S.'s public debt needs to get serviced. As much of the $23 trillion debt load is comprised of U.S. 5, 10, and 30-year Treasuries, its servicing payments most closely resemble the 10-year yield. At current yield and debt load, the U.S. (U.S. taxpayers) would dish out approximately $380 billion in annual servicing payments alone. Thus, as the U.S. debt load increases perpetually, key rates need to be suppressed continuously to prevent the servicing from spiraling out of control.
Disclosure: I am/we are long KL, AGI, KGC, FSM, PAAS.
Disclaimer: This article expresses solely my opinions, is produced for informational purposes only, and is not a recommendation to ...
more