Tuesday Talk: Still In The Air, Going Sideways, Getting Dizzy
If you are a new investor in Alphabet (GOOGL), some days the action may actually make you feel sick, with upward spikes and dips of anywhere from $0.25 to $90.00 (or more or less). Older investors will have gotten used to this (really?) and may be nonplussed by now. In any case, I mention Alphabet because it reflects a lot of what is happening in the market of late. Lots of action with sideways gyrations, but still ending upward at day's, week's or month's end (for now).
Source: Google
Yesterday the S&P 500 closed at 14,681, down 8.1 pts., the Dow closed at 34,838 down 97 pts., and the Nasdaq Comp closed at 14,681, up 8.4 pts. Currently, S&P futures are up 8.5 pts., Dow futures are up 83 pts., and Nasdaq futures are up 24 pts.
Today we'll take a look at how some TalkMarkets contributors think things are shaking out in the economy and the markets, along with some company specific notes.
Contributor Marc Chandler who focuses on FX, in his article RBA Surprises, takes readers first to Australia where he notes that,
"The Reserve Bank of Australia surprised investors by sticking to its plan to reduce its bond purchases next month. Starting next month, the RBA will buy A$4 bln a week of bonds, down from A$5 bln currently. Governor Lowe argued that once the virus is contained, the economy responds quickly. The slower pace of bond buying will continue through mid-November before another opportunity to taper opens. The RBA will update its economic forecasts at the end of the week. Still, Sydney, which accounts for a quarter of the country's GDP and a little more than a fifth of employment, has been in lockdown for the past five weeks and has reported a record number of cases. Lowe was adamant, though, that the conditions that would allow a rate hike are not anticipated until 2024. The market appears to be discounting a hike in 2023."
Elsewhere Chandler reports the following:
"Chinese officials took another swipe today, calling gaming a "spiritual opium," and companies in that ecosystem, including Tencent, fell. Subsequently, the South China Morning Post reported that the reference has been deleted "because its attack against the industry does not represent Beijing's official stance." Ironically, investors using the "connect" links reportedly bought about $3 bln of Chinese shares in the four sessions through yesterday. On another front, Beijing announced an investigation into the possible price manipulation of makers of semiconductor chips for autos. The State Administration for Market Regulation is focused on prices but also on companies "hoarding" chips."
"The US reports June factory orders and durable goods orders today, but with Q2 GDP out last week, outside of some knee-jerk headline risk, the market is unlikely to take much notice. July auto sales will be reported through the day. There is risk that auto sales slowed for the third consecutive month. Auto sales peaked in April at 18.51 mln seasonally adjusted annual pace. They fell to 15.36 mln in June, and the median forecast in Bloomberg's survey is for a 15.25 mln unit pace last month. It would be the slowest pace since last August. The slowdown reflects the shortage of supply due to chips and other parts. "
In this case, it would seem that letting the "chips fall where they may" is creating a fair amount of chop in the supply chain and that can't be good, which is reflective of many facets of US-Sino trade relations, these days. Read Marc Chandler's full article for the rest of the top of the week global FX news.
Today contributor Chuck Carnevale provides viewers with a 20 minute video on China Stocks Meltdown – The Truth Be Told. Below is a bit of a preview:
"Although the recent crash or meltdown of prominent China stocks was for the most part political in nature, valuation also played a role. But perhaps most important of all, not all China domiciled stocks can be or should be painted in the same broad brush...In this FAST Graphs Analyze Out Loud Video I will review these 8 China Stocks: Tal Education Group (TAL), New Oriental Education (EDU), IQIYI Inc (IQ), Pinduoduo Inc (POD), Baidu (BIDU), JD Com (JD), Alibaba Group (BABA), Tencent Holdings (TCEHY)."
Chuck notes that he is not necessarily a big fan of Chinese stocks, but he says one must give "the Devil his due". Worth a watch.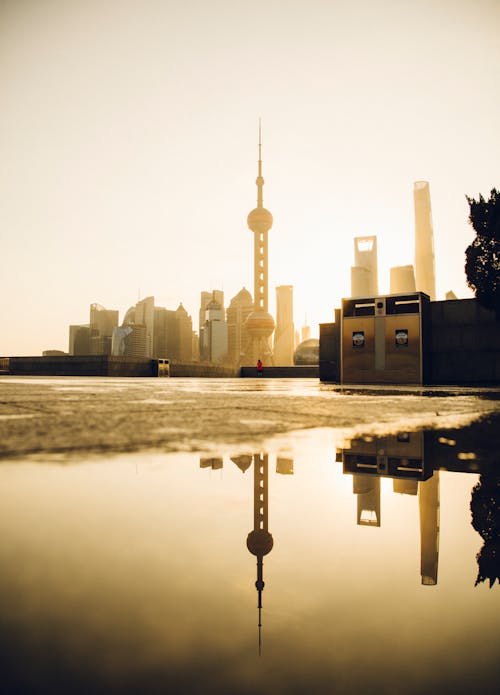 In a TalkMarkets Editor's Choice column David Moenning says Don't Look Now But Valuations Are Improving.
"Unless you've been living in a cave or don't spend your day with stock market machinations, you likely know that the current earnings parade has been stellar. According to Deutsche Bank, with 296 of the S&P 500 companies reporting so far (or 71%), 88% have exceeded the consensus estimates - which is a record. And EPS has come in 16% above expectations, which is more than triple the average of 5% seen over the last 15 years. The chart below tells the story nicely."
Moenning goes on to say that:
"While I am not about to argue that the P/E levels are low or stocks are cheap, stocks can advance with P/E's at current levels. And as long as the "E" continues to improve at a healthy clip and stock prices don't get overly exuberant going forward, the P/E Ratio can continue to move lower. However, as the bears will quickly point out, a couple quarters of strong earnings doesn't mean the market is out of the woods."
The full article is replete with additional charts and indicators, but overall things appear to be green(er).
The Staff at The Fly note that Square (Is) Upgraded To Outperform From Market Perform At Cowen.
"Cowen analyst George Mihalos upgraded Square (SQ) to Outperform from Market Perform with a price target of $343, up from $266. The analyst is "bullish" on the Afterpay (AFTPF) acquisition and sees the deal as accretive to Square's long-term profit growth even before revenue synergies."
Caveat Emptor, to that.
TalkMarkets contributor Ironman rounds out today's column with a look at Dividends By The Numbers In July 2021.
"If dividend-paying stocks are any indication, the U.S. stock market continued to experience respectable growth in July 2021. The following chart shows the market's dividend increases and decreases from January 2004 through July 2021."
"The dividend metadata for July 2021 is where the market's continued strength really shows its hand:
Standard and Poor counted 5,085 U.S. firms declaring dividends in July 2021, an increase of 2,362 over the total recorded in June 2021 and the third-highest monthly total in a data series that extends back to January 2004. That figure is also an increase of 1,862 over the 3,223 recorded in July 2020.
Some 54 U.S. firms announced they would pay a special (or extra) dividend to their shareholders in July 2021, a decline of 5 from the 59 recorded in June 2021, but an increase of 29 over the 25 recorded in July 2020.
156 U.S. firms announced dividend rises in July 2021, an increase of 75 over the number recorded in June 2021, and an increase of 86 over the 70 recorded in July 2020.
12 publicly traded companies cut their dividends in July 2021, an increase of 6 over the number recorded in June 2021, but a decrease of 15 from the 27 recorded in July 2020.
Zero U.S. firms omitted paying their dividends in July 2021, a decline of one from June 2021's total of one. Year over year, that figure is also a decrease of 11 from the number recorded in July 2020."
Here's hoping the end of the Q2 reporting season is as good as the opener has been.
Have a good week!