The Best Year In Over A Decade Confirms The Economy Still Near The Worst
A month behind schedule, Q4 GDP sure did disappoint. I don't mean that it was disastrously weak, rather it came in right down the middle benefiting neither camp. The BEA's not preliminary but not quite second revised GDP estimate for Q4 2018 was 2.55617% (seasonally adjusted compounded annual rate) above Q3. Not strong enough to dispel every growing worry, at the same time not weak enough to fully confirm them.
The BEA in making everyone wait an additional month settles nothing.
What is now established, though, is a mathematical fact. The last eleven years have been worse than the Great Depression. According to the updated estimates, using 2012 dollars as a reference, the current economy has underperformed the worst economy.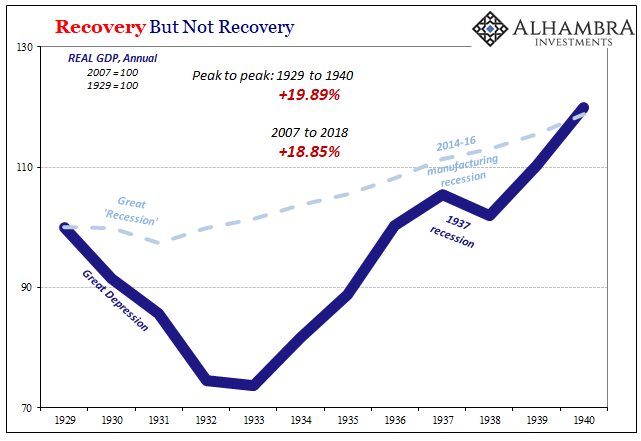 Most people believe this is an absurd interpretation, and it is in some ways. The last eleven years probably haven't been nearly as bad for Americans as it was for their predecessors who lived through the calamity. But that's not really the point. GDP is a simplified measure of economic progress which is suggestive of broad conditions.
Set aside the pseudo-precision that accompanies the number. The fact that it might even be debatable is itself cause for circumspection. The Great Depression was supposed to have been an anomaly, meaning that overall pattern wasn't expected to ever be repeated; especially with seasoned Economists at the helm, many of whom made their name (Bernanke) studying just what went wrong during the thirties.
Thus, what GDP is telling us is that the current economy, whether worse or not doesn't matter. It is entirely too much like the one that never should happen again.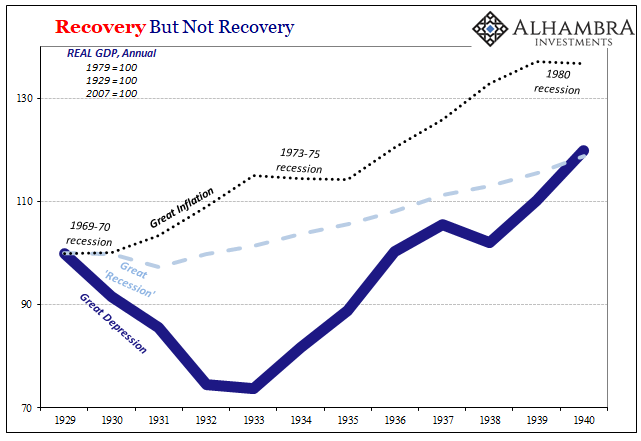 To put this into context, we need only compare both with another disastrous period of economic history – the seventies. The Great Inflation will never, ever be confused for a decade of prosperity and unquestioned advance. It was rocked by massive imbalances, too, courted by grave monetary incompetence at the highest levels (sounds familiar) and the result was nothing short of awful.
Disclosure: This material has been distributed for informational purposes only. It is the opinion of the author and should not be considered as investment advice or a recommendation of any ...
more