Goldman's Clients Are Freaking Out About A Stock Bubble: Here Is The Bank's Response
One doesn't have to be a "legendary" investor to call out bubbles, especially ones who correctly called the excesses of the dot com and housing eras, but it helps. And it's probably why Jeremy Grantham had such conviction last week when he said that not only is the market currently an "epic" bubble but that it will suffer a "spectacular" crash in "the next few months." Needless to say, such an alarmist view is hardly in the best interests of banks who make commissions on two-way trades instead of outright sales (or liquidations), but in a notable departure from tradition, several banks have joined Grantham in calling for a sharp market correction either imminently (Bank of America) or in the second half of the year (Wells Fargo).
To be sure, concerns about an asset bubble have grown so widespread, with the latest Deutsche Bank survey finding the the vast majority of respondents (89%) see some bubbles in financial markets currently...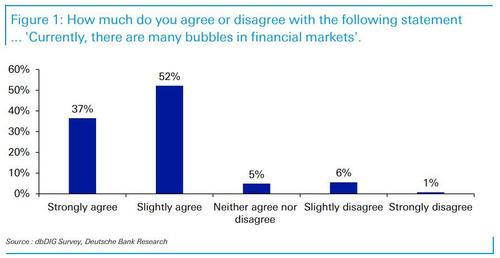 ... that even Goldman's clients - traditionally among the most cheerful and optimistic of all, pied pipered by the perpetually bullish view of Goldman strategists - are starting to freak out.
As Goldman's chief equity strategist David Kostin writes in his latest Weekly Kickstart report, "among the questions we receive most frequently from clients is whether US stocks trade at unsustainably high levels (read: "Bubble")."
So as the latest Citi panic/euphoria model shows...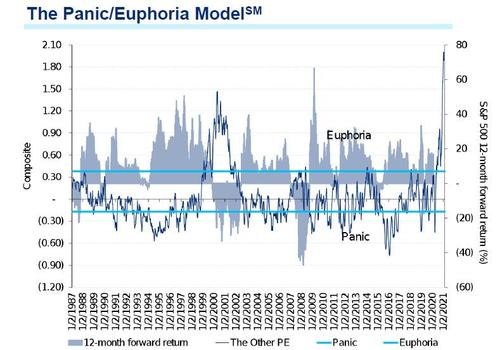 ... yet without sparking a liquidation-driven market crash by admitting that it is in fact, a "massive bubble":
Well here's how Kostin delicately threads the needle: first, he admits that valuations have indeed rarely (read never) been higher, writing that "on an absolute basis there is no doubt that valuations are extremely elevated. The index trades at the upper end of the historical range when measured using a variety of metrics, including P/E, P/B, EV/sales, EV/EBITDA, and market cap/GDP. These measures point to equity valuation ranking in the 96th historical percentile (Exhibit 2)."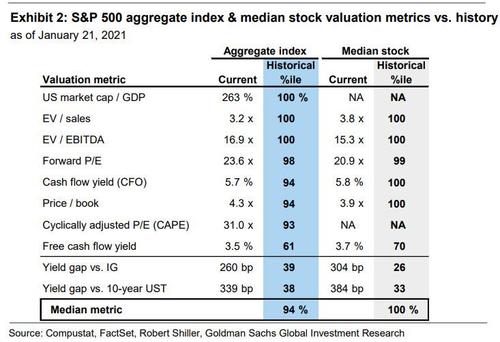 "However", he then quickly counters before readers call their favorite Goldman salesman and bark the "sell all" order, when "taking into account the yield on Treasuries, corporate credit, or cash, the aggregate stock market index trades at below-average historical valuation." Kostin then tries to ease lingering concerns that stocks are in a massive bubble (which they are), writing that "in fact, as economist Robert Shiller recently pointed out, his oft-cited CyclicallyAdjusted P/E Ratio ("CAPE") shows that equity valuations are "not as absurd as some people think," provided interest rates remain relatively low. Our economists forecast the 10-year Treasury yield will rise to just 1.5% at the end of 2021 and only exceed 2% in mid-2023."
Kostin here falls back to the only partially credible justification he can make for exorbitant valuations, namely that near-record low yields means that stocks are cheap compared to bonds, and thus deserving of high multiples.
This, as we explained last December in "No, Low Rates Do Not Lead To Higher Earnings Multiples", is total rubbish since over time low real rates have never led to - or justified - the record market multiples except for cases when the market was infact in a bubble, and it's not just us making this observation but last week, Deutsche Bank's Jim Reid did too showing the following chart (which was adopted from Jerry Minack and which we first showed on Dec 5):
Disclosure: Copyright ©2009-2021 ZeroHedge.com/ABC Media, LTD; All Rights Reserved. Zero Hedge is intended for Mature Audiences. Familiarize yourself with our legal and use policies every ...
more