When Did The Current Secular Cycle Begin?
Image Source: Pixabay

According to Crestmont Research, the level of stock market valuation (i.e., P/E) is not low enough to provide the lift to returns that drives secular bull markets. As a matter of fact, P/E is at or above the typical starting level for a secular bear market.
The current situation is not the result of P/E hibernation over the past 20+ years. P/E has declined by nearly the same number of points as it has historically in a typical secular bear.
This secular bear, however, started at dramatically higher levels in due to the late 1990s bubble. The market's work of the past 20+ years has been to deflate the excesses that preceded it.
(Click on image to enlarge)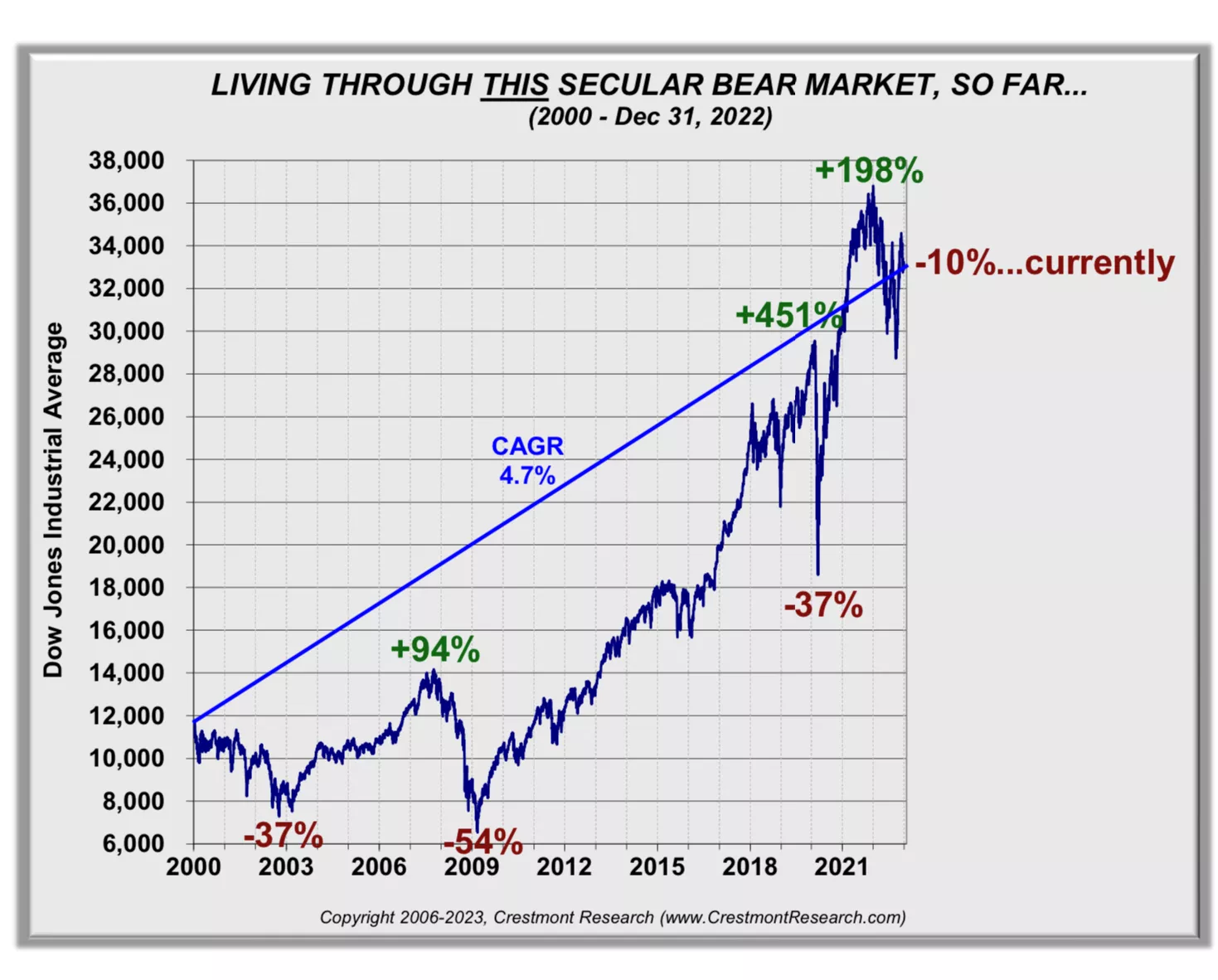 Currently, valuations are high and vulnerable.
As a result, without another bubble period, future returns are limited and the market is more vulnerable to negative surprises than it is poised for positive outcomes
In response to 2008, the Fed implemented a policy of softball pitches to promote base hits and home runs.
The blissful market environment of the past is now being disturbed by inflation. Although new directions by the Fed and D.C. are inevitable at this point, they are known, likely, and significant... and they are on the market's and the economy's radars over the upcoming quarters and year.
Conventional stock market wisdom has promoted a fundamental assumption that inflation is positive. As reflected in this chart, P/E ratios increase when the inflation rate trends toward price stability (near 1% inflation) and P/E ratios decline when the inflation rate trends away from price stability.
The result is a "Y Curve" effect, where P/E declines with unstable inflation.
(Click on image to enlarge)
---
More By This Author:
Bear Market Returns Are Probably In Our Future
Wave-Trend Update - Stocks
The Importance Of Stable Inflation To Bull Markets
Disclaimer: These illustrations are not a solicitation to buy or sell any ETF. I am not an investment advisor/broker