Tesla To Dogecoin: Rotation Or Simulation?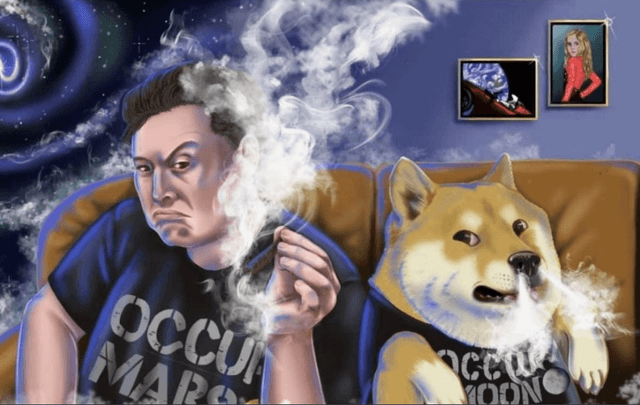 Elon Musk sharing a toke with a Shiba-Inu representing Dogecoin ("Doge Day" meme via Twitter).
The Dogecoin Rally
What do the contrasting trajectories of Tesla (TSLA) and Dogecoin this year tell us about the current, bizarre market environment? Consider a few points. To begin with, there's Elon Musk's involvement with both, as CEO/"Technoking" of Tesla and pumper of Dogecoin.
Late Tuesday night, Elon Musk to a break from his responsibilities as Tesla Technoking, CEO/CTO of SpaceX, and Saturday Night Live guest host to listen in to a Twitter Spaces conversation about Dogecoin.
The next day, Dogecoin surpassed Bitcoin as the most heavily traded crypto coin, with $19.4 billion of it trading over the previous 24 hours.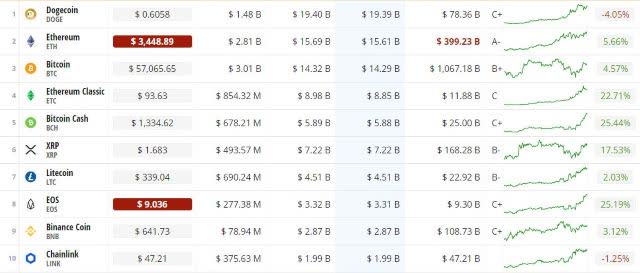 Screen capture via Crypto Compare.
By way of comparison, the most heavily traded stock on Wednesday was Tesla, with about $14.7 billion of it trading on the day.
As Compound Capital Advisors founder Charlie Bilello noted, Dogecoin's market cap had exceeded that of more than 80% of the stocks in the S&P 500.
With a third of 2021 in the books, Dogecoin was up more than 11,000% year-to-date, while shares of Tesla were down about 5%.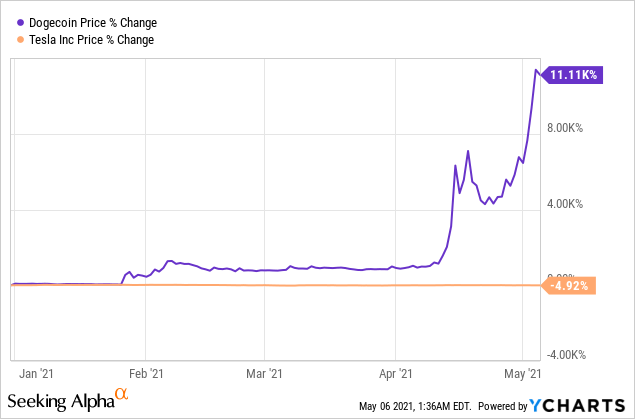 What's Going On
Has there been a rotation from cult stocks like Tesla to meme alt-coins like Doge?
Or is the simulation just messing with us? Roko Mijic, of Roko's Basilisk fame in rationalist circles, suggested recently that Dogecoin could eventually become the crypto version of silver to Bitcoin's gold.
Disclaimer: The Portfolio Armor system is a potentially useful tool but like all tools, it is not designed to replace the services of a licensed financial advisor or your own independent ...
more