Republic Of The Savior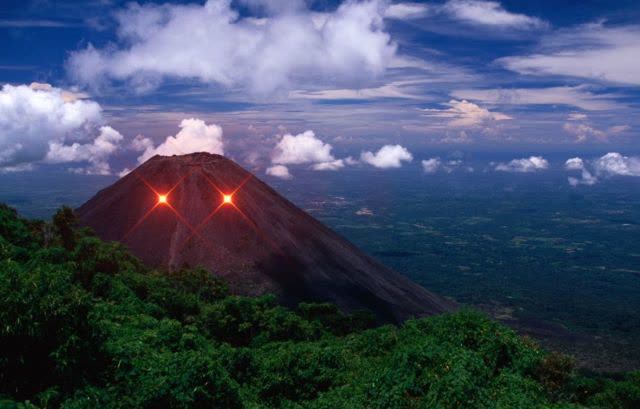 El Salvador's Chaparrastique (San Miguel) volcano with Bitcoin "laser eyes" added. Image via Twitter user @Alexa_Alexa____.
Bitcoin's New Plunge Protection Team
Two weeks ago, MicroStrategy (MSTR) CEO Michael Saylor teamed with Tesla (TSLA) CEO Elon Musk to stem the slide in Bitcoin by announcing a consortium of leading Bitcoin miners to address concerns about the environmental impact of Bitcoin mining (Bitcoin's Plunge Protection Team). This week, Bitcoin got a boost from the combination of Saylor's successful junk-bond offering for MicroStrategy and El Salvador President Nayib Bukele's announcements that Bitcoin would be accepted as legal tender in his country, and that his state-owned geothermal energy company would facilitate volcano-powered Bitcoin mining.
I've just instructed the president of @LaGeoSV (our state-owned geothermal electric company), to put up a plan to offer facilities for #Bitcoin mining with very cheap, 100% clean, 100% renewable, 0 emissions energy from our volcanos 🌋

This is going to evolve fast! 🇸🇻 pic.twitter.com/1316DV4YwT

— Nayib Bukele 🇸🇻 (@nayibbukele) June 9, 2021
The combo of the oversubscribed bond sale for MicroStrategy (the net proceeds of which were earmarked for additional Bitcoin purchases) and the El Salvador news sparked a double-digit gain in Bitcoin Wednesday. Below we'll look at the impact it had on a few stocks we've mentioned here recently, but first, let's consider some potential pitfalls in the El Salvador news.
Will Global Climate Activists Accept It?
Elaborating on his geothermal announcement, President Bukele shared a follow-up video of a Salvadoran geothermal well emitting "pure water vapor".
Our engineers just informed me that they dug a new well, that will provide approximately 95MW of 100% clean, 0 emissions geothermal energy from our volcanos 🌋

Starting to design a full #Bitcoin mining hub around it.

What you see coming out of the well is pure water vapor 🇸🇻 pic.twitter.com/SVph4BEW1L

— Nayib Bukele 🇸🇻 (@nayibbukele) June 9, 2021