Pipelines' New Look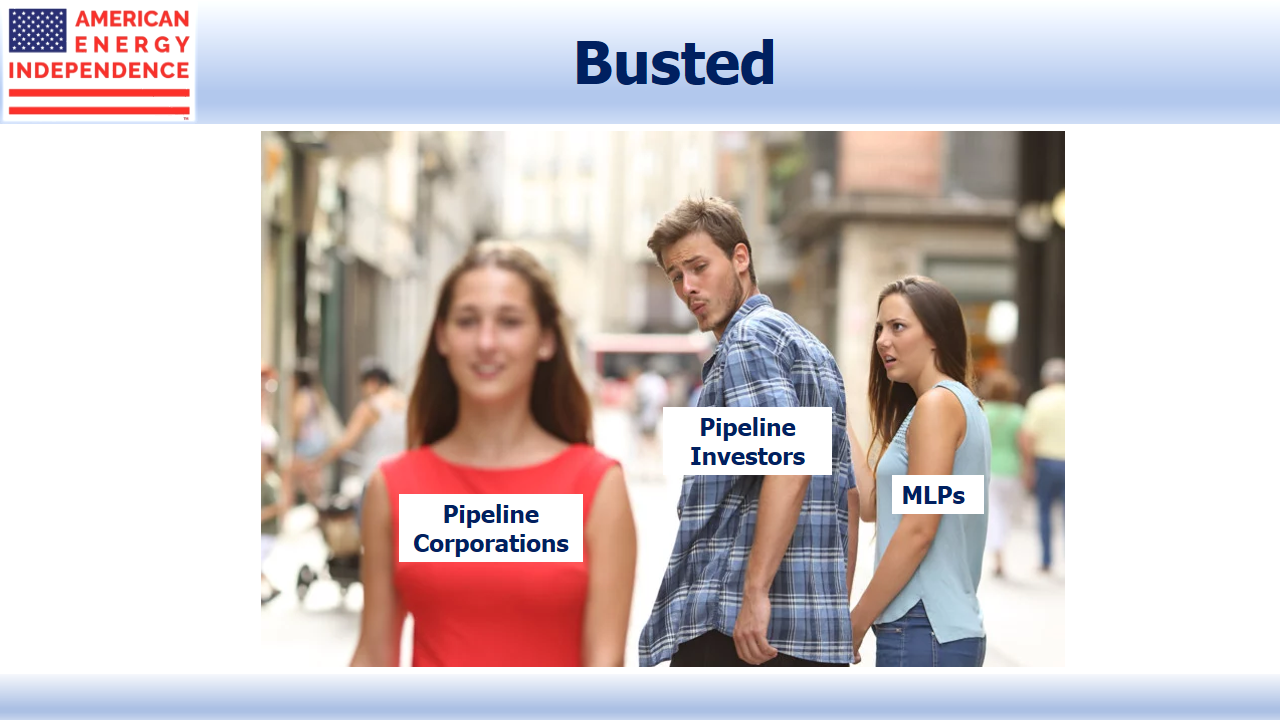 The point of a public equity listing is to be able to access public markets for financing, to use the stock as a currency for acquisitions, and to provide liquidity for investors. A company's cost of equity moves inversely with its stock price, just like bond yields and prices. Access to cheap equity is vital for companies that have growth projects, including most energy infrastructure companies. MLPs continue to face a comparatively high cost of equity.
It's why over the past few years many of the biggest MLPs have "simplified", which has often meant they've abandoned the MLP structure to become a regular corporation (a "c-corp"). An important objective behind each of these restructurings has been to lower their cost of equity. Kinder Morgan (KMI) led this move in 2014, when their desire for external capital to fund their backlog of growth projects collided with the interests of their income-seeking holders. Investors in Kinder Morgan Partners (KMP) weren't much interested in plowing their distributions back into secondary offerings, so KMP's yield rose to levels that made equity issuance uneconomic (see 2018 Lessons From The Pipeline Sector).
KMI decided to combine with KMP, creating unexpected tax bills for holders and leading (eventually) to two distribution cuts. The goal was to access a broader set of investors. Fewer than 10% of the money allocated to U.S. equities can invest in MLPs. Taxes and K-1s generally limit buyers to U.S. high net worth individuals. KMI wanted to reach U.S. pension funds, global sovereign wealth funds, and other significant buyers. They had outgrown the old, rich Americans, who used to own their stock. If you ever talk to a former KMP investor, you'll learn how much bitterness this caused (see Kinder Morgan: Still Paying for Broken Promises).
Other MLPs followed, and today midstream energy infrastructure is more corporations than MLPs. The list includes Enbridge (ENB), Oneok (OKE), Pembina (PBA), Targa Resources (TRGP), Semgroup (SEMG), TransCanada (TRP) and Williams (WMB). None of these are in an MLP index.
Disclosure: We are invested in ENB, EPD, ET, KMI, MMP, OKE, PBA, SEMG, TRGP, TRP, WMB. We are short AMLP.
SL Advisors is the sub-advisor to the Catalyst MLP & Infrastructure Fund.To learn ...
more