Kinder Morgan: Still Paying For Broken Promises
Broken promises aren't quickly forgotten. That's the hard lesson being learned by pipeline company managements, as the sector remains cheap yet out of favor.
Kinder Morgan (KMI) reported good earnings on October 17th. Volumes were up, and they sold their Trans Mountain Pipeline (TMX), including its expansion project, to the Canadian Federal government. TMX is Canada's only domestic pipeline that can supply seaborne tankers. All other pipelines lead to the U.S.
Canada's landlocked energy resources are becoming a political football. Alberta wants to get its oil and gas to export markets, but neighboring British Columbia opposes the new pipelines necessary for Albertan crude to reach the Pacific coast. Caught between the two provinces, KMI sensibly sought an exit. The transaction was well timed, closing before cost estimates for completing the expansion were ratcheted up and a court ruled that a new environmental study was required (see Canada's Failing Energy Strategy). Canada's taxpayers were on the wrong end of the deal.
Nonetheless, Richard Kinder opened the earnings call lamenting KMI's valuation. He said, "I'm puzzled and frustrated that our stock price does not reflect our progress and future outlook." We do think KMI is cheap, but the explanation lies in recent history. Before the Shale Revolution created the need for substantial new pipeline investments, KMI's investor presentation reminded "Promises Made, Promises Kept."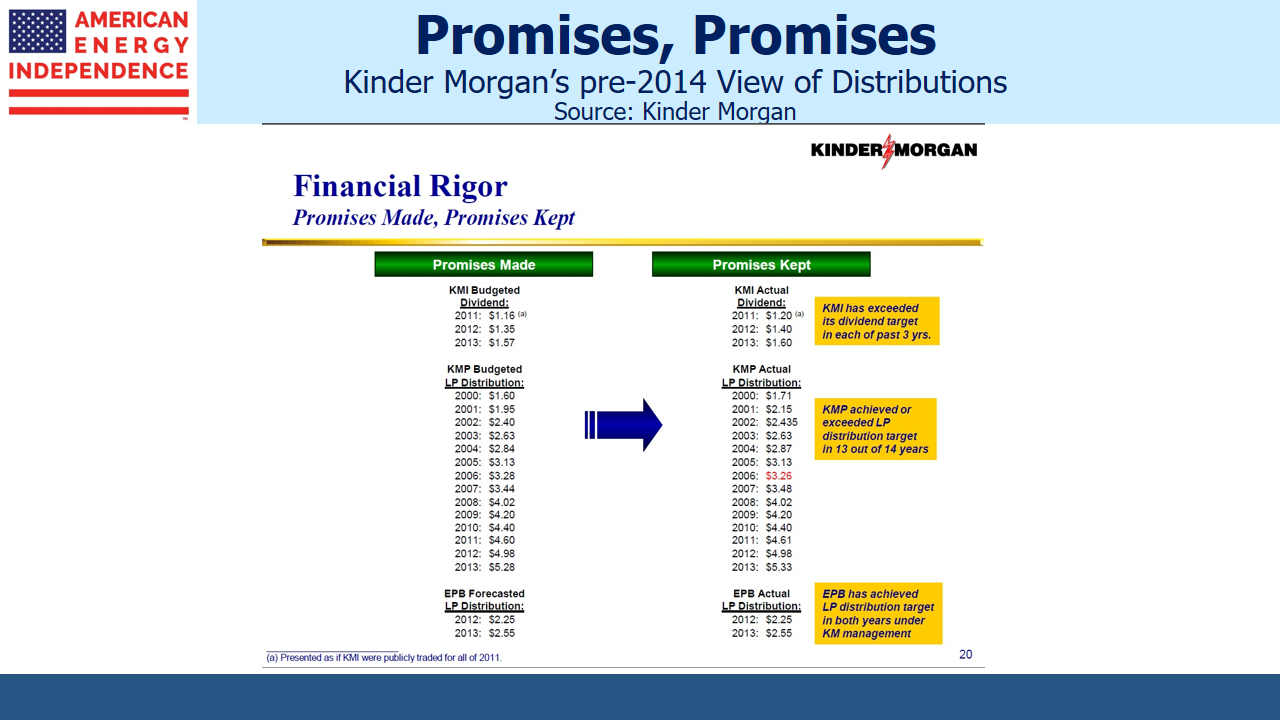 This turned out to be true only until financing new projects conflicted with paying out almost all available operating cash flow in distributions. Investors in Kinder Morgan Partners (KMP), the original vehicle, were heavily abused. They suffered two distribution cuts and a realization of prior tax deferrals timed to suit KMI, not them (see What Kinder Morgan Tells Us About MLPs). Former KMP investors, who are numerous, retain deeply bitter memories of the events and have lost all trust in Richard Kinder.
Disclosure: We are long KMI and short AMLP.