HH

Pipelines Are Becoming Less Risky
Before the Shale Revolution, midstream energy infrastructure was a boringly stable sector. MLPs, which predominated versus corporations back then, paid out most of the cash they generated and grew distributions through price escalators and improved operating efficiencies. Volatility was low, and attractive yields drew income-seeking investors. This happy marriage started to fall apart in 2015, when the industry embraced the same growth ethos that drove their upstream customers. Leverage and volatility rose, causing distribution cuts and the older, wealthy K-1 tolerant American investor started to leave (see AMLP's Shrinking Investor Base).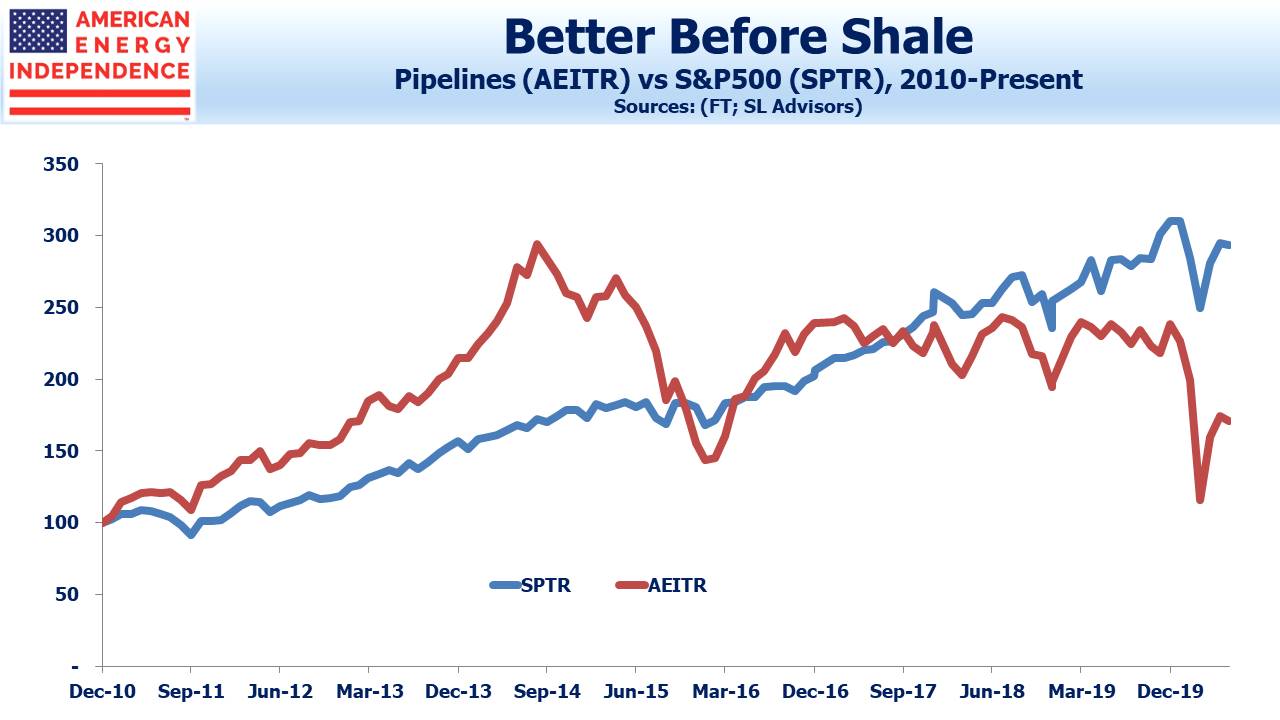 In conversations with investors, the subject of volatility often comes up. Yields are attractive – the broad-based American Energy Independence Index, AEITR yields 9.3% on a trailing basis. Few cuts in payouts are likely as companies report 2Q earnings. Kinder Morgan (KMI) maintained their dividend in Wednesday's release. Some had been questioning whether Oneok (OKE) would maintain their dividend, but they reaffirmed it on Thursday, yielding 13.4%. Legal uncertainty remains around whether the Dakota Access Pipeline (DAPL) has a secure future (listen to Judicial Over-Reach on the Dakota Access Pipeline). Phillips 66 Partners, LP (PSXP) is most exposed, but they're only 0.6% of the AEITR. Although Energy Transfer built DAPL and retains 36% ownership, it's only 3.5% of their EBITDA.
In summary, payment of today's attractively high payouts is likely to continue. Investors are trying to assess whether they'll need to endure further downside volatility while clipping coupons.
Relative to the overall market, the movements of today's pipeline sector are more pronounced but still well short of the 2015 collapse, when energy sector weakness didn't spill over into the S&P 500. Early this year saw the biggest fall in AEITR's history, but the panic over Covid drove the S&P 500 down in the first quarter too, as indiscriminate selling was widespread. Although pipelines have rebounded strongly since then, the AEITR remains down 27% for the year – 10% ahead of the MLP-heavy Alerian Index, but still well short of matching the market, which is in positive territory.
Disclosure:
The information provided is for informational purposes only and investors should determine for themselves whether a particular service or product is suitable for their investment ...
more