AMLP's Shrinking Investor Base
The Alerian MLP ETF (AMLP) remains the largest ETF in the sector, in spite of its ruinous tax drag (see MLP Funds Made for Uncle Sam) and long term returns that are less than half of its index. It's been a commercial success for its promoters but unfortunately, a disastrous investment for many holders.
However, there are signs that AMLP's fan base is slipping. Its share count's steady growth abruptly stopped last summer. Since then, shares outstanding are down over 8%. Half of that drop has come this year.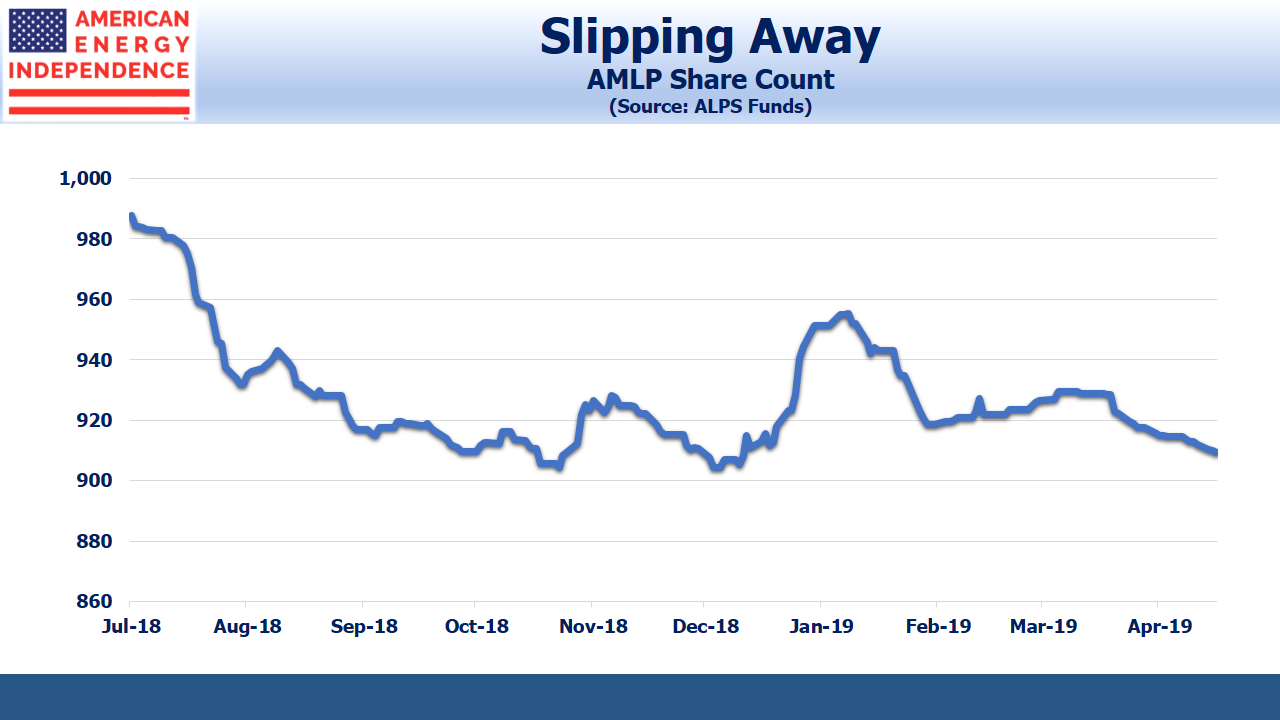 Midstream energy infrastructure has been a frustrating sector to be sure, and to some degree AMLP flows reflect broader investor sentiment. Through 2014 assets grew, and even during the 2014-16 energy collapse AMLP's share count increased.
But since last summer, there's increasing evidence of lost market share. Figures from JPMorgan show AMLP experienced 2H18 outflows of $942 million, a disproportionate share of the sector's $2.9 billion outflows during that period.
Market direction doesn't seem to make much difference. Last year's outflows coincided with sector weakness, but outflows have continued this year even though midstream energy infrastructure has been a leading market performer. AMLP's 2019 outflows have roughly cancelled out inflows to other funds.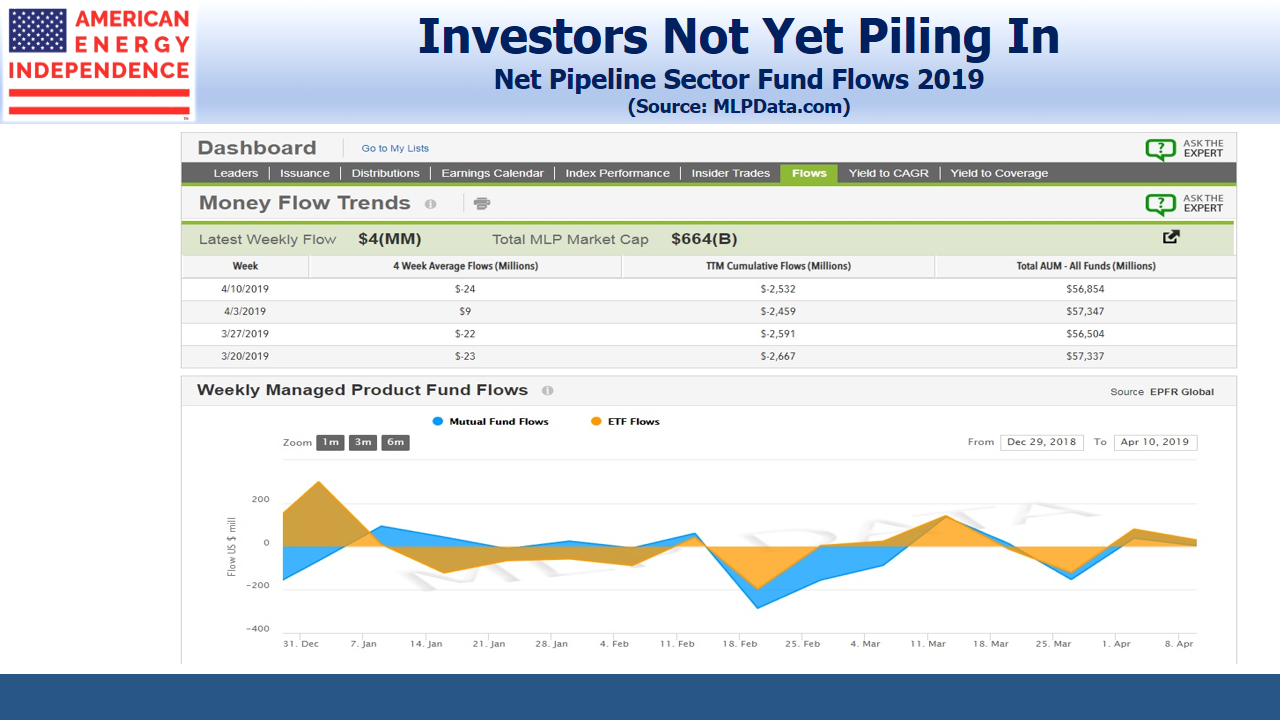 Back in 2010 when AMLP was launched, there was clearly investor demand for MLP exposure that avoided K-1s. The corporate tax drag meant AMLP, an index fund, could never come close to matching its index. Buyers overlooked or were unaware of this weakness.
Much has changed over the years. MLPs used to be synonymous with pipelines, but the limited investor base has led many large companies to convert to corporations. Today, North American midstream energy infrastructure is two thirds corporations by market cap (see Pipelines' New Look).
The MLP structure remains tax-efficient, but its income-seeking investor base has proven to be a fickle source of equity capital. So those MLPs that remain, such as Enterprise Products Partners (EPD), do so because they don't need to issue equity. There were no MLP IPOs in 2018. Blackstone recently announced plans to convert from a partnership to a corporation, concluding that the K-1s were not worth the trouble.
Disclosure:
We are invested in EPD and short AMLP.
SL Advisors is the sub-advisor to the Catalyst MLP & Infrastructure Fund. To learn more about the Fund, please click more