Is Thoughtworks Stock A Buy After Its IPO?
Thoughtworks stock raced 50% higher after its IPO. It could be the start of a massive rally, or it may have peaked too soon.
If it's climbing higher, it's a stock to buy sooner than later. We'll tell you the deal...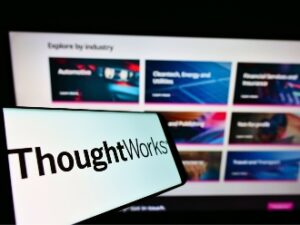 Thoughtworks Holdings Inc. (NASDAQ: TWKS) shares went for $21 at its IPO price, then it started trading at $26. Both numbers were greater than the target range of $18 to $20.
As a result, the IPO raised $344 million on 16.4 million shares. The company's value came in at a $9 billion market cap.
A higher-than-expected valuation can be good or bad news for an IPO stock. Sometimes, an early rush to a stock can spell a big drop later if the company is not as valuable as first thought.
Of course, if the market values the stock correctly, the earlier you buy, the better.
Let's talk about it.
What Is Thoughtworks?
We know Thoughtworks is an important name in an industry set to boom over the next decade.
Business started booming for technology consultants back in 1993 when Thoughtworks was founded.
This Chicago-based company helped kick off the technology consulting industry and today has grown to a multinational corporation with 9,000 employees.
And the rate of technological evolution is not slowing down any time soon. In fact, the tech landscape grows more and more confusing each day for business owners that might not be so tech-savvy.
Moving forward, executives will need to address artificial intelligence, machine learning, Big Data, and even virtual reality problems.
Those leaders need help. And Thoughtworks provides that by helping them incorporate technology strategies to grow their businesses online.
But it also does much more than that. Here are the opportunities that lie ahead for Thoughtworks stock and whether you should consider buying when the time comes.
Why Thoughtworks Stock Has More Upside
Companies have always struggled to adapt to the latest technological trends. So, they've always sought consultants to help them do that.
Disclaimer: Any performance results described herein are not based on actual trading of securities but are instead based on a hypothetical trading account which entered and exited the suggested ...
more