Infrastructure Bill Beneficiaries Index Unresponsive To Date
A large number of companies should benefit considerably from the business that will be generated by the passage of the $1.2T infrastructure bill. We began by tracking 10 of those companies at the end of the year, in munKNEE's new Infrastructure Bill Beneficiaries Index. We've added two more companies to the list, for an even dozen members in the non-tradable index.
The Bipartisan Infrastructure Deal (Infrastructure Investment and Jobs Act) was passed by Congress on November 6th and signed into law by President Biden on November 15th with the objective of:
easing inflationary pressures and strengthening supply chains by making long overdue improvements to U.S.'s ports, airports, rail, and roads
expanding access to clean drinking water,
ensuring every American has access to high-speed internet,
tackling the climate crisis,
advancing environmental justice,
investing in communities that have too often been left behind,
driving the creation of good-paying union jobs and
growing the economy sustainably and equitably so that everyone gets ahead for decades to come.
Figure 2: U.S. Infrastructure Bill Spending Plans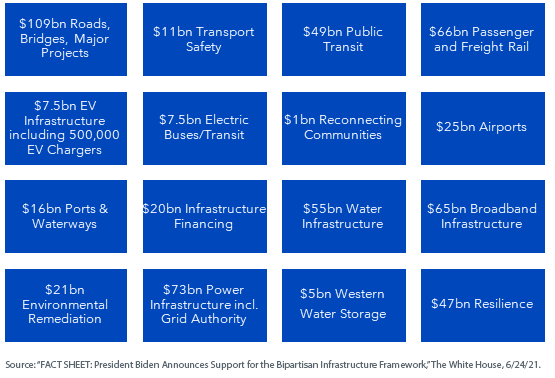 The stock prices of the 12 constituents in the Infrastructure Bill Beneficiaries Index have not responded yet to anticipated dramatic increases in revenue and profits. Indeed, on average, the stock prices of 11 of the 12 constituents actually declined -8.9%, on average, in January with only Deere & Company advancing (+9.0%). Below we give their individual stock performances YTD, in descending order.
As noted above,
Visit munKNEE.com and register to receive our free Market Intelligence Report newsletter (sample more