I See Another "Chipotle Moment"
Lawsuits are terrible for business.
They bring distractions, extra costs, and uncertainty.
Big Tobacco knows this all too well. In 1998, Phillip Morris, Inc. and other major tobacco companies reached a $246 billion settlement with 40+ state governments. It was the largest civil settlement in US history. But sometimes a lawsuit, no matter how big, still can't sink a company.
For investors, a lawsuit can also create a great entry point to buy shares on the cheap…
When the Big Tobacco settlement news came out, shares of Phillip Morris were in the dumps. But the problem was temporary. Shares rebounded around 18 months later.
Eventually, the company changed its name to Altria Group, Inc. (MO), did a series of spinoffs, and handsomely rewarded shareholders…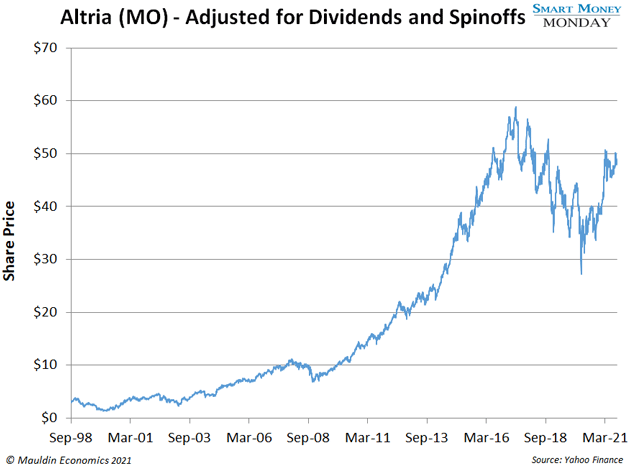 Here at Smart Money Monday, I share one great investing idea to start your week. Today, you will read about a pharmaceutical giant facing the same problems that Phillip Morris/Altria did—costly lawsuits and the bad press that comes with them.
These are serious problems. But they are also temporary, if not nearly over. And my research shows that shares have around 50% upside potential from here.
Regular readers know that I'm always hunting for these "Chipotle moments."
That's what I call it when a great company faces a temporary problem, giving you a chance to buy shares on the cheap.
The problem isn't always a lawsuit. With burrito chain Chipotle (CMG), it was a massive E. coli outbreak. All the bad press pushed the stock down 60% from 2015 to 2018. But the problem was temporary. And Chipotle has soared nearly 5X from its 2018 low.
American chemical company W. R. Grace is another great example…
We've talked about this company before—W. R. Grace (GRA) faced a class-action lawsuit related to asbestos in the early 2000s. This created massive problems for the company. It even filed for bankruptcy in 2001. But the problems didn't last.
In 2004, W.R. Grace reached a settlement and outlined a plan to reorganize. That was the time to buy. Shares ended 2004 around $10. And over the next decade, they soared to $70.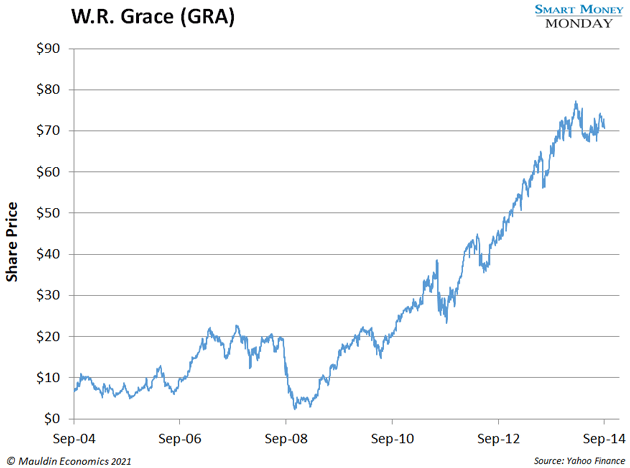 Of course, I'm not suggesting you buy any and every company facing a legal mess. But if you know the company well and you see that the problems are temporary, then the mess can be a buying opportunity.
That's what I see right now with Bayer (BAYRY).
You likely know Bayer as the maker of Aspirin and Motrin products. The German company has been around for over 150 years. And today, it's one of the biggest pharmaceutical companies in the world.
But Bayer is also having a Chipotle moment…
See, Bayer acquired agricultural chemical giant Monsanto back in 2018. The timing could not have been worse. Soon afterward, Monsanto was hit with a flood of lawsuits related to its weedkiller Roundup. The product contains a chemical that may cause cancer.
Because of all this, shares have tumbled from EUR 94 in 2018 to EUR 46 today.
And yet, my research shows that Bayer's troubles are temporary…
The company reached a $10 billion-plus settlement for the Roundup lawsuits in 2020. The settlement covers future-related lawsuits. And it's already paid a substantial chunk of the money—roughly $7–8 billion.
In other words, Bayer is starting to move past the legal mess. But the market hasn't caught up with it. The stock is still trading at prices last seen during the 2008 financial crisis.
At the same time, Roundup only makes up a sliver of Bayer's business.
It would be one thing if Roundup really drove the company. But it accounts for less than 1% of Bayer's total annual sales.
So, the big problem here isn't selling fewer bottles of Roundup. It's the legal costs. For now, Bayer estimates that it will have to pay $10–12 billion. There is still some ongoing litigation, but even when you factor that in, Bayer is still cheap at current prices.
As I've said before, buying high-quality companies when they are cheap is a reliable path to profits.
Remember, Bayer is still a world-class business with a $60 billion market cap. It has a strong consumer business with great brands like Aspirin, Alka Seltzer, and Claritin. It has a robust pharmaceutical business that brings in EUR 5 billion in annual sales. And despite the legal headaches, Monsanto is still the world's leading maker of crop products.
Even if shares simply return to pre-Roundup litigation levels, we'd have a double from here. Not bad for a mega-cap company. It also pays a steady dividend. At today's prices, it yields around 4.5%.
Buying great companies facing temporary problems is one of my favorite investing strategies. Bayer is one of those companies—I own shares, and you should consider buying some, too.
One final note—for my US readers, I'd suggest buying the ADR: BAYRY. BAYRY represents a quarter of one share of Bayer. I only mention this so you know what you're looking at if you compare European vs. US prices.
Disclaimer:The Mauldin Economics website, Yield Shark, Thoughts from the Frontline, Patrick Cox's Tech Digest, Outside the Box, Over My Shoulder, World Money Analyst, Street Freak, Just One ...
more