Black Swan Protection For Tesla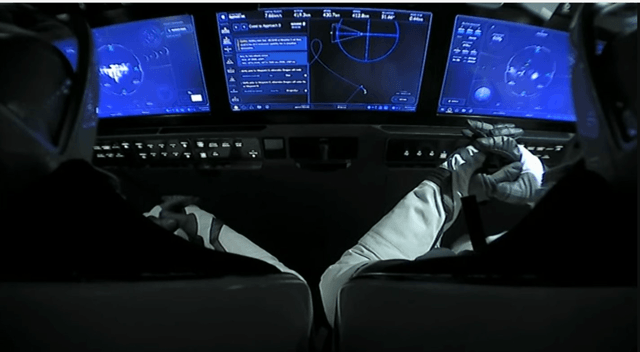 Astronauts onboard the SpaceX Dragon capsule approach the International Space Station on May 31st (photo via SpaceX).
Tesla Shares Continue Rocket Higher
At the end of May, Elon Musk's SpaceX sent two astronauts into space - the first manned launch from U.S. soil in nine years. Also at the end of May, Tesla (TSLA) made our list of top ten names. The stock was up 256% over the next six months.
(Click on image to enlarge)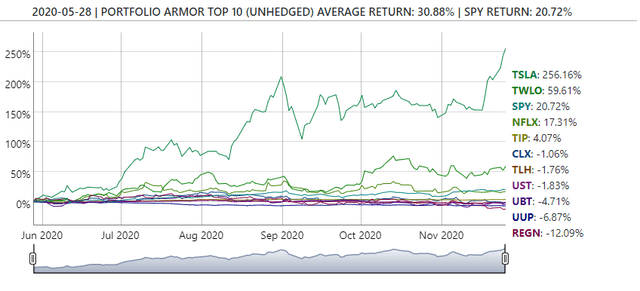 And it was up about another 25% since the end of November, as of Monday's close.
(Click on image to enlarge)
Still Bullish...
Our system is still bullish on Tesla. According to its analysis of total returns and options market sentiment, Tesla was our #2 ranked name on Monday, in terms of its potential return over the next six months. It was the only name from the May 28th top names cohort to appear in the January 4th cohort.
...But David Mastran Makes Good Points
But in his January 1st post ("Potential Black Swan Event"), New Paradigm FundPresident David B. Mastran warned that a rise in interest rates could be a black swan causing Tesla to follow Qualcomm's (QCOM) trajectory from 1999:
The story of Qualcomm in 1999 is representative of what we are seeing today. QCOM went from $3 to $100 during that year. The company was the preeminent semiconductor firm supplying integrated circuits for cell phones. At its brief peak, the stock was worth $150 billion. It was trading at a p/e of over 300 and at 38X revenues. The story for QCOM was very exciting. They had 90% of the market and were expected to maintain most of that going forward, given all the patents they held.

Cell phones were going to be big! There were going to be "smart phones" able to take pictures and even videos. Cell phones would allow us to "surf the internet." And someday, when storage caught up, we would even be able to watch movies on our phones. All these predictions seemed akin to flying cars at the time. But the funny thing is that all the predictions that sent QCOM up turned out to be true! And if anything, the predictions were understated. QCOM has owned the integrated circuit market for cell phones for 20+ years. Cell phones are wildly more successful than anyone imagined.

So the analysts got the fundamentals right. But they got the stock price wrong.