Special Report: TNX
I had shown the above chart of the TNX at least twice over the summer, indicating that I was monitoring its progress. Then in September I noted the breakout and calculated the target for this move. What it shows is that the 10-year Treasury yield may go as high as 5.316%, a yield last seen in May 2007. The reason for this move is the European countries spiraling into default and bankruptcy. Italy, Greece, Spain and Portugal are all on the verge of leaving the European union and defaulting on their debts. At first, it caused Treasury yields to go lower as the Fed attempted to bail European banks, but when the Biden administration decided to join the practices of the WEF, rates completely wiped out any economic stimulus derived from that action. You can see it clearly on the chart. It is now estimated that the interest alone has gone from 40% of the national budget to an estimated 70% of the budget in 2023. Basically we are following the European model of default. The Cycles Model suggests TNX may reach its intended target as early as mid-November.
UST broke down from its trend in April this year. The decline started in June 2020 and may reach its intended target as early as mid-November. The largest reservoir of capital in the world is being drained, with all the knock-on consequences.
ZeroHedge reports, "All year, Michael Hartnett – who has had the most amazing market timing call in 2022 and perhaps this decade, when he said to short stocks at 4,320 and the rest is history…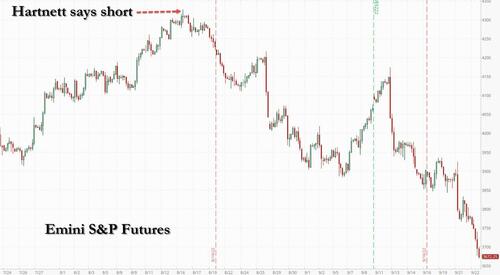 "… has been warning about the crash that is currently taking place and he is finally right. But it's not the stock market crash that is the topic of Hartnett['s latest Flow Show note, it's what's going on in the bond world where today's shocking UK "mini budget" laid out the blueprints for what comes next and clearly markets do not approve."
---
More By This Author:
SPX: On A Bounce
NDX Futures: A New Retracement High
SPX Futures: Starting A New Master Cycle
Nothing in this email or article should be construed as a personal recommendation to buy, hold or sell short any security. The Practical Investor, LLC (TPI) may provide a status report of ...
more