Pipeline Rally Exposes Lagging MLP Sector
Last week the Alerian MLP and Infrastructure Total Return Index (AMZIX) finally recouped its COVID losses. MLPs have returned to where they were at the end of 2019, when few knew what a coronavirus or N95 mask was. MLP investors have had a miserable decade. The Shale revolution turned out to be an investment bust through overinvestment; the energy transition cast a growing shadow over terminal values; finally, COVID hit demand. As if this wasn't bad enough, MLP closed end funds endured what leverage and a big market drop inflict (see MLP Closed End Funds – Masters Of Value Destruction).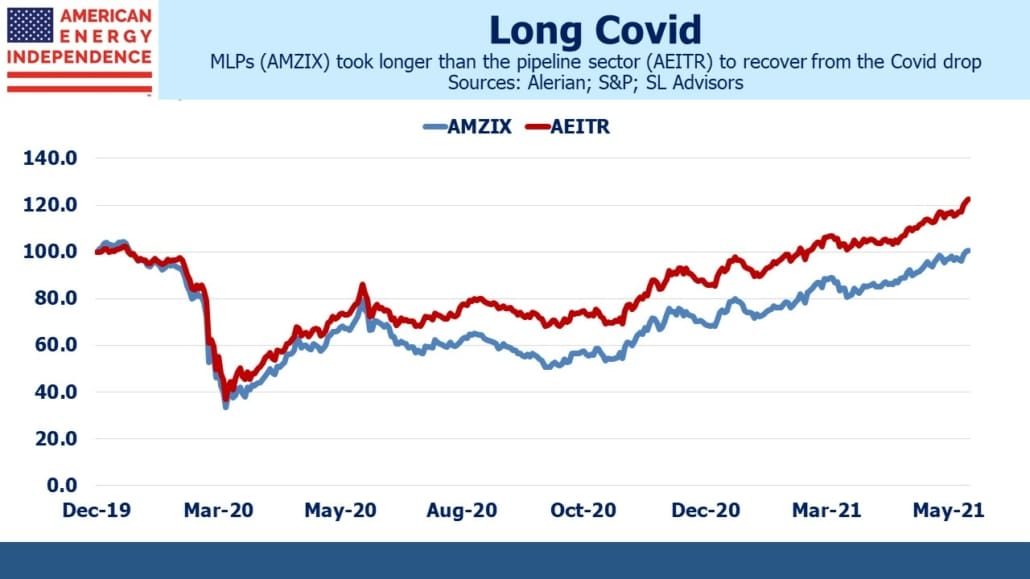 Although MLP investors can celebrate finally recouping their COVID losses, North American pipelines (which are mostly corporations, not MLPs) reached this threshold three months earlier. Energy is experiencing one of the least celebrated rallies of any sector in recent memory. Few investors will forget the breathtaking drop of March 2020, which at one point registered down almost 60% for the year. Although no pipeline company ever looked remotely close to bankruptcy, it seemed as if a recovery would take years.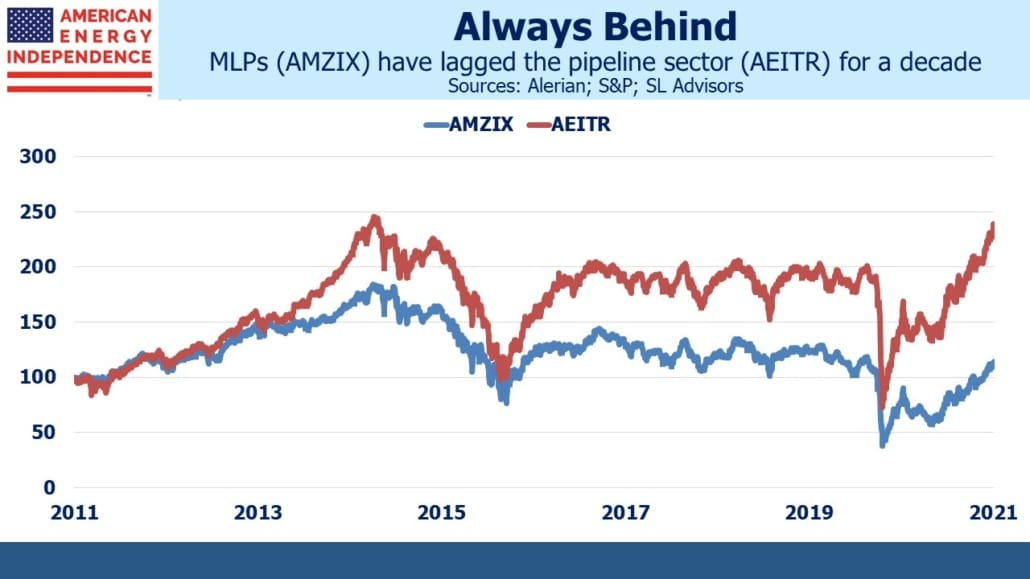 The rebound has turned out to be more rapid than many expected. It's taken a year, but fund flows have now turned positive. These are still not meme stocks so caution prevails. But the growing free cash flow story is drawing more interest. The energy transition is driving oil and gas prices higher as well as limiting growth capex. Several firms are exploring opportunities in Carbon Capture and Sequestration (CCS). Gathering the CO2 where it's produced by power plants or the manufacture of steel and cement may offer new opportunities. The tax code will soon pay $50 per ton for CO2 permanently buried underground. Pipeline operators possess many of the required skills and some useful infrastructure.