A Hedged Bet On A Bitcoin Bottom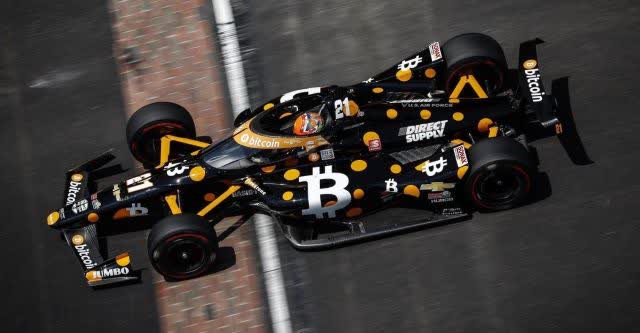 Ed Carpenter Racing's Bitcoin-sponsored number 21 Chevrolet came in 5th in Sunday's Indy 500.
The Big Question With Bitcoin
The big question with Bitcoin is whether May 19th was a bottom...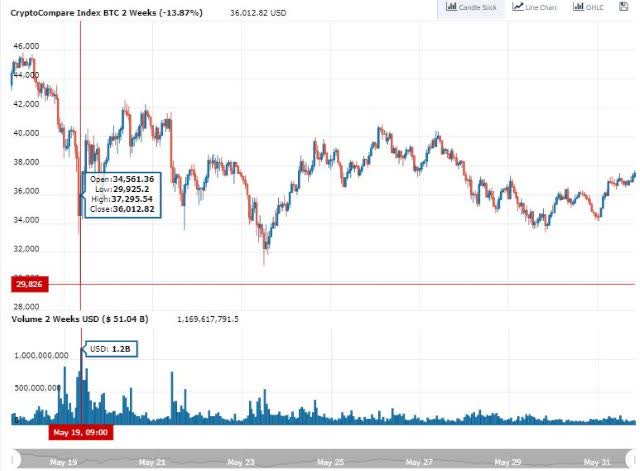 Chart via Crypto Compare.
Or if this is the right shoulder of a head and shoulders pattern and Bitcoin is headed lower. Carter Worth's take on CNBC was that this looks like the right shoulder of that pattern and, if it is, Bitcoin is likely headed down to about $20,000, its all-time high during the last bull run in 2017.
Below, we'll present a bet on Worth being wrong, with a hedge against him being right.
Another Bitcoin Name In Our Top Ten
On Friday, we had a new Bitcoin-related name hit our top ten: the miner Marathon Digital Holdings (MARA).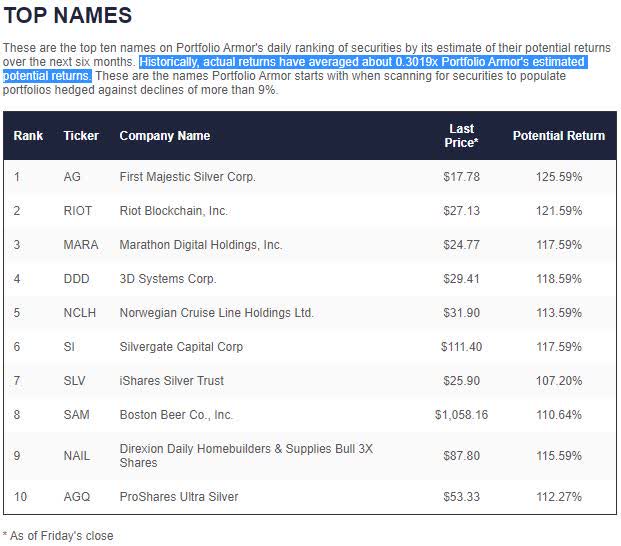 Screen capture via Portfolio Armor on Friday.
MARA joined Riot Blockchain (RIOT) and Silvergate Capital (SI) as the other Bitcoin-related names; taking into account the two silver names in our top ten, the iShares Silver Trust (SLV) and ProShares Ultra Silver (AGQ), and the 3x homebuilders ETF (NAIL), 60% of our top ten names were bets on higher inflation.
A Hedged Bet On A Bitcoin Bottom
If you think May 19th was a bottom for Bitcoin, but want to hedge against the possibility that Carter Worth's bearish prediction ends up being right, one approach would be to buy Marathon Digital Holdings and hedge it.
Too Expensive To Hedge With Puts
On Friday, if you scanned for an optimal put hedge to protect MARA against a greater-than-25% drop over the next several months, you would have gotten this error message.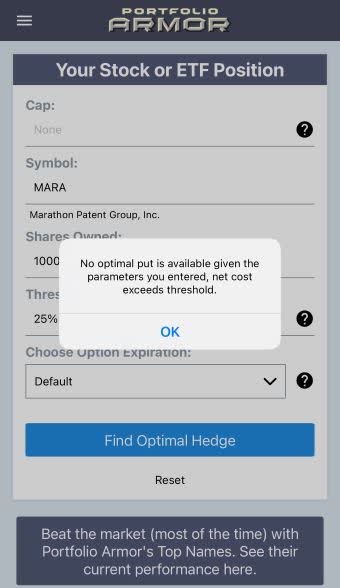 This and the subsequent screen captures are via the Portfolio Armor iPhone app.
The reason you would have gotten that error message is the cost of hedging MARA against a >25% decline was itself greater than 25% of your position value.
Cost-Effective To Hedge With An Optimal Collar
If you were willing to cap your possible upside at 49% over the same time frame, this was the optimal, or least expensive, collar to protect against a >25% decline by December 17th.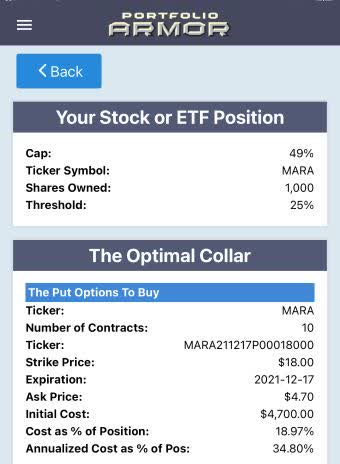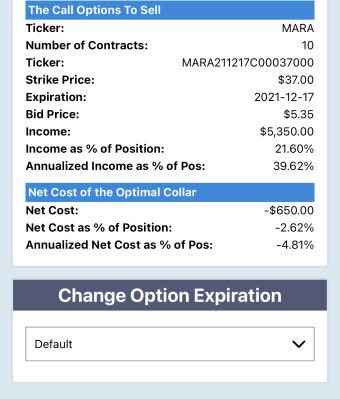 Here, the net cost was negative, meaning you would have collected a net credit of $650, or 2.62% when opening this hedge. That cost was calculated conservatively, assuming you placed both trades at the worst ends of their respective spreads (buying the puts at the ask and selling the calls at the bid). Of course, in practice, you can often buy and sell options at some price between the bid and ask.
Taking into account the net credit from this collar, this approach offers you twice as much potential upside as a potential downside. It might be worth scanning for an updated optimal collar on MARA this week to see if you can get one as attractive or better.
Disclaimer: The Portfolio Armor system is a potentially useful tool but like all tools, it is not designed to replace the services of a licensed financial advisor or your own independent ...
more