A New Phase In The Ukraine War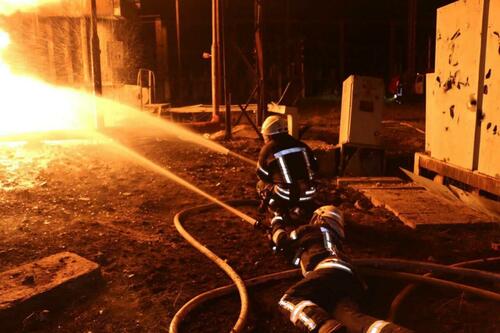 Firefighters attempting to put out a fire at a power plant in Kharkov

The Ukraine Strikes Back
At the end of last week, the Ukrainian government had its most successful counteroffensive since the early days of the war, when it stymied Russia's apparent attempted coup de main in Kiev. This appears to mark a new phase in the Ukraine War: the Ukrainians have exhibited new capabilities (with plenty of NATO assistance), and the Russian government exhibited a new tack in response on Sunday, by striking civilian infrastructure across the Ukraine, causing blackouts in much of the country.

Reactions To The Recent Events
Russian journalist Anatoly Karlin, who predicted the invasion in February,
Why Russia 🇷🇺 may invade Ukraine 🇺🇦 after all. @akarlin0 estimates an 85% chance of invasion.

Might be worth adding downside protection here just in case. $SPY $QQQ https://t.co/LJyWqUHMyN

— Portfolio Armor (@PortfolioArmor) February 16, 2022
assessed the Ukrainian counteroffensive in the thread below. Like most Russian accounts I've seen over the weekend, he acknowledges this was a defeat for Russia, and that Russia will need to change its recent approach in the Ukraine.
In the past 24 hours, Ukraine has gained control over western Kupyansk and the river crossing at Borovoya.

As expected, this made the Izyum garrison no longer tenable, with the Russians retreating beyond the Oskol River. https://t.co/CSeU1sk2qA

Observations 🧵 pic.twitter.com/KuoxXrD6Pm

— Anatoly Karlin (🐻,🐉) (@powerfultakes) September 10, 2022
In immediate terms, this pushes back the liberation of western Donbass, let alone Kharkov, into the indefinite future. This is just assuming the Ukrs have run out of steam & the new line stabilizes along the Oskol, worst case it gets pushed to LNR's borders.

— Anatoly Karlin (🐻,🐉) (@powerfultakes) September 10, 2022
Though not invalidated. That is, I still think Ukrainian casualties are on average much higher than Russian ones across all fronts, and this ensures eventual Russian victory in an attritional war (as most wars with the marked exception of early WW2 are). https://t.co/M2Hrhv6HZ4

— Anatoly Karlin (🐻,🐉) (@powerfultakes) September 10, 2022
It also confirms Russian infantry combat effectiveness is subpar to Ukrainians (under equal conditions, they lose to Ukrainians), and are vastly more casualty-averse. Ukrainians hold villages to the last man vs Russian arty, while Russians just don't engage under such conditions.

— Anatoly Karlin (🐻,🐉) (@powerfultakes) September 10, 2022
(Incidentally, retreating under such ratios is unimpressive & just goes to show extent to which Russia chugs along only by dint of huge materiel preponderance. In a hypothetical world in which Ukraine equalized here, it would steamroll Russia out of everywhere north of Crimea.)

— Anatoly Karlin (🐻,🐉) (@powerfultakes) September 10, 2022
More broadly, does loss of Izyum constitute a turning point in the war?

My assessment is, no it doesn't. Now for the whitepills:

The Kharkov theater was by far the most optimized for a Ukrainian breakthrough. https://t.co/FT0eiL5hrd

— Anatoly Karlin (🐻,🐉) (@powerfultakes) September 10, 2022
* Russian troops in the south have done consistently better that the troops from the Western Military District that predominate around Kharkov; for whatever reason, maybe more Syria experience, maybe specifics of their commanders, they have greater combat effectiveness.

— Anatoly Karlin (🐻,🐉) (@powerfultakes) September 10, 2022
Karlin's last point about Russia needing to change its approach was echoed by Ramzan Kadyrov, the head of the Chechnyan Republic within the Russian Federation. He's roughly equivalent to the governor of a U.S. state, except with more autonomy and, presumably, a de facto lifetime appointment. Kadyrov also spent time leading his Chechnyan Russian National Guard troops in the Ukraine earlier in the war. Here's a translation of his comments on the Ukrainian counter offensive, via Telegram (emphasis mine):
– I, Ramzan Kadyrov, officially declare to you that all these cities will be returned back. Our guys are already there. Another 10,000 fighters are ready to leave;

– In the near future we will reach Odessa, you will see concrete results;

– I'm not a strategist, as in the Ministry of Defense. But mistakes were made. I think they will draw conclusions. When you tell the truth to your face, you may not like it. But I love to tell the truth. We talked with the commanders at the fronts;

It's a shame that nothing was said for several days. It is clear that people were not prepared for this. We always talk about our work;

– If today or tomorrow changes are not made to the conduct of a special military operation, I will be forced to contact the country's leadership in order to explain to them the situation on earth. She is very interesting, "awesome" I would say;

– The fact that several villages and cities were given to them, there are several pluses in this. We did not advertise, but we have a special task. Our guys stood up and started their work;

– In the near future we will meet with the military commanders, we will explain to them what patriotism is. Patriots should not be offended if someone did something wrong. We must unite people around ourselves;

– I know one thing. Russia will win. NATO weapons will be suppressed by the spirit of our fighters. Our hands and feet are already trembling.

Changes Are Made
Whether or not Kadyrov contact the Russian federal government, one notable change occurred on Sunday: Russia started attacking Ukrainian civilian infrastructure, particularly power plants.
After this outbreak, the light went out in many regions, where exactly:

▪️Poltava region.
▪️Sumy region.
▪️Kharkiv region.
▪️Dnipropetrovsk region.
▪️Odesa region, partially.
▪️Donetsk region.

Russian Federation began to hit the critical infrastructure pic.twitter.com/78GM1t4MJ3

— ТРУХА⚡️English (@TpyxaNews) September 11, 2022
In the seventh month of the war, Russia finally resorted to something NATO did to Serbia, and the U.S. subsequently did to Iraq.
3 May 1999 Nato's new weapon was dropped on 5 #power plants across #Serbia.
Power was cut almost instantly across 70% of the country, blanking out military computers and radars and communications systems.
Serbian civilians were ordered yesterday to conserve water and power ... pic.twitter.com/N8sxMwC3kq

— Jovana Preradović (@JovanaXYZ) September 11, 2022

Consequences of the Counteroffensive
One consequence of the successful Ukrainian counteroffensive is that the military aid spigots will remain open for the Ukraine for now, after recent comments by Germany's defense minister suggesting otherwise.
Another consequence is more human suffering. The longer the war goes on, more Ukrainian and Russian soldiers will get killed. But also, a number of Ukrainians who accepted Russian passports or otherwise "collaborated" with Russia will suffer, as journalist Julia Kanin details in the thread below.
I want to make a short 🧵following Russia's retreat from the territories it had under its control for the past few weeks. I want you to read very carefully so you can understand the implications of these events and what it means for the civilian Ukrainians living there.

— Julia Kanin (@julia_kanin) September 11, 2022
And now Ukrainian civilians will suffer as Russia targets their infrastructure. They will likely experience blackouts as well as interruptions in running water, public transport, etc.

Market Implications
It's worth remembering that Russian gas has continued to flow through pipelines in the Ukraine during Russia's "special military operation". But Russia's targeting of civilian infrastructure Sunday suggests they're upgrading this conflict to something more like an all-out war. In which case, would they keep pumping gas through these pipelines?
Another way Russia might escalate in response to NATO's proxy war against it would be cutting back on its oil exports to drive the price to record highs. This would be particularly painful to German companies that have recently switched from using natural gas to diesel.
As I type this though, European markets are up in early trading Monday there, so they don't seem to be worrying about this. Maybe they should be.

A Potential Investment Idea
A correspondent on Twitter suggested an investment idea in light of Russia's strikes on the Ukrainian power grid on Sunday: portable generator maker Generac Holdings, Inc. (GNRC).
6 months+ into the war, Russia 🇷🇺 is doing what the U.S. 🇺🇸 would have done in the first week. pic.twitter.com/zro7X1Zsox

— David Pinsen (@dpinsen) September 11, 2022
Generac was a top Portfolio Armor name at the end of 2020,
Final, 6-month performance of our top ten names from 12/31/2020.

Best performers: $BBBY and $GNRC

Worst performers: $PTON and $FSLR pic.twitter.com/My2CjO4ahP

— Portfolio Armor (@PortfolioArmor) July 2, 2021
But isn't currently. It may be again soon though. It's worth keeping an eye on.
---
More By This Author:
Meet Our Satanist Monkeypox Czar
Ending The Ukraine War
Worse Than The 1970s
Disclaimer: The Portfolio Armor system is a potentially useful tool but like all tools, it is not designed to replace the services of a licensed financial advisor or your own independent ...
more