The Dichotomy Between Paper And Physical Precious Metals Markets
Shortages of Gold and Silver
We are still dealing with the dichotomy between the paper and physical aspects of precious metals markets. There's a shortage of silver and a tightening of the physical gold market, yet the paper price goes down. We have never had such a bullish fundamental situation with the pandemic, debt levels, unemployment levels, and all of the other consequences of COVID-19 on the economy.
The printing of massive amounts of money will in all likelihood lead to rising interest rates and inflation. The 10-year note has recently been up at 1.578, a new high. The yield on the 10-year note has been near 1.60. The market is reacting to the fact that the 10-year note was at less than 1% in early January. It has jumped to 1.60%, which means that interest rates have gone up.
Most contemporary wisdom will interpret a rise in interest rates as bullish for precious metals, since it may indicate a stronger economy. The 10-year note is beginning to validate that current monetary policies are going to be highly inflationary. The anomaly is that the rise in short-term interest rates is causing pressure in almost every sector, from stocks to gold. Stocks are reacting to the rise in interest rates.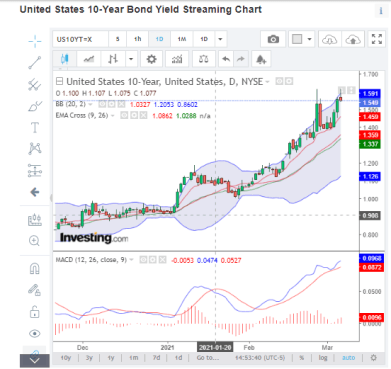 However, we believe that's a misinterpretation. If we use the 1970's as a point of reference, the US went off the gold standard and inflation began as the US dollar was devalued against gold and other assets. Interest rates rose to 14% and gold shot up. A dime made out of silver from 1970, which was 99% silver, can buy a gallon of gas today.
The US dollar is a paper fiat currency. It's not backed by any natural resource that will maintain its intrinsic value. It's backed only by the faith and trust in the US government. As the dollar decreases in value, you begin to see what is real money by what retains value.
Loan Delinquencies
We are beginning to see sharp increases in defaults on various types of loans. Rob Kient recently highlighted rising delinquencies in various sectors, including the auto sector, bank cards, and mortgages. Most are experiencing several-hundred-percent increases in delinquencies.
Disclosure: I am/we are long GDX. I wrote this article myself, and it expresses my own opinions. I am not receiving compensation for it. I have no business relationship with any company ...
more