E

Asset Price Crash Dead Ahead?
An All-Asset Price Crash (AAPC) might be the next "Wow! Can you believe it?"
In the meantime, whether it be stocks, bonds, gold, or oil, investors are licking their chops and counting their profits before they are booked. And, they have reason to gloat. Let's see what all the noise is about.
STOCKS
Since the stock market lows less than five months ago, the Nasdaq Composite Index is up 66 percent. At its most recent intraday high of 11,126, it is nearly twelve percent higher than it was before falling by one-third this past March.
Any fears from investors about "technical damage" created by the previous price collapse have been swallowed up by the recent huge gains in the index. Here is what it looks like on a 5-year chart...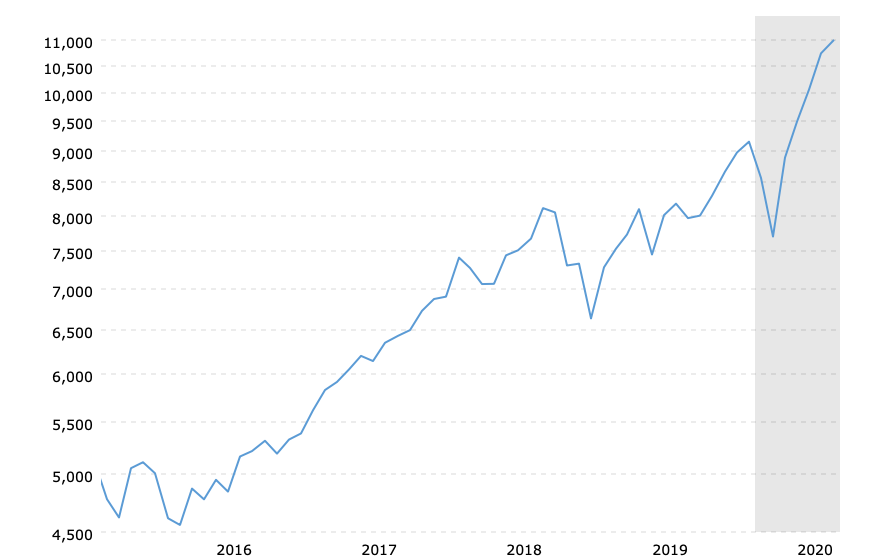 (source)
The broader market as represented by the S&P 500 Index is up fifty-two percent. It has not broken through its previous high of just under 3400 prior to its March price collapse, but is knocking at the door right now. Stocks have regained all of their recent losses and, in some cases, more. At this writing, they appear on the verge of moving much higher for quite some time. Maybe.
BONDS
In the short space of ten days in March, bond prices (TLT - 20+ year Treasury Bond ETF) dropped by 22 percent. This was followed by an almost immediate, identical 22 percent increase, which brought bond prices back to within five percent of their former high point. Below is a five-year chart (source) of TLT...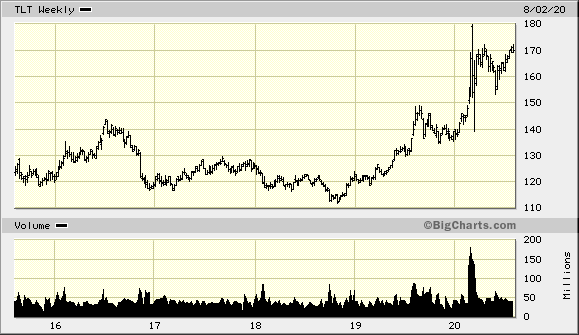 OIL
During the February-March selling spree, oil dropped from a high of $63.00 per barrel to a low of $11.00; a decline of more than eighty percent. Ever so briefly, the spot price for crude oil even approached zero. Currently, oil is at $41.00, an increase of two-hundred seventy-two percent from its low of $11.00 a few months ago. The chart (source) below tells the story...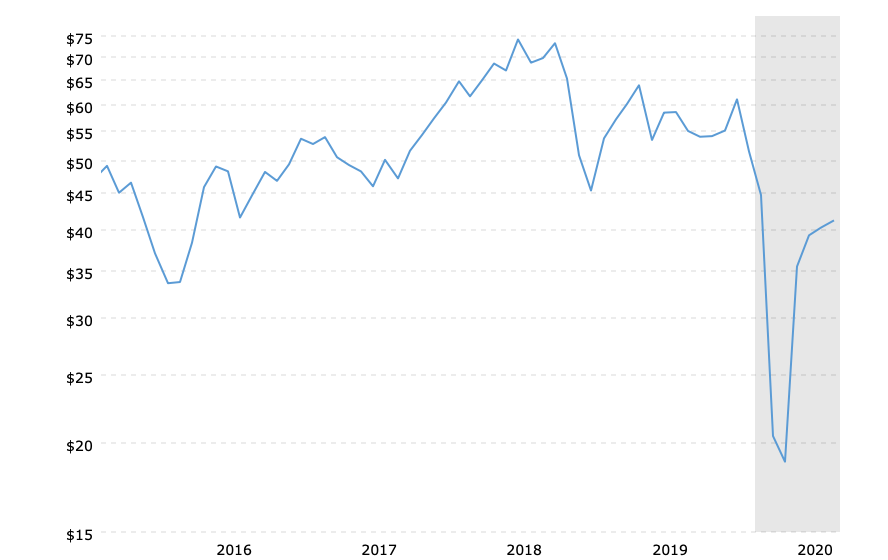 Oil prices dropped much further than stocks. The percentage decline was more than twice as much for oil and, if we use the brief intraday low of $0, then oil's decline was three times greater than stocks.
Oil has out performed stocks on the upside by more than four-fold since the lows in late March, but it is currently thirty-five percent below its previous high.
GOLD
As for gold, its price dropped along with everything else, although not as sharply. After declines of nearly fifteen percent, gold has rebounded almost forty percent to new all-time highs in nominal terms. Below is the five-year chart (source) of GLD - Gold ETF...