"This is an aging bull market. A crash is coming."
"This bubble market fueled by the Fed is going to crash."
"Trump's going to cause the market to crash."
For nearly all of 2016 and most of 2017, investors have been reading these kinds of headlines.
When I joined Banyan Hill, my first article, "Stocks: The Big Opportunity You're Missing,"made many investors so angry that they wrote my publisher asking him to have me fired.
In that article, I told you that stocks were a good deal. And I told people that they should be buying stocks instead of panicking and selling them.
Congratulations!
My suggestion to readers was to simply buy the SPDR Dow Jones Industrial Average ETF (NYSE: DIA).
If you were one of the readers who bought this exchange-traded fund, you are now up 65%. Well done and congratulations!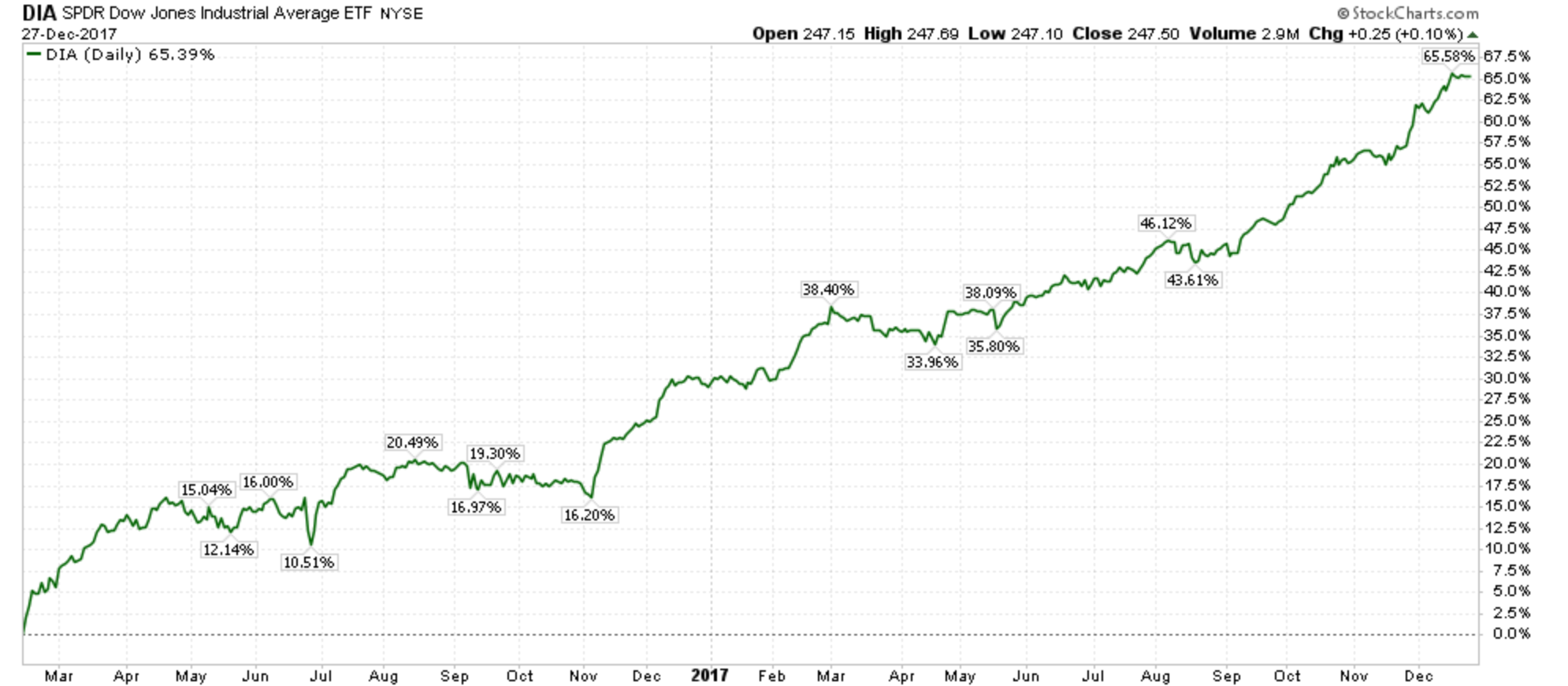 You deserve this because I know how hard it can be to buy when the markets are down.
It also took a lot of guts on your part to buy when most people told you to sell.
Those gains were hard-won by you.
But now that buying stocks is no longer scary, you might be wondering if it's time for you to cash in your hard-won gains and sell everything.
My GoingUpness System
For sure, stocks are a more popular trade than when I told you to buy in February 2016.
After all, the Dow Jones Industrial Average was up 28% in 2017 alone.
However, 2017's large gains mean there's a good chance that 2018's gains will be smaller. My best guess is something like 8% to 10%, perhaps as high as 15%.
The way I come up with this estimate is by using my GoingUpness system. GoingUpness is the system that I use to pick stocks in my three paid services.
The GoingUpness system is based around the potential demand and supply for stocks. GoingUpness focuses on the most important benefit of owning shares: a rising stock price.
After two years of gains, my GoingUpness system says that at higher prices there are fewer people who are going to come in to buy stocks than in 2016 or 2017. That also means you'll see some periods where some people cash in and sell.