Yield Curve Inversion Can Cause A Crisis Through Reflexivity
When Will The Labor Market Hit Full Employment?
There were 155,000 jobs created in November which means job creation was above the population growth. That means the labor market isn't full yet. The average job creation of 208,000 per month in 2018 is about double the population growth rate. The closer the labor market gets to full unemployment, the more the Fed hikes rates which inverts the yield curve.
The Fed doesn't need to hike rates because nominal wage growth hasn't pushed core inflation higher. It's a nirvana as nominal wage growth is strong, and commodities prices are falling. However, the Fed still believes the economy will overheat when the labor market is full which is why we still need to analyze it closely.
As you can see from the chart below, the prime age employment to population ratio is 79.7%. It didn't increase in November.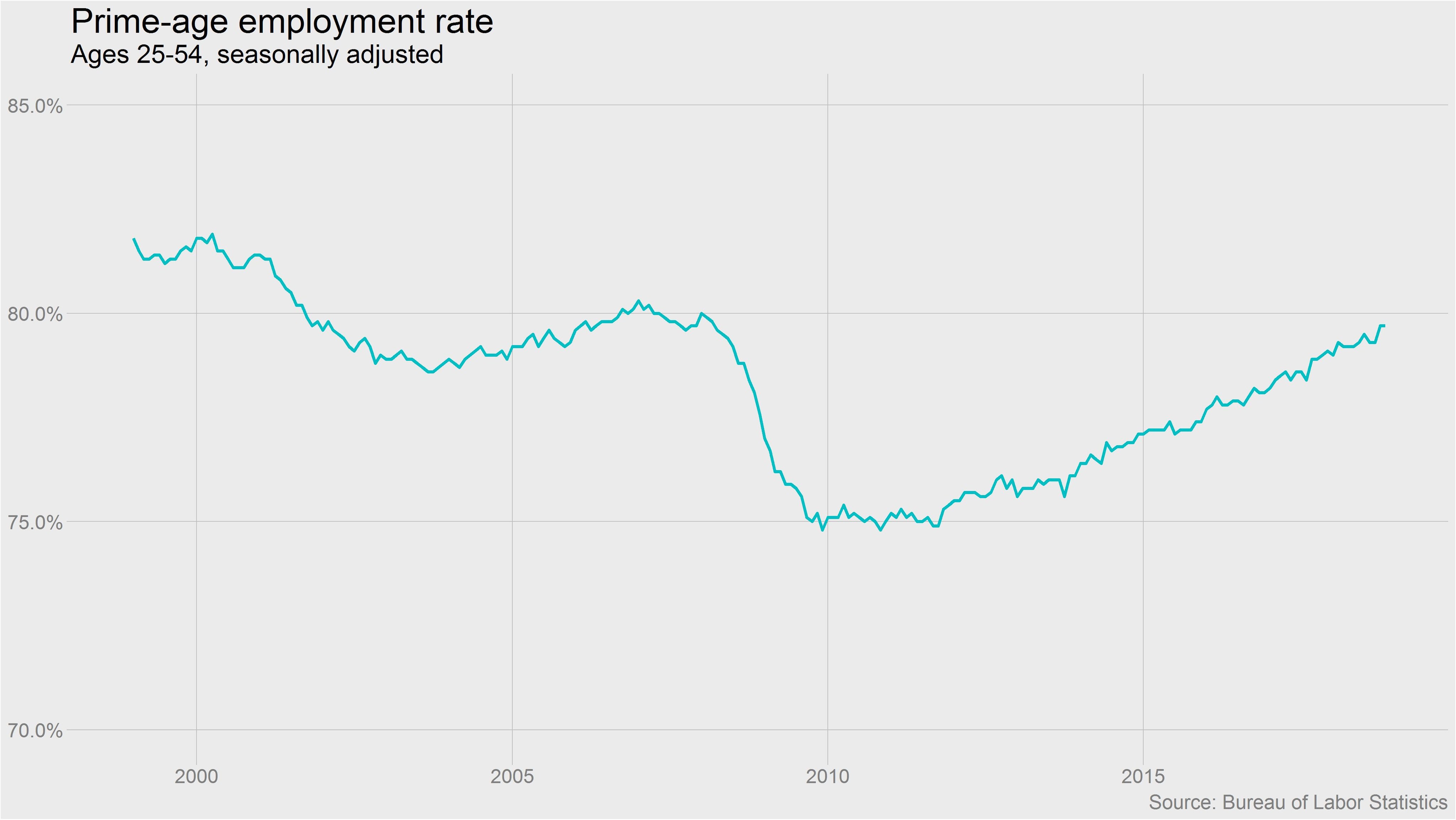 Source: Ben Casselman
Bullish investors want people to get jobs, but don't want the Fed to invert the curve. On average, in the past 3 cycles this ratio has peaked at 80.8% which means it is 1.1% away from reaching full employment. Right on queue, the Fed is hiking rates in 2018 which is bringing the curve near an inversion.
Conclusion
The yield curve is usually a leading indicator, but its new-found popularity has made it a concurrent indicator due to reflexivity. The ISM reports are still strong, but those will quickly shift lower if the stock market keeps falling on recession worries. Firms will quickly change their tune when banks tighten lending standards. The Fed is raising rates because the labor market is approaching full employment even though the core inflation rate (PCE) is below its 2% target. If the Fed becomes dovish, the market might view that as a signal to panic. The Fed is either going to cause an inversion which will cause a selloff or pause hikes which will cause traders to wonder what is wrong with the economy.
Disclaimer: Please familiarize yourself with our full disclaimer here.